Today I am sharing what I read in December 2020! I ended up finishing 7 books this month and had quite a few I enjoyed!
Trixie Belden and the Happy Valley Mystery by Kathryn Kenny
"Uncle Andrew needs Trixie's help. Trixie and the Bob-Whites are spending spring break at his farm in Iowa, and his sheep keep disappearing. He thinks they're being stolen! Trixie may not know sheep, but she does know thieves. And she has an idea where to start looking for them—near the mysterious flickering lights in dark, dangerous Walnut Woods!"
One of my best friends from college loved these books growing up and even has a dog named Trixie because of them, so when I saw this for $0.25 at a thrift store I knew I had to pick it up! I hadn't read any other Trixie Belden books, but after reading this one I would definitely read more if I found them. It definitely reminds me of Nancy Drew since they are older books and are set around a mystery. But I loved the the Bob-Whites to make this series different and fun!
Rating: 4/5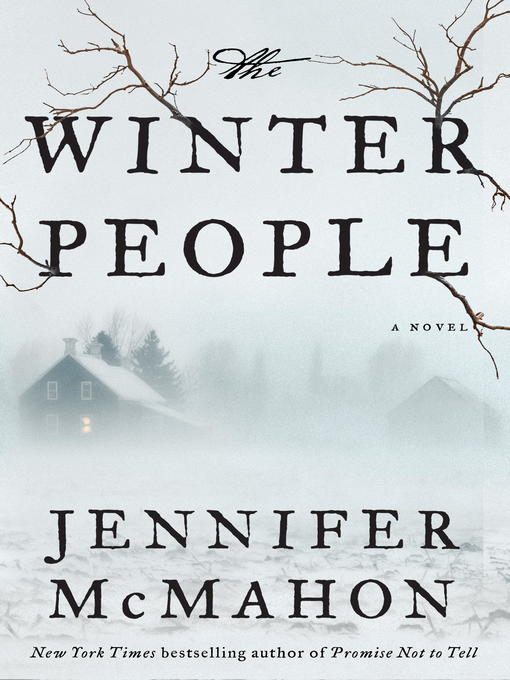 The Winter People by Jennifer McMahon
"West Hall, Vermont, has always been a town of strange disappearances and old legends. The most mysterious is that of Sara Harrison Shea, who, in 1908, was found dead in the field behind her house just months after the tragic death of her daughter, Gertie. Now, in present day, nineteen-year-old Ruthie lives in Sara's farmhouse with her mother, Alice, and her younger sister, Fawn. Alice has always insisted that they live off the grid, a decision that suddenly proves perilous when Ruthie wakes up one morning to find that Alice has vanished without a trace. Searching for clues, she is startled to find a copy of Sara Harrison Shea's diary hidden beneath the floorboards of her mother's bedroom. As Ruthie gets sucked deeper into the mystery of Sara's fate, she discovers that she's not the only person who's desperately looking for someone that they've lost. But she may be the only one who can stop history from repeating itself."
This book went a different way than I expected, however I still loved the creepy vibes you got throughout. I really enjoyed the story and characters, however the ending felt a little disappointing to me. Supposedly it is a little similar to Pet Semetary, though I haven't read that one so I can't say for myself. But just know that if you want a completely original book, this might not be the one for you.
Rating: 3.5/5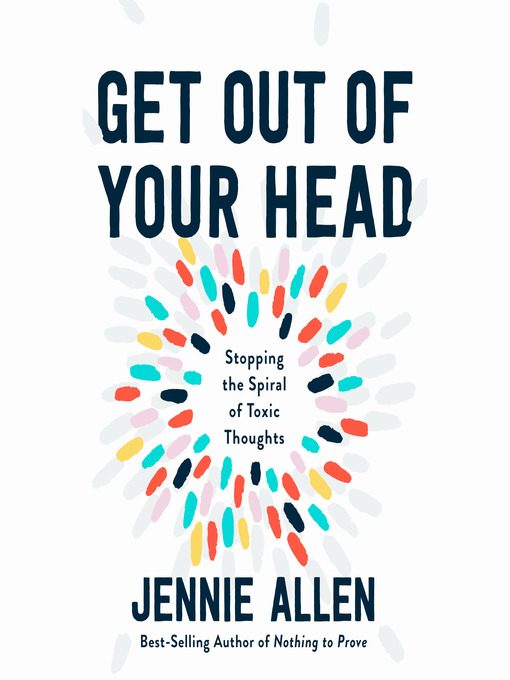 Get Out of Your Head by Jennie Allen
"Are your thoughts holding you captive? I'll never be good enough. Other people have better lives than I do. God couldn't really love me. Jennie Allen knows what it's like to swirl in a spiral of destructive thoughts, but she also knows we don't have to stay stuck in toxic thinking patterns.
As she discovered in her own life, God built a way for us to escape that downward spiral. Freedom comes when we refuse to be victims to our thoughts and realize we have already been equipped with power from God to fight and win the war for our minds.
In Get Out of Your Head, Jennie inspires and equips us to transform our emotions, our outlook, and even our circumstances by taking control of our thoughts. Our enemy is determined to get in our heads to make us feel helpless, overwhelmed, and incapable of making a difference for the kingdom of God. But when we submit our minds to Christ, the promises and goodness of God flood our lives in remarkable ways.
It starts in your head. And from there, the possibilities are endless."
I randomly picked this one when I wanted another audiobook to listen to, and I was pleasantly surprised with how good it was! There were so many important points she made in it, and I loved how she tied neuroscience and scripture together! I think at some point I would want to read a hard copy of this one to absorb it a bit better than just listening to it!
Rating: 4.5/5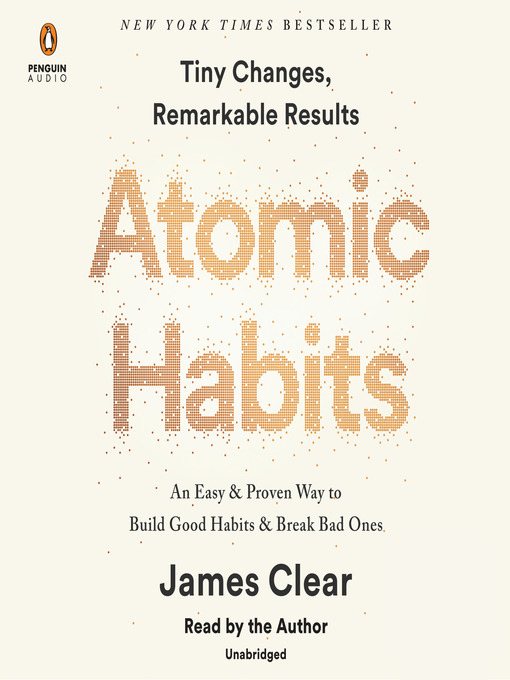 Atomic Habits by James Clear
"No matter your goals, Atomic Habits offers a proven framework for improving—every day. James Clear, one of the world's leading experts on habit formation, reveals practical strategies that will teach you exactly how to form good habits, break bad ones, and master the tiny behaviors that lead to remarkable results.
If you're having trouble changing your habits, the problem isn't you. The problem is your system. Bad habits repeat themselves again and again not because you don't want to change, but because you have the wrong system for change. You do not rise to the level of your goals. You fall to the level of your systems. Here, you'll get a proven system that can take you to new heights.
Clear is known for his ability to distill complex topics into simple behaviors that can be easily applied to daily life and work. Here, he draws on the most proven ideas from biology, psychology, and neuroscience to create an easy-to-understand guide for making good habits inevitable and bad habits impossible. Along the way, readers will be inspired and entertained with true stories from Olympic gold medalists, award-winning artists, business leaders, life-saving physicians, and star comedians who have used the science of small habits to master their craft and vault to the top of their field.
Learn how to:
• make time for new habits (even when life gets crazy);
• overcome a lack of motivation and willpower;
• design your environment to make success easier;
• get back on track when you fall off course;
…and much more."
This is another one I listened to on audiobook that I want to read a hard copy of sometimes this year. I feel like I learned a lot from this book, whereas some other habit books don't include anything new or helpful. My main takeaway from my first time through is that to create a new habit you have to stack it with a habit you already do. It makes sense if you think about it, but I had just never thought about it that way before! I would recommend this book if you are trying to kick any old habits or add any new ones in this year!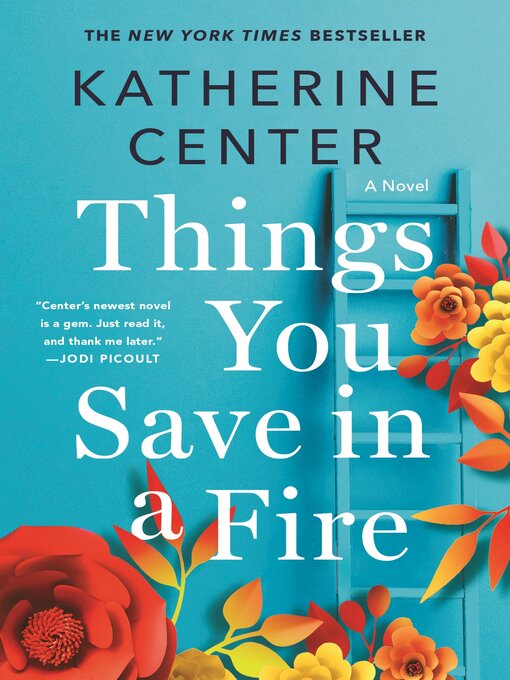 Things You Save in a Fire by Katherine Center
"Cassie Hanwell was born for emergencies. As one of the only female firefighters in her Texas firehouse, she's seen her fair share of them, and she's a total pro at other people's tragedies. But when her estranged and ailing mother asks her to give up her whole life and move to Boston, Cassie suddenly has an emergency of her own.
The tough, old-school Boston firehouse is as different from Cassie's old job as it could possibly be. Hazing, a lack of funding, and poor facilities mean that the firemen aren't exactly thrilled to have a "lady" on the crew—even one as competent and smart as Cassie. Except for the infatuation-inspiring rookie, who doesn't seem to mind having Cassie around. But she can't think about that. Because love is girly, and it's not her thing. And don't forget the advice her old captain gave her: Never date firefighters. Cassie can feel her resolve slipping…and it means risking it all—the only job she's ever loved, and the hero she's worked like hell to become."
Another great book by Katherine Center! I read her other two popular ones this fall, and I was excited to get to this one as well. While I will say I liked the other two slightly better, this was still a really good book overall. I loved the characters, especially Cassie. I also really enjoy how Katherine Center's books are more than just a cheesy romance story, as I tend to get bored or cringe my way through any of those that I try.
Rating: 4/5
12 Rules for Life by Jordan Peterson
"Humorous, surprising and informative, Dr. Peterson tells us why skateboarding boys and girls must be left alone, what terrible fate awaits those who criticize too easily, and why you should always pet a cat when you meet one on the street.
What does the nervous system of the lowly lobster have to tell us about standing up straight (with our shoulders back) and about success in life? Why did ancient Egyptians worship the capacity to pay careful attention as the highest of gods? What dreadful paths do people tread when they become resentful, arrogant and vengeful? Dr. Peterson journeys broadly, discussing discipline, freedom, adventure and responsibility, distilling the world's wisdom into 12 practical and profound rules for life. 12 Rules for Life shatters the modern commonplaces of science, faith and human nature, while transforming and ennobling the mind and spirit of its readers."
I have very mixed feelings about this book. I can see how it is good and some people would like it, but many parts fell flat for me. There were a few chapters that kept me engaged all the way through, however most of them included many tangents that lost my interest. Overall, I feel like this book could've been half the length and twice as good.
Rating: 3/5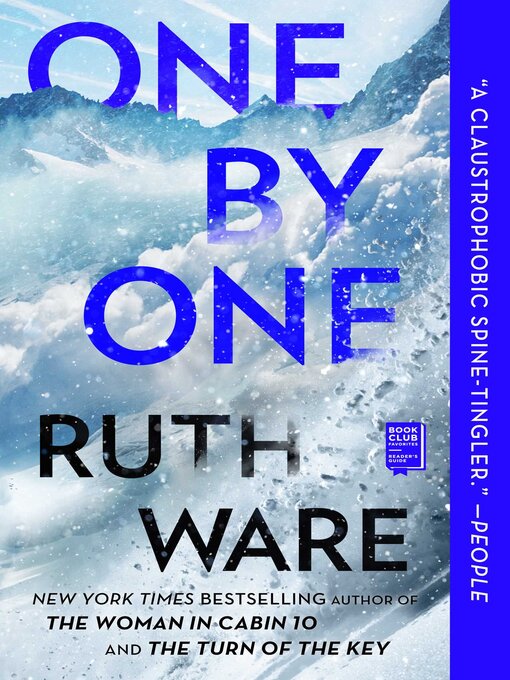 One by One by Ruth Ware
"Getting snowed in at a luxurious, rustic ski chalet high in the French Alps doesn't sound like the worst problem in the world. Especially when there's a breathtaking vista, a full-service chef and housekeeper, a cozy fire to keep you warm, and others to keep you company. Unless that company happens to be eight coworkers…each with something to gain, something to lose, and something to hide.
When the cofounder of Snoop, a trendy London-based tech startup, organizes a weeklong trip for the team in the French Alps, it starts out as a corporate retreat like any other: PowerPoint presentations and strategy sessions broken up by mandatory bonding on the slopes. But as soon as one shareholder upends the agenda by pushing a lucrative but contentious buyout offer, tensions simmer and loyalties are tested. The storm brewing inside the chalet is no match for the one outside, however, and a devastating avalanche leaves the group cut off from all access to the outside world. Even worse, one Snooper hadn't made it back from the slopes when the avalanche hit.
As each hour passes without any sign of rescue, panic mounts, the chalet grows colder, and the group dwindles further…one by one."
I was so excited to get my hands on the latest Ruth Ware book, however I think I have to say this is my least favorite out of all of her books. I did enjoy it and didn't have any problem finishing it, so it wasn't bad by any means. However, I didn't really like any of the characters and the premise of the book has been done multiple times before. An Unwanted Guest by Shari Lapena had almost the exact same premise and feel, so this felt very similar as I was reading it. I also guessed who it was early on, and wish there had been more twists. And the reasoning behind why the murderer killed people seemed to come out of no where and not tie in with the rest of the story that well.
Rating: 3.5/5
That's all for this month! Checkout November's post here or checkout my Goodreads here for more book suggestions!
xo, Scarlett