After a slow reading month in September, I am happy to say I got back on track in October! However, if you have noticed, posts have been sparse around here this fall. I have a lot of fun content planned for the next few months, so I am excited to get back into blogging more!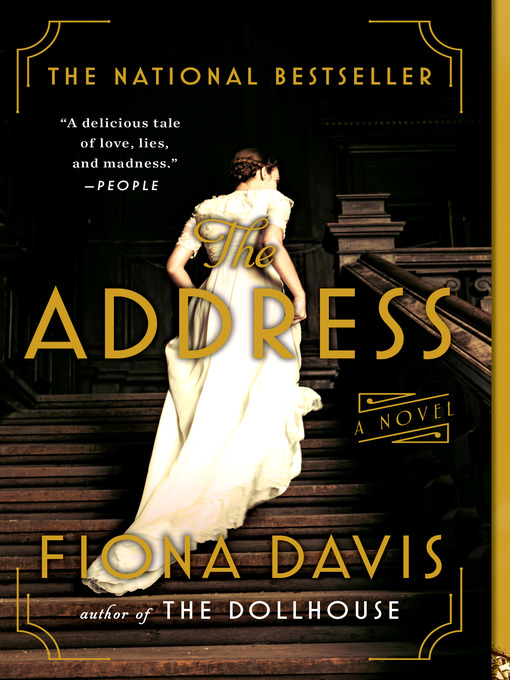 The Address by Fiona Davis
"When a chance encounter with Theodore Camden, one of the architects of the grand New York apartment house the Dakota, leads to a job offer for Sara Smythe, her world is suddenly awash in possibility—no mean feat for a servant in 1884. The opportunity to move to America. The opportunity to be the female manager of the Dakota. And the opportunity to see more of Theo, who understands Sara like no one else…and is living in the Dakota with his wife and three young children.
One hundred years later, Bailey Camden is desperate for new opportunities: Fresh out of rehab, the former interior designer is homeless, jobless, and penniless. Bailey's grandfather was the ward of famed architect Theodore Camden, yet Bailey won't see a dime of the Camden family's substantial estate; instead, her "cousin" Melinda—Camden's biological great-granddaughter—will inherit almost everything. So when Melinda offers to let Bailey oversee the renovation of her lavish Dakota apartment, Bailey jumps at the chance, despite her dislike of Melinda's vision. The renovation will take away all the character of the apartment Theodore Camden himself lived in…and died in, after suffering multiple stab wounds by a former Dakota employee who had previously spent seven months in an insane asylum—a madwoman named Sara Smythe.
A century apart, Sara and Bailey are both tempted by and struggle against the golden excess of their respective ages—for Sara, the opulence of a world ruled by the Astors and Vanderbilts; for Bailey, the nightlife's free-flowing drinks and cocaine—and take refuge in the Upper West Side's gilded fortress. But a building with a history as rich, and often as tragic, as the Dakota's can't hold its secrets forever, and what Bailey discovers inside could turn everything she thought she knew about Theodore Camden—and the woman who killed him—on its head."
I have read most of Fiona Davis' books, and I really enjoy the history and stories in them. I usually like the dual time frame stories, however in this book I enjoyed Sara's story quite a bit more than Bailey's. Some of the twists were also fairly easy to guess, but overall it was still enjoyable to read.
Rating: 4/5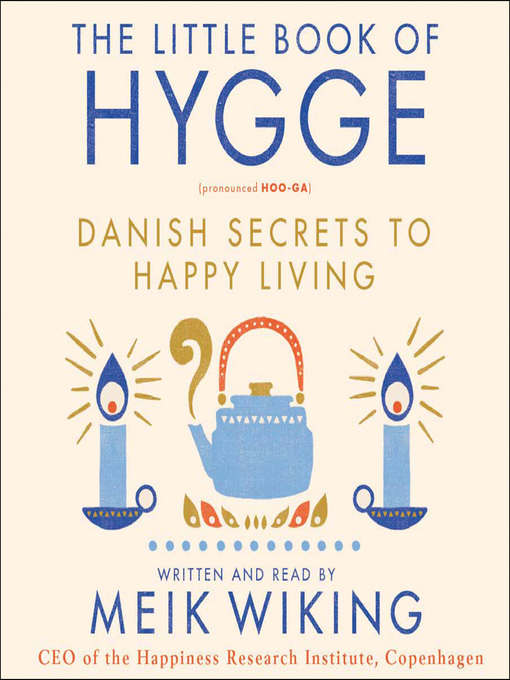 The Little Book of Hygge by Meik Wiking
"Why are Danes the happiest people in the world? The answer, says Meik Wiking, CEO of the Happiness Research Institute in Copenhagen, is Hygge. Loosely translated, Hygge—pronounced Hoo-ga—is a sense of comfort, togetherness, and well-being. "Hygge is about an atmosphere and an experience," Wiking explains. "It is about being with the people we love. A feeling of home. A feeling that we are safe."
Hygge is the sensation you get when you're cuddled up on a sofa, in cozy socks under a soft throw, during a storm. It's that feeling when you're sharing comfort food and easy conversation with loved ones at a candlelit table. It is the warmth of morning light shining just right on a crisp blue-sky day.
From picking the right lighting to organizing a Hygge get-together to dressing hygge, Wiking shows you how to experience more joy and contentment the Danish way."
This was an audiobook that I got from my library because I needed something new to listen to, and it was available. It is a pretty quick read, but it is full of ideas you can implement to bring more joy and coziness into your life. While it didn't have anything groundbreaking in it, I did find myself taking a few ideas from it over in the days after I finished it.
Rating: 4/5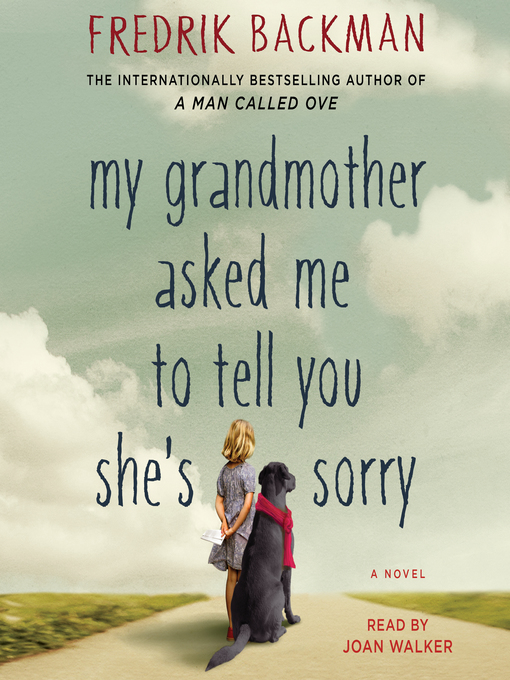 My Grandmother Asked Me To Tell You She's Sorry by Fredrik Backman
"Elsa is seven years old and different. Her grandmother is seventy-seven years old and crazy—as in standing-on-the-balcony-firing-paintball-guns-at-strangers crazy. She is also Elsa's best, and only, friend. At night Elsa takes refuge in her grandmother's stories, in the Land-of-Almost-Awake and the Kingdom of Miamas, where everybody is different and nobody needs to be normal.
When Elsa's grandmother dies and leaves behind a series of letters apologizing to people she has wronged, Elsa's greatest adventure begins. Her grandmother's instructions lead her to an apartment building full of drunks, monsters, attack dogs, and old crones but also to the truth about fairy tales and kingdoms and a grandmother like no other."
I am slowly but surely making my way through all of Fredrik Backman's books, and this was one that I listened to on audiobook this month. I love the way that the author wove all the stories of Elsa's neighbors together. Since there were so many characters and so many rules in the made up land of Elsa and her grandmother, it was a little confusing at times, especially in the beginning. Overall it was still a story I enjoyed, though I would probably recommend starting with other books by Backman first.
Rating: 3.5/5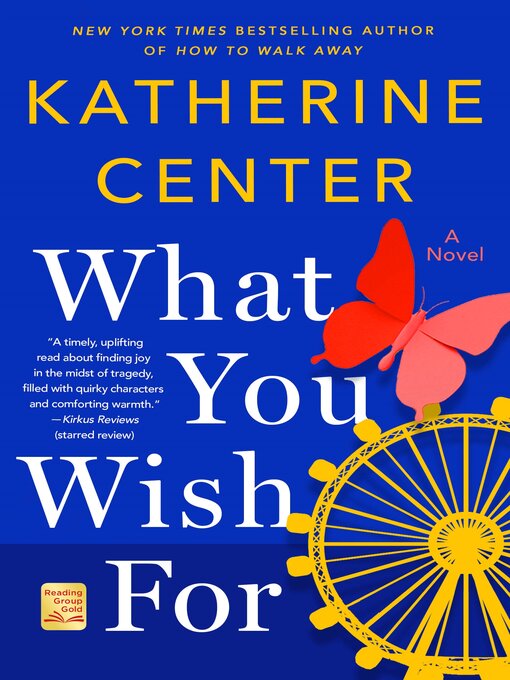 What You Wish For by Katherine Center
"Samantha Casey is a school librarian who loves her job, the kids, and her school family with passion and joy for living.
But she wasn't always that way.
Duncan Carpenter is the new school principal who lives by rules and regulations, guided by the knowledge that bad things can happen.
But he wasn't always that way.
And Sam knows it. Because she knew him before—at another school, in a different life. Back then, she loved him—but she was invisible. To him. To everyone. Even to herself. She escaped to a new school, a new job, a new chance at living. But when Duncan, of all people, gets hired as the new principal there, it feels like the the best thing that could possibly happen to the school—and the worst thing that could possibly happen to Sam. Until the opposite turns out to be true. The lovable Duncan she'd known is now a suit-and-tie wearing, rule-enforcing tough guy so hell-bent on protecting the school that he's willing to destroy it.
As the school community spirals into chaos, and danger from all corners looms large, Sam and Duncan must find their way to who they really are, what it means to be brave, and how to take a chance on love—which is the riskiest move of all."
I don't want to say too much about this book and give parts away, but I loved it overall! Even though is has some darker themes of grief, loss, trauma, etc., it still was a feel-good book that sucked you in from the first few chapters. I loved almost all of the characters in it, and I loved the personal growth we got to watch them go through as the story progressed. I also read this one near the beginning of October and almost a month later still remember most of the story and details, which is one thing that tells me it was a good read!
Rating: 5/5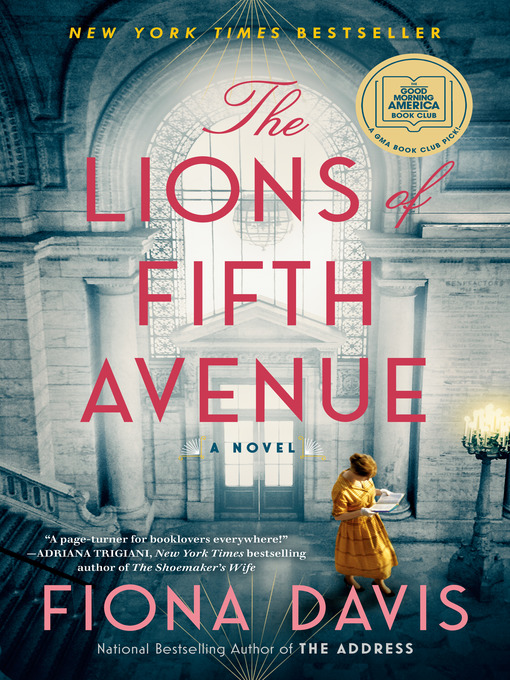 The Lions of Fifth Avenue by Fiona Davis
"It's 1913, and on the surface, Laura Lyons couldn't ask for more out of life—her husband is the superintendent of the New York Public Library, allowing their family to live in an apartment within the grand building, and they are blessed with two children. But headstrong, passionate Laura wants more, and when she takes a leap of faith and applies to the Columbia Journalism School, her world is cracked wide open. As her studies take her all over the city, she is drawn to Greenwich Village's new bohemia, where she discovers the Heterodoxy Club—a radical, all-female group in which women are encouraged to loudly share their opinions on suffrage, birth control, and women's rights. Soon, Laura finds herself questioning her traditional role as wife and mother. But when valuable books are stolen back at the library, threatening the home and institution she loves, she's forced to confront her shifting priorities head on . . . and may just lose everything in the process.
Eighty years later, in 1993, Sadie Donovan struggles with the legacy of her grandmother, the famous essayist Laura Lyons, especially after she's wrangled her dream job as a curator at the New York Public Library. But the job quickly becomes a nightmare when rare manuscripts, notes, and books for the exhibit Sadie's running begin disappearing from the library's famous Berg Collection. Determined to save both the exhibit and her career, the typically risk-adverse Sadie teams up with a private security expert to uncover the culprit. However, things unexpectedly become personal when the investigation leads Sadie to some unwelcome truths about her own family heritage—truths that shed new light on the biggest tragedy in the library's history."
As someone who is a fan of libraries, it was fun that both of the stories were centered around the New York Public Library. I also really enjoyed reading both of the main protagonists stories equally, which to me makes a great book! I love Fiona Davis' books because of the NYC history that I learn while reading them, but you also get a wonderful story in the process.
Rating: 4/5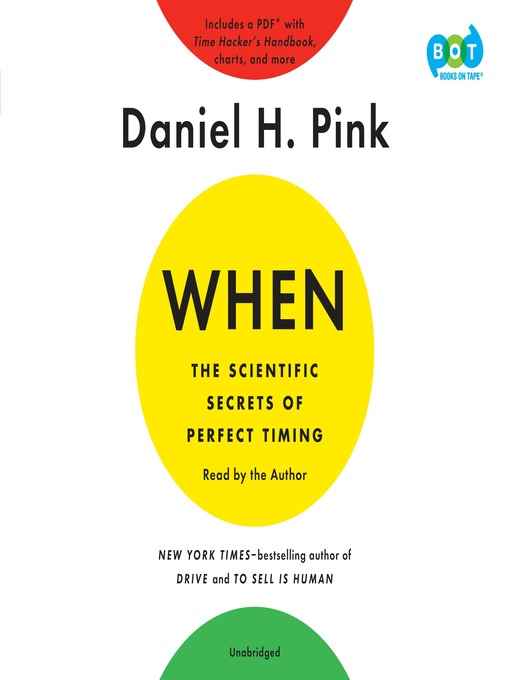 When by Daniel H. Pink
"Everyone knows that timing is everything. But we don't know much about timing itself. Our lives are a never-ending stream of "when" decisions: when to start a business, schedule a class, get serious about a person. Yet we make those decisions based on intuition and guesswork.
Timing, it's often assumed, is an art. In When: The Scientific Secrets of Perfect Timing, Pink shows that timing is really a science.
Drawing on a rich trove of research from psychology, biology, and economics, Pink reveals how best to live, work, and succeed. How can we use the hidden patterns of the day to build the ideal schedule? Why do certain breaks dramatically improve student test scores? How can we turn a stumbling beginning into a fresh start? Why should we avoid going to the hospital in the afternoon? Why is singing in time with other people as good for you as exercise? And what is the ideal time to quit a job, switch careers, or get married?
In When, Pink distills cutting-edge research and data on timing and synthesizes them into a fascinating, readable narrative packed with irresistible stories and practical takeaways that give readers compelling insights into how we can live richer, more engaged lives."
This was another audiobook that I listened to this month, and considering I randomly picked it from my library, I ended up really enjoying it! I liked hearing about the research, but then also the fact that Pink gave some tips on what to do if you have to do something at a less-than-ideal time. As someone who just finished grad school, his section about why 8am classes aren't great was fascinating to me haha.
Rating: 5/5
The Hiding Place by C. J. Tudor
"Joe never wanted to come back to Arnhill. After the way things ended with his old gang—the betrayal, the suicide—and what happened when his sister went missing, the last thing he wanted to do was return to his hometown. But Joe doesn't have a choice, not after a chilling email surfaces in his inbox: I know what happened to your sister. It's happening again . . .
Lying his way into a teaching job at his former high school is the easy part. Facing off with onetime friends who aren't too happy to have him back in town—while avoiding the enemies he's made in the years since—is tougher. But the hardest part of all will be returning to the abandoned mine where his life changed forever, and finally confronting the horrifying truth about Arnhill, his sister, and himself. Because for Joe, the worst moment of his life wasn't the day his sister went missing.
It was the day she came back."
I had this one on my to-read list for so long and wanted to like it, but it fell short for me. I just kept waiting for it to be good and for it all to tie back together, and it just never really did. It seemed pretty out there to me and a little overly gory. After I finished I saw a bunch of reviews saying it basically was a knock-off version of a Stephen King book, which kind of makes sense to me after seeing it even though I haven't ever read Stephen King.
Rating: 2.5/5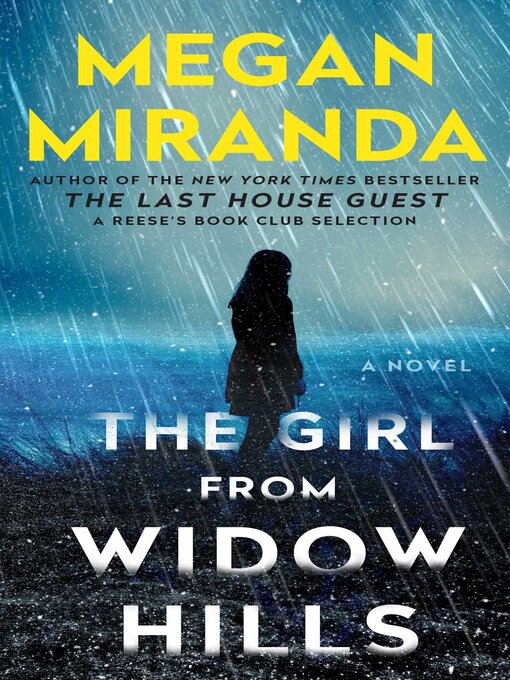 The Girl from Widow Hills by Megan Miranda
"Arden Maynor was just a child when she was swept away while sleepwalking during a terrifying rainstorm and went missing for days. Strangers and friends, neighbors and rescue workers, set up search parties and held vigils, praying for her safe return. Against all odds, she was found, alive, clinging to a storm drain. The girl from Widow Hills was a living miracle. Arden's mother wrote a book. Fame followed. Fans and fan letters, creeps, and stalkers. And every year, the anniversary. It all became too much. As soon as she was old enough, Arden changed her name and disappeared from the public eye.
Now a young woman living hundreds of miles away, Arden goes by Olivia. She's managed to stay off the radar for the last few years. But with the twentieth anniversary of her rescue approaching, the media will inevitably renew its interest in Arden. Where is she now? Soon Olivia feels like she's being watched and begins sleepwalking again, like she did long ago, even waking outside her home. Until late one night she jolts awake in her yard. At her feet is the corpse of a man she knows—from her previous life, as Arden Maynor."
I have liked Megan Miranda's previous books, and luckily this one was a winner as well. The first half I was into it, but not suuuuper into it. But then it became more fast paced and the ending had a twist that I DID NOT SEE COMING. At all. It is so hard for me to find a thriller with a good twist at the end these days, so I would definitely recommend this one if that is something you like too!
Rating: 5/5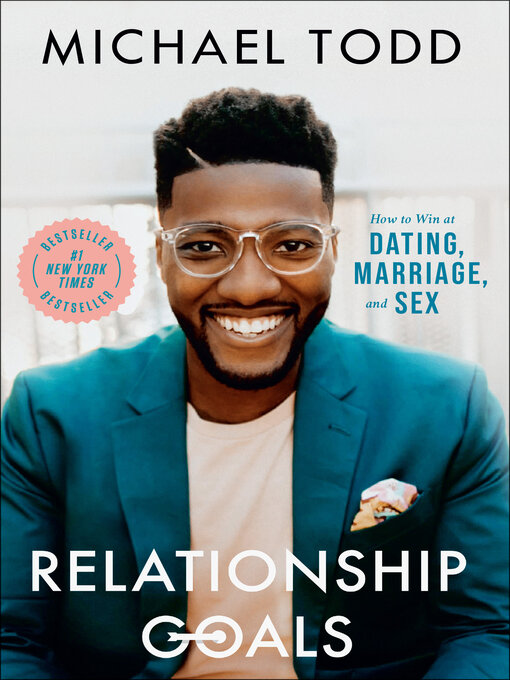 Relationship Goals by Michael Todd
"Realer than the most real conversation you've ever heard on the topic, Michael Todd's honest, heartfelt, and powerful teaching on relationships has already impacted millions of people in all seasons of life around the world. Now, in Relationship Goals, Michael tells his own story of heartache and healing, unpacks explosive truths from God's Word, and tells it to you straight to help you win at relationships in every part of your life.
Where did the idea for relationships come from in the first place? Does God really care who I hang out with? Is it even possible to avoid relational train wrecks? From his plan for intentional dating in the age of social media to handling break-ups well to doing family instead of just being in a family, Michael tackles the questions we all have about relational success.
As he candidly examines our most common pitfalls in relationships and the start-today ways to get past them, Michael helps you align your longings with God's awesome desires for your life. Now, that's a good relationship goal."
One of my friends read this over the summer and recommended it because she loved it so much. I liked that the author actually backed what he was saying with Scripture rather than just spouting off opinions, which is what I feel like sometimes happens in books like this. It also makes you stop to consider the relationships you have in your life and decide whether they are helping you fulfill God's purpose for your life. Overall a pretty quick and easy read, and one that has some advice you can probably apply to whatever relationships you have!
Rating: 3.5/5
That is all for this month! Let me know in the comments if you have read any of these or read any other good books recently that you would recommend!
xo, Scarlett