Anyone else love the holidays because it means a little extra reading time?! I love getting some time off from classes and being able to get through some books that I have been putting off. For what I read in November 2019, I finished 7 books, I and did not finish 1 book that was very hyped this year. Just a good reminder that everyone's taste when it comes to books is different! Keep reading to see which ones I really loved, which were okay, and which one I couldn't even make it through.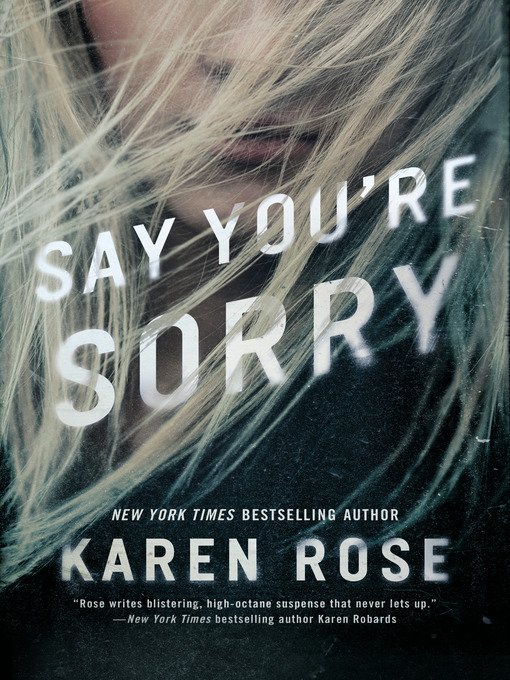 Say You're Sorry by Karen Rose
"There's a serial killer on the loose, preying on vulnerable women. The only identifiable mark the killer leaves, are letters—sometimes one, sometimes two—all carved into the torsos of his victims. Together they spell "Sydney."
When he grabs Daisy Dawson, he believes he's found his next victim. But despite her small stature, she fights back with an expertise that quickly frees her. Before fleeing the scene, Daisy also manages to grab what proves to be crucial evidence: a necklace that she tears off the killer's neck.
The necklace is more than a trivial item—it's a link to a cold case that Special Agent Gideon Reynolds has been tracking for more than 17 years. With Daisy's help, Gideon finally has the opportunity to get closer to the truth than ever before.
But they might not get the chance, as the serial killer has a new target: Gideon and Daisy."
I hadn't heard of this book or author previously, but was exploring the thriller page on my library's website and found it. It sounded good, so I gave it a try! First off, this is a bit of a longer book, so be prepared for that. However, I didn't not feel like it dragged on or was too long, and I still got through it in about a week. Second, it is a romantic suspense (according to goodreads haha) and I don't think I had read anything categorized as that before. Overall I liked it, but at times it definitely went too far to the romance side for my taste. That is really the only reason I am taking .5 stars off my review, but that is just personal preference! If you like romances and going into detail about that, then you would probably disagree! Part of the story was wrapped up nicely by the end, but there were really two mysteries in this book. And one of them is still not solved, which means I will be picking up the second book in this series once it comes up next summer!
Would I recommend? Yes! 4.5/5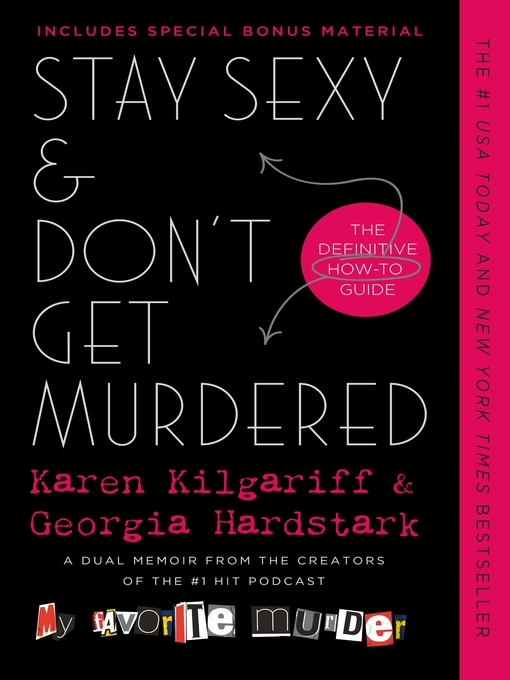 Stay Sexy and Don't Get Murdered by Karen Kilgariff & Georgia Hardstark
"Sharing never-before-heard stories ranging from their struggles with depression, eating disorders, and addiction, Karen and Georgia irreverently recount their biggest mistakes and deepest fears, reflecting on the formative life events that shaped them into two of the most followed voices in the nation.
In Stay Sexy & Don't Get Murdered, Karen and Georgia focus on the importance of self-advocating and valuing personal safety over being 'nice' or 'helpful.' They delve into their own pasts, true crime stories, and beyond to discuss meaningful cultural and societal issues with fierce empathy and unapologetic frankness."
If you have read any of my podcast posts, I am sure this comes as no surprise. Since My Favorite Murder is one of my favorite podcasts, I had to pick up their book! It is a pretty short and easy read, and I found most of it to be entertaining. However, unless you listen to the podcast, I wouldn't really recommend it. I think I liked it because it gave me more background into Karen and Georgia's life, but if I began it with no idea who they were I might not have made it far. Though their sense of humor still came through even through written form, so you might find yourself chuckling along!
Would I recommend? Yes! 4/5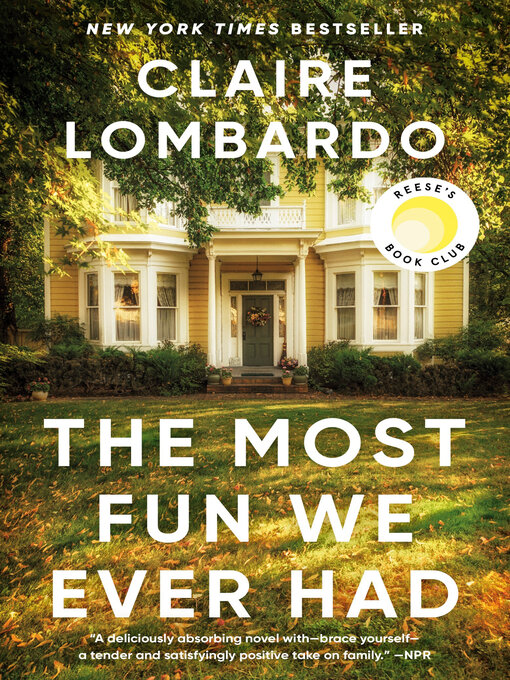 The Most Fun We Ever Had by Claire Lombardo
When Marilyn Connolly and David Sorenson fall in love in the 1970s, they are blithely ignorant of all that's to come. By 2016, their four radically different daughters are each in a state of unrest: Wendy, widowed young, soothes herself with booze and younger men; Violet, a litigator-turned-stay-at-home-mom, battles anxiety and self-doubt when the darkest part of her past resurfaces; Liza, a neurotic and newly tenured professor, finds herself pregnant with a baby she's not sure she wants by a man she's not sure she loves; and Grace, the dawdling youngest daughter, begins living a lie that no one in her family even suspects. Above it all, the daughters share the lingering fear that they will never find a love quite like their parents'.
As the novel moves through the tumultuous year following the arrival of Jonah Bendt—given up by one of the daughters in a closed adoption fifteen years before—we are shown the rich and varied tapestry of the Sorensons' past: years marred by adolescence, infidelity, and resentment, but also the transcendent moments of joy that make everything else worthwhile.
Spanning nearly half a century, and set against the quintessential American backdrop of Chicago and its prospering suburbs, Lombardo's debut explores the triumphs and burdens of love, the fraught tethers of parenthood and sisterhood, and the baffling mixture of affection, abhorrence, resistance, and submission we feel for those closest to us. In painting this luminous portrait of a family's becoming, Lombardo joins the ranks of writers such as Celeste Ng, Elizabeth Strout, and Jonathan Franzen as visionary chroniclers of our modern lives."
And to finish off the most, we have a book that I did not finish. Womp womp. I had seen SO many reviews raving about how great this book is, and so many people I know were recommending it. However, I just COULD NOT get into it! It was a long book, and I felt it was hard to get into and felt unnecessarily long. I actually started this book in August and put it down at about 15% of the way through because I wasn't loving it. Then I picked it back up this month, determined to enjoy it. However, after reading for another 5%, I just found it dull and hard to relate to any of the characters. I wanted to like it so much, but I just didn't. One theory I have is that maybe if I was 10 years older and could relate more to some of the characters I would have liked it more. Or sometimes I am just not a straight up fiction fan. Regardless, I decided not to finish it since I have so many other books on my list I was dying to read, and this one just felt like a chore.
Would I recommend? No, did not finish.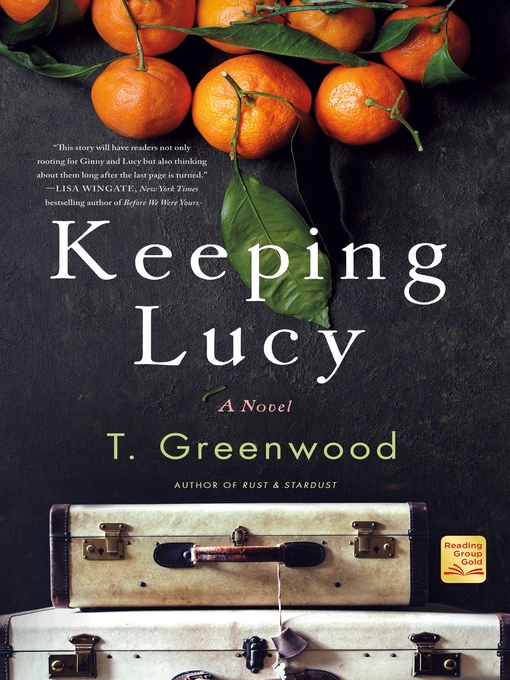 Keeping Lucy by T. Greenwood
"Dover, Massachusetts, 1969. Ginny Richardson's heart was torn open when her baby girl, Lucy, born with Down Syndrome, was taken from her. Under pressure from his powerful family, her husband, Ab, sent Lucy away to Willowridge, a special school for the "feeble-minded." Ab tried to convince Ginny it was for the best. That they should grieve for their daughter as though she were dead. That they should try to move on.
But two years later, when Ginny's best friend, Marsha, shows her a series of articles exposing Willowridge as a hell-on-earth—its squalid hallways filled with neglected children—she knows she can't leave her daughter there. With Ginny's six-year-old son in tow, Ginny and Marsha drive to the school to see Lucy for themselves. What they find sets their course on a heart-racing journey across state lines—turning Ginny into a fugitive.
For the first time, Ginny must test her own strength and face the world head-on as she fights Ab and his domineering father for the right to keep Lucy. Racing from Massachusetts to the beaches of Atlantic City, through the Blue Ridge Mountains of Virginia to a roadside mermaid show in Florida, Keeping Lucy is a searing portrait of just how far a mother's love can take her."
This was on of my favorite books that I read this month. The characters in it were well developed, and from the start I was hooked. It was difficult to read at times since it is loosely based off a true story, but overall I loved how the book portrayed Ginny's unconditional love.
Would I recommend? Yes! 4.5/5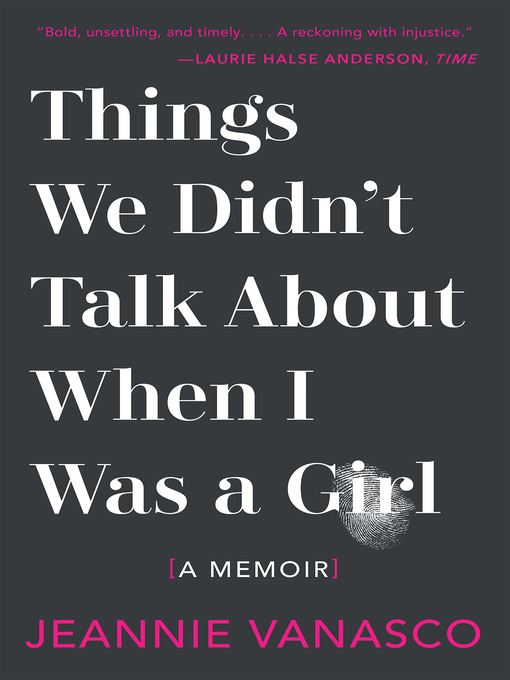 Things We Didn't Talk About When I Was a Girl by Jeannie Vanasco
"Jeannie Vanasco has had the same nightmare since she was a teenager. She startles awake, saying his name. It is always about him: one of her closest high school friends, a boy named Mark. A boy who raped her.
When her nightmares worsen, Jeannie decides—after fourteen years of silence—to reach out to Mark. He agrees to talk on the record and meet in person. "It's the least I can do," he says.
Jeannie details her friendship with Mark before and after the assault, asking the brave and urgent question: Is it possible for a good person to commit a terrible act? Jeannie interviews Mark, exploring how rape has impacted his life as well as her own. She examines the language surrounding sexual assault and pushes against its confines, contributing to and deepening the #MeToo discussion."
The premise of this book intrigued me, so I picked it up even though it isn't what I would normally read. I found it really interesting how Jeannie felt about Mark after everything, even in the midst of reconnecting with him. I liked the fact that she included her conversation transcripts, but then broke them down and questioned them extensively as well. However, after a bit it felt repetitive and I ended up not loving the execution of this book. I don't want to rate it poorly because I found the premise to be intriguing and overall liked it, but there were definitely some flaws. I think if you go into it knowing it is more of a Q&A style, that might be helpful!
Would I recommend? Probably, 3.5/5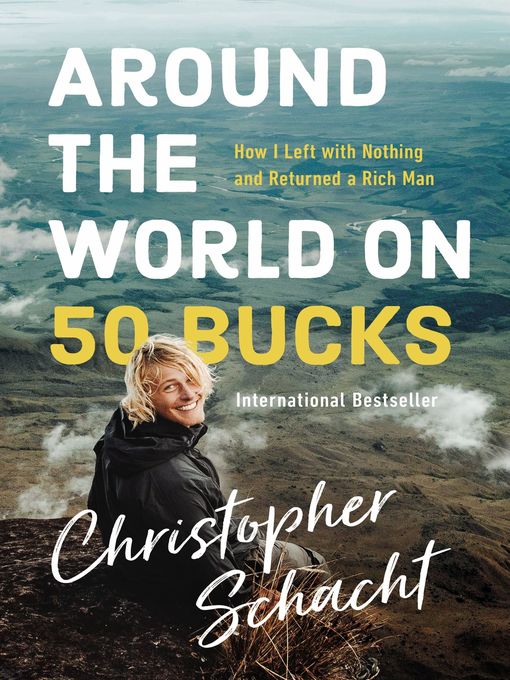 Around The World On 50 Bucks by Christopher Schacht
"Christopher Schacht was only nineteen years old and had just finished his apprenticeship when he put a dream into motion. With only 50 euros in savings, he traveled around the world, relying only on his friendliness, flexibility, charm, and willingness to work for his shelter and food.
Christopher traveled for four years, visiting 45 countries and traversing 100,000 kilometers on foot, hitchhiking, and on sailboats. He has earned his living as a jeweler, locksmith, au pair, and fashion model. He lived among aborigines and drug dealers and has journeyed through the most politically unstable areas of the Middle East."
This book also intrigued me, and since I am trying to branch out of my normal reading a bit more I picked it up! I have enjoyed a few travel memoirs in the past, so this seemed like a good pick too. I loved hearing about all his adventures and the people he met. But, at times I felt like he could have gone into more detail and glossed over some interesting stories. Obviously he packed 4 years of traveling into a short book, so it isn't feasible for him to go into great depth in every story. I also would have loved to read a bit more about what he learned/personal growth throughout the story, and not just when and where he went. Overall, I did still enjoy it, and I loved that he added in pictures at the end!
Would I recommend? Yes, 4/5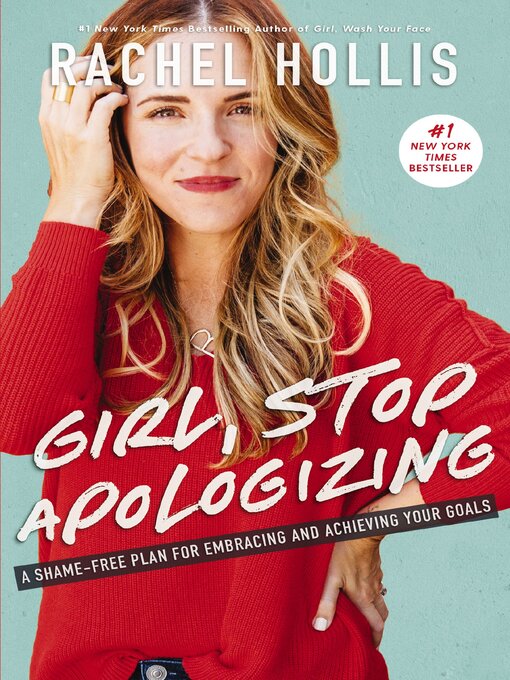 Girl, Stop Apologizing by Rachel Hollis
"Rachel Hollis has seen it too often: women not living into their full potential. They feel a tugging on their hearts for something more, but they're afraid of embarrassment, of falling short of perfection, of not being enough.
In Girl, Stop Apologizing, #1 New York Times bestselling author and founder of a multimillion-dollar media company, Rachel Hollis sounds a wake-up call. She knows that many women have been taught to define themselves in light of other people—whether as wife, mother, daughter, or employee—instead of learning how to own who they are and what they want. With a challenge to women everywhere to stop talking themselves out of their dreams, Hollis identifies the excuses to let go of, the behaviors to adopt, and the skills to acquire on the path to growth, confidence, and believing in yourself."
Let me preface this with saying overall I like Rachel Hollis, but I don't agree with everything she says. One of my biggest problems is that she seems very image and wealth driven. I love how she used this book to talk about achieving your goals, but it was hard to take that seriously when she said one of her goals was always to fly first class. Okaaay. Sure, that would be nice, but think of what else you could do with that money? She also goes on to appear very obsessed with weight and overall image. Basically, if you don't look like a model, it is your fault because it isn't that hard to pay hundreds of dollars for perfect hair, workout daily to have an amazing body, and get a boob job if you don't love your boobs. That being said, there are good and motivating things about this book. I like her idea of choosing 10 goals to work on for the next 10 years, but also only working on one at a time because it is difficult to see progress or stay motivated working on too many things at once. Not a total flop, but just some things to think about before picking this book up.
Would I recommend? Probably, 3.5/5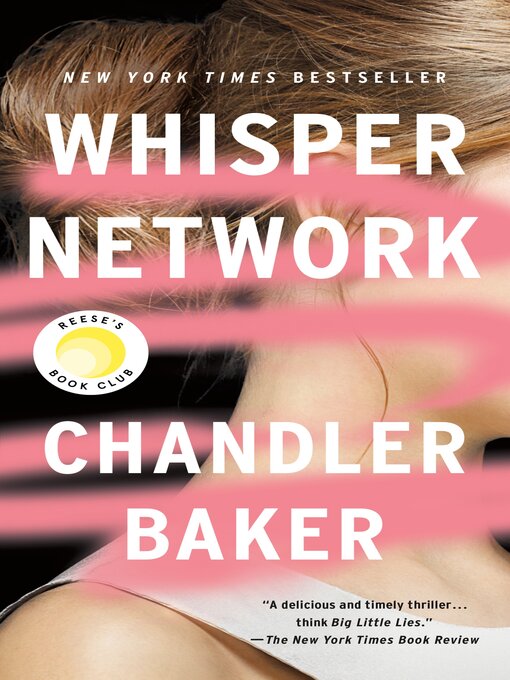 The Whisper Network by Chandler Baker
"Sloane, Ardie, Grace, and Rosalita have worked at Truviv, Inc. for years. The sudden death of Truviv's CEO means their boss, Ames, will likely take over the entire company. Each of the women has a different relationship with Ames, who has always been surrounded by whispers about how he treats women. Those whispers have been ignored, swept under the rug, hidden away by those in charge.
But the world has changed, and the women are watching this promotion differently. This time, when they find out Ames is making an inappropriate move on a colleague, they aren't willing to let it go. This time, they've decided enough is enough.
Sloane and her colleagues' decision to take a stand sets in motion a catastrophic shift in the office. Lies will be uncovered. Secrets will be exposed. And not everyone will survive. All of their lives—as women, colleagues, mothers, wives, friends, even adversaries—will change dramatically as a result."
I'm going to start this review by saying it was labeled as a thriller, but did not feel like a thriller to me. It is definitely more of a women's fiction, which personally can be difficult for me to get into. I did not love the characters in the beginning, and honestly until about 50% of the way through it was hard for me to convince myself to pick it back up. I also had a hard time keeping Sloane, Ardie, and Grace separate in my mind during the first half, which may have been part of the reason I didn't love it at first. By the end, I did enjoy it and there were a few plot twists that made it enjoyable. And the premise of what women have to deal with in a corporate work environment like that could be very relatable to many women.
Would I recommend? Probably, 3.5/5
What did you read and love this month? I am excited to finish the year strong and hopefully read some great books next month!
Also if you need more book recommendations, checkout last month's post, or my Goodreads!
xo, Scarlett