The best time to wear a striped sweater is… all the time if it is one of these colorful striped sweaters! I noticed this trend popping up everywhere in the middle of summer, and I for one am all for it because I love sweaters, stripes, and color!
sweater: Gordmans | jeans: Old Navy (similar) | sunglasses: Shein | shoes: Birkenstock | bag: Forever 21 (similar)
If you follow any fashion bloggers, I am sure you have seen sweaters similar to this. Particularly, the following one from Madewell has been taking over the blogosphere: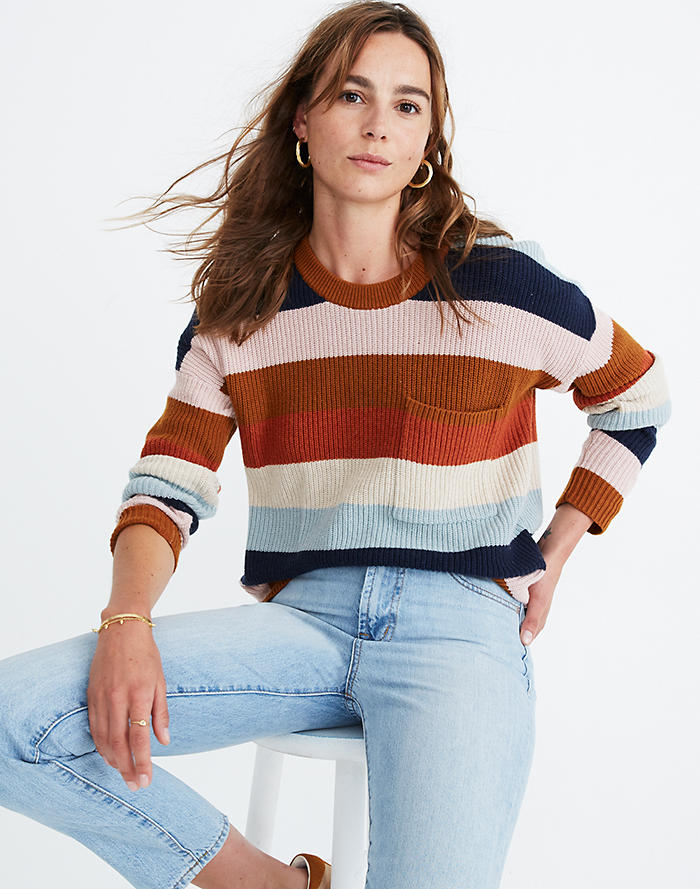 And don't get me wrong, it is really cute! Love the colors, love the pocket. BUT I don't love the $75 price tag, not while I am on a grad school budget at least. So when I found the sweater I am wearing above for $10 at Gordman's, you bet I snatched it right away! It is also the softest material and I really loved the colors for fall. I don't own much orange, but the pop of orange in this sweater is a welcome addition to my closet. They only had a large left at my Gordman's and I am usually a small in sweaters, so it is a bit big. Nothing that tucking it in and cuffing the sleeves couldn't solve though! If you live near a Gordman's I would highly recommend popping in to see if they have this sweater in stock or something similar!
I can already tell I am going to be reaching for this combination a lot during the fall! But this striped sweater also looked great paired with denim shorts if it is slightly warmer out, or a white denim skirt! It is a lot more versatile than you would originally think!
Also I've said it before, but you don't have to spend a lot of money to have a good wardrobe or be proud of your outfits. This sweater is just one example of that. I liked the colorful striped sweater trend, but I didn't necessarily want or need the specific sweater I have seen other bloggers have. If anything, I like the challenge of taking inspiration and finding my own (more affordable) pieces that are on trend. I love that stores like Gordman's, TJ Maxx, or even thrift stores, can make it possible for me to buy new trendy pieces while on a budget.
And just in case you don't have a Gordman's near you, I wanted to end this post with a few other more affordable striped sweater options if you want to hop on this trend this fall! All are $40 or under!
Forever 21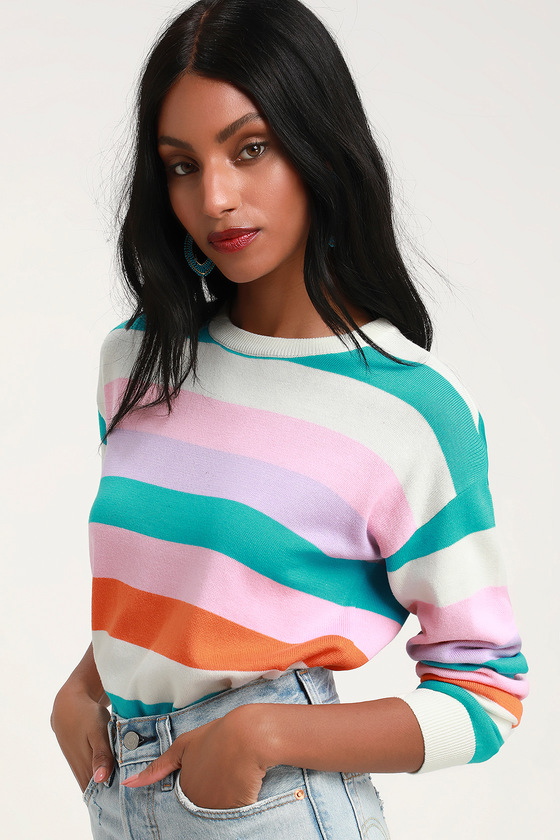 Do you like the colorblock striped sweater trend? Let me know in the comments if you do or why you don't! And if you need more outfit inspiration, checkout this link!
xo, Scarlett