I only got through 5 books this month due to an insane amount of papers and projects due, as well as wrapping up things for clinic this semester. And technically the first one I finished in October but didn't have time to add to October recently reading post… oops! But I really enjoyed 4 out of the 5, so I still had to share them with you!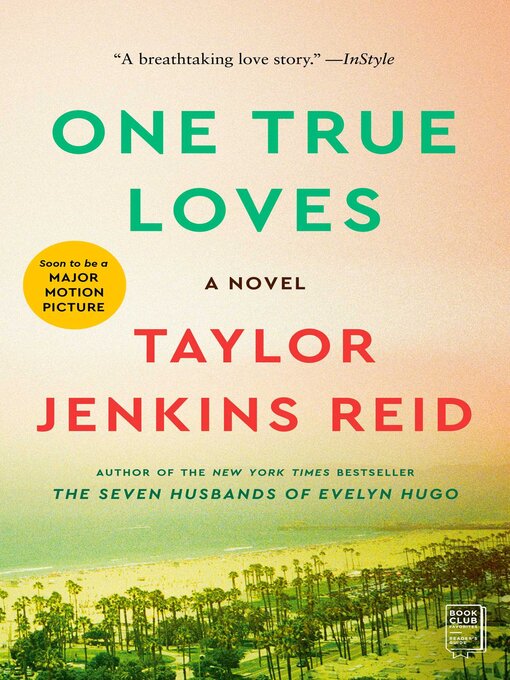 One True Loves by Taylor Jenkins Reid
"From the author of Maybe in Another Life—named a People Magazine pick—comes a breathtaking new love story about a woman unexpectedly forced to choose between the husband she has long thought dead and the fiancé who has finally brought her back to life.
In her twenties, Emma Blair marries her high school sweetheart, Jesse. They build a life for themselves, far away from the expectations of their parents and the people of their hometown in Massachusetts. They travel the world together, living life to the fullest and seizing every opportunity for adventure.
On their first wedding anniversary, Jesse is on a helicopter over the Pacific when it goes missing. Just like that, Jesse is gone forever.
Emma quits her job and moves home in an effort to put her life back together. Years later, now in her thirties, Emma runs into an old friend, Sam, and finds herself falling in love again. When Emma and Sam get engaged, it feels like Emma's second chance at happiness.
That is, until Jesse is found. He's alive, and he's been trying all these years to come home to her. With a husband and a fiancé, Emma has to now figure out who she is and what she wants, while trying to protect the ones she loves.
Who is her one true love? What does it mean to love truly?
Emma knows she has to listen to her heart. She's just not sure what it's saying."
This was the last Taylor Jenkins Reid book I had to read and I had been waiting on the waitlist from my library since May! I was so excited to FINALLY read it, and it did not disappoint! I love the storylines TJR comes up with and I always like the characters too. I was torn about who I wanted Emma to end up with in the end and went back and forth throughout the book. Without giving any spoilers I will say it ended really well.
Would I recommend?
YES!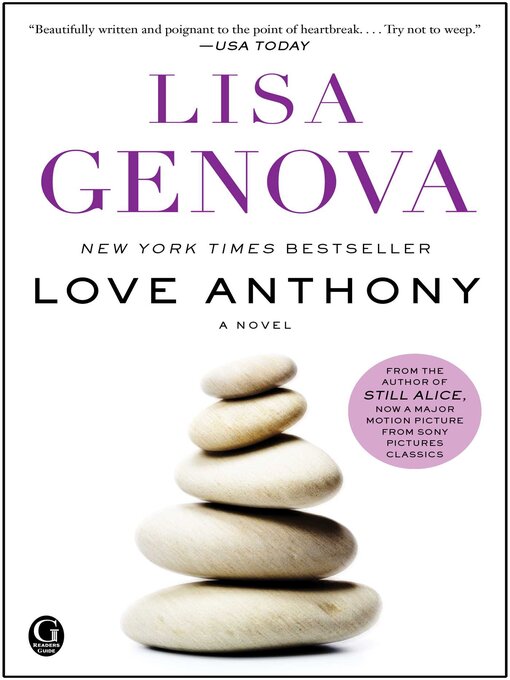 Love Anthony by Lisa Genova
Two women, each cast adrift by unforseen events in their lives, meet by accident on a Nantucket beach and are drawn into a friendship.

Olivia is a young mother whose eight-year-old severely autistic son has recently died. Her marriage badly frayed by years of stress, she comes to the island in a trial separation to try and make sense of the tragedy of her Anthony's short life.

Beth, a stay-at-home mother of three, is also recently separated after discovering her husband's long-term infidelity. In an attempt to recapture a sense of her pre-married life, she rekindles her passion for writing, determined to find her own voice again. But surprisingly, as she does so, Beth also find herself channeling the voice of an unknown boy, exuberant in his perceptions of the world around him if autistic in his expression—a voice she can share with Olivia—(is it Anthony?)—that brings comfort and meaning to them both.
This was another book I had been waiting to get from the library and I was really excited when it finally came in! While it was good, I didn't find it as well written or interesting as previous books I had read by Lisa Genova. While I felt for the two main characters, I feel like they were not developed enough for me to really connect or care. Also I felt the story did not have a strong conclusion, especially with Beth's part.
Would I recommend? Maybe, but read Still Alice by Lisa Genova first!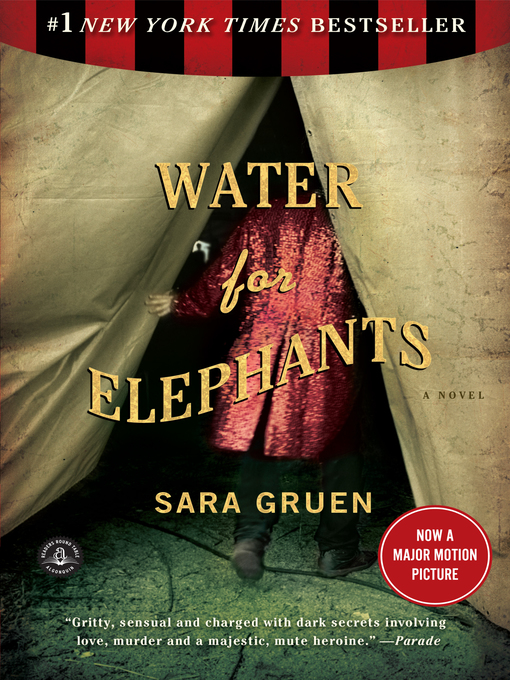 Water for Elephants by Sara Gruen
"An atmospheric, gritty, and compelling novel of star-crossed lovers, set in the circus world circa 1932, by the bestselling author of Riding Lessons.
When Jacob Jankowski, recently orphaned and suddenly adrift, jumps onto a passing train, he enters a world of freaks, drifters, and misfits, a second-rate circus struggling to survive during the Great Depression, making one-night stands in town after endless town. A veterinary student who almost earned his degree, Jacob is put in charge of caring for the circus menagerie. It is there that he meets Marlena, the beautiful young star of the equestrian act, who is married to August, the charismatic but twisted animal trainer. He also meets Rosie, an elephant who seems untrainable until he discovers a way to reach her.
Beautifully written, Water for Elephants is illuminated by a wonderful sense of time and place. It tells a story of a love between two people that overcomes incredible odds in a world in which even love is a luxury that few can afford."
This book is different than what I normally read, but it had been on my list for years and always intrigued me. I finally picked it up this month, and I was not disappointed! I love how the book began with Jacob in the circus seeing the ringmaster murdered, and then jumps forward in time to when he is 90 and in a nursing home. I felt the back and forth added to the story and was not confusing. This full has you feel pretty much every emotion throughout and yet still be satisfied with the ending.
Would I recommend?
YES!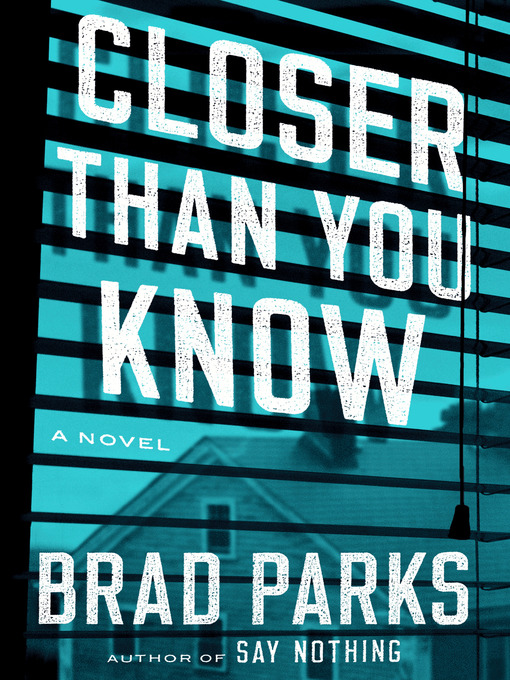 Closer Than You Know by Brad Parks
"Disaster, Melanie Barrick was once told, is always closer than you know.
It was a lesson she learned the hard way growing up in the constant upheaval of foster care. But now that she's survived into adulthood–with a loving husband, a steady job, and a beautiful baby boy named Alex–she thought that turmoil was behind her.
Until one Monday evening when she goes to pick up Alex from childcare only to discover he's been removed by Social Services. And no one will say why. It's a terrifying scenario for any parent, but doubly so for Melanie, who knows the unintended horrors of what everyone coldly calls "the system."
Her nightmare mushrooms when she arrives home to learn her house has been raided by sheriff's deputies, who have found enough cocaine to send Melanie to prison for years. The evidence against her is overwhelming, and if Melanie can't prove her innocence, she'll lose Alex forever.
Meanwhile, assistant commonwealth's attorney Amy Kaye–who has been assigned Melanie's case–has her own troubles. She's been dogged by a cold case no one wants her to pursue: a serial rapist who has avoided detection by wearing a mask and whispering his commands. Over the years, he has victimized dozens of women.
Including Melanie. Yet now her attacker might be the key to her salvation . . . or her undoing."
I haven't read anything else by Brad Parks, but I really enjoyed this book! I hadn't read a good thriller recently, and this was exactly what I wanted! It was a fast-paced and intriguing read. There was a lot going on, but the author wrote it really well so it wasn't confusing and kept me hooked the entire time. I will say that I slightly predicted who had taken Alex, but part of it still surprised me so I am not disappointed by that! Overall, if you want a good psychological thriller that is not extremely popular, this is a great one to pick up.

Would I recommend? YES!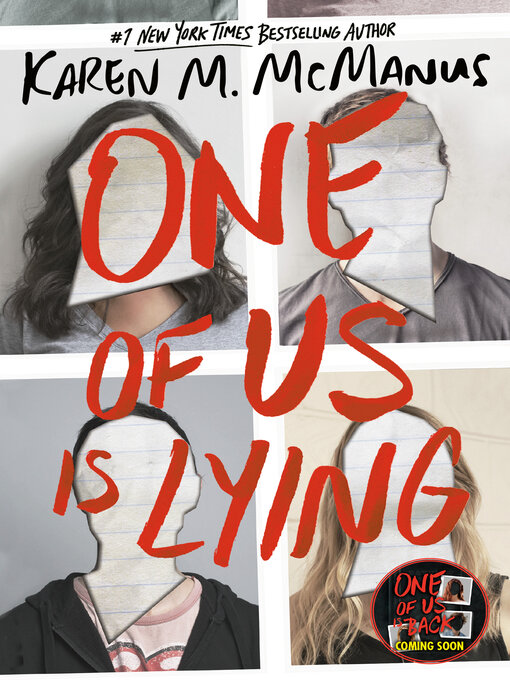 One of Us Is Lying by Karen M. McManus

"Pay close attention and you might solve this.
On Monday afternoon, five students at Bayview High walk into detention.
Bronwyn, the brain, is Yale-bound and never breaks a rule.
Addy, the beauty, is the picture-perfect homecoming princess.
Nate, the criminal, is already on probation for dealing.
Cooper, the athlete, is the all-star baseball pitcher.
AndSimon, the outcast, is the creator of Bayview High's notorious gossip app.
Only, Simon never makes it out of that classroom. Before the end of detention Simon's dead. And according to investigators, his death wasn't an accident. On Monday, he died. But on Tuesday, he'd planned to post juicy reveals about all four of his high-profile classmates, which makes all four of them suspects in his murder. Or are they the perfect patsies for a killer who's still on the loose?
Everyone has secrets, right? What really matters is how far you would go to protect them. "

I don't read many young adult books anymore, but this was recommended on the Kindle library website and when I read the synopsis I was sold. Even though it is thriller, it wasn't as intense as most thrillers since it is YA. But it was still really good while still being a little fluffy. And I am proud to say I guessed what had actually happened before they figured it out, but I didn't figure out too early on which was good. I also enjoyed that it was told from all four perspectives, yet the character development was still good and I was somehow still rooting for all four people.
Would I recommend? Yes!

What have you read recently? Tell me in the comments!
xo, Scarlett