This semester started out pretty slow for me, and we got heavy snows the first two weekends in February! This meant I had a lot of free time while I was stuck in my apartment those weekends, so I took advantage of that time and read a few books that have been on my list for a while!
Tales of the Peculiar by Ransom Riggs
"Wealthy cannibals who dine on the discarded limbs of peculiars. A fork-tongued princess. The origins of the first ymbryne. These are but a few of the truly brilliant stories in Tales of the Peculiar—known to hide information about the peculiar world—first introduced by Ransom Riggs in his Miss Peregrine's Peculiar Children series."
I don't usually read fantasy novels, but the Miss Peregrine's Peculiar Children is the series I make the exception for. I really enjoyed the 3 books in the series, so when I saw this book too I thought I would love it! It is full of short stories that don't connect to each other, so I ended up liking some better than others. Overall it was a quick read, but I do have to say I didn't like all of the short stories.
Would I Recommend? Yes, but after reading the other 3 books in the series since they were better!

Dewey's Nine Lives by Vicki Myron
"Dewey's Nine Lives offers nine funny, inspiring, and heartwarming stories about cats–all told from the perspective of "Dewey's Mom," librarian Vicki Myron. The amazing felines in this book include Dewey, of course, whose further never-before-told adventures are shared, and several others who Vicki found out about when their owners reached out to her. Vicki learned, through extensive interviews and story sharing, what made these cats special, and how they fit into Dewey's community of perseverance and love. From a divorced mother in Alaska who saved a drowning kitten on Christmas Eve to a troubled Vietnam veteran whose heart was opened by his long relationship with a rescued cat, these Dewey-style stories will inspire readers to laugh, cry, care, and, most importantly, believe in the magic of animals to touch individual lives."
I did not realize that this book wasn't mainly around Dewey and that there was actually another book written before this one about him. But this book ended up being full of great cat stories, which I obviously loved since I love cats! If you are also a cat lover, you will love these hilarious and poignant stories too.
Would I recommend? Yes!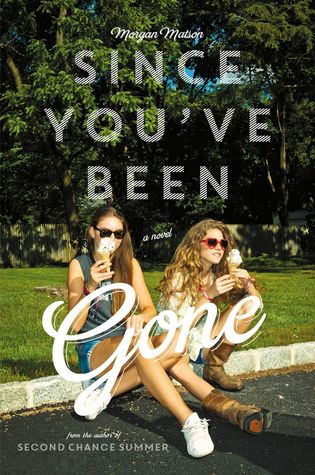 Since You've Been Gone Morgan Matson
"It was Sloane who yanked Emily out of her shell and made life 100% interesting. But right before what should have been the most epic summer, Sloane just…disappears. All she leaves behind is a to-do list.
On it, thirteen Sloane-inspired tasks that Emily would normally never try. But what if they could bring her best friend back?
Apple picking at night? Okay, easy enough.
Dance until dawn? Sure. Why not?
Kiss a stranger? Um…
Emily now has this unexpected summer, and the help of Frank Porter (totally unexpected), to check things off Sloane's list. Who knows what she'll find?"
This book has been on my to-read list for years, and I finally decided to try it this month! I ended up liking it a lot more than I thought, because it was cute without being cheesy. It also reminded me a lot of Paper Towns (girl goes missing… leaves behind a clues… etc.) but it was still very different at the same time. But if you have read Paper Towns and enjoyed it, you would probably also enjoy this!
Would I recommend? Yes!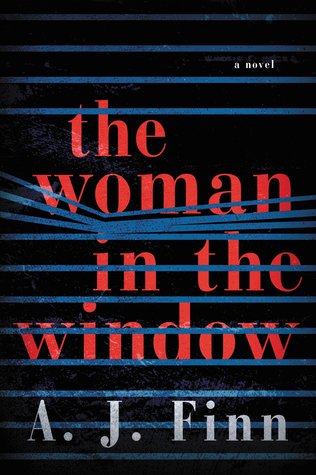 The Woman In The Window by A.J. Finn
"Anna Fox lives alone—a recluse in her New York City home, unable to venture outside. She spends her day drinking wine (maybe too much), watching old movies, recalling happier times . . . and spying on her neighbors.
Then the Russells move into the house across the way: a father, a mother, their teenage son. The perfect family. But when Anna, gazing out her window one night, sees something she shouldn't, her world begins to crumble—and its shocking secrets are laid bare.
What is real? What is imagined? Who is in danger? Who is in control? In this diabolically gripping thriller, no one—and nothing—is what it seems."
This book was full of suspense and a great page turner… I loved it so much I couldn't stop reading and finished in less than 24 hours. I got similar vibes to The Girl On The Train since it was the same premise of a woman witnessing something but she is unreliable and no one knows if she actually did see anything. So this book is anything completely new or groundbreaking. But it was still a very well written thriller and I did not guess the ending at all! The characters were developed perfectly and we also figure out what happened to make Anna stay inside all the time as the book unfolds. I also loved certain parts of it, such as the fact that Anna is a psychologist but has a psychological disorder herself.
Would I recommend? YES!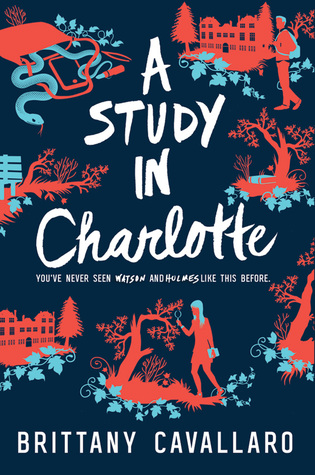 A Study in Charlotte by Brittany Cavallaro
"The last thing Jamie Watson wants is a rugby scholarship to Sherringford, a Connecticut prep school just an hour away from his estranged father. But that's not the only complication: Sherringford is also home to Charlotte Holmes, the famous detective's great-great-great-granddaughter, who has inherited not only Sherlock's genius but also his volatile temperament. From everything Jamie has heard about Charlotte, it seems safer to admire her from afar.
From the moment they meet, there's a tense energy between them, and they seem more destined to be rivals than anything else. But when a Sherringford student dies under suspicious circumstances, ripped straight from the most terrifying of the Sherlock Holmes stories, Jamie can no longer afford to keep his distance. Jamie and Charlotte are being framed for murder, and only Charlotte can clear their names. But danger is mounting and nowhere is safe—and the only people they can trust are each other."
This was another book that I had heard great things about and had been on my list for years but I never actually picked up. But I got about a third of the way through before I decided I just was not enjoying the story at all and gave up on it. I rarely stop reading a book without finishing it too! I didn't connect with any of the characters, the plot just wasn't interesting to me, and it made light of some pretty heavy issues such as drugs and rape. Perhaps part of the reason I did not like it is because I've never watched or read anything to do with Sherlock Holmes, but I feel like I wouldn't have liked this book regardless.
Would I recommend? No, please don't waste an hour or two of your time like I did.
Since You've Been Gone by Anouska Knight
"How do you learn to love again?
In one tragic moment, Holly Jefferson s life as she knows it changes for ever. Now to the external world, at least she s finally getting back on her feet, running her business, Cake. Then she meets Ciaran Argyll.
His rich and charmed life feels a million miles from her own. However, there s more to Ciaran than the superficial world that surrounds him, and he too is wrestling with his own ghosts. Will Holly find the missing ingredient that allows her to live again and embrace an unknown and unexpected tomorrow?"
First off, I just realized I read two books with this title this month! This was another one that I had wanted to read for years and I finally got to it this month. I loved that this was set in England and that Holly owned a cake shop! I also liked how the author portrays Holly's grief well without making it a depressing read. I also really like the happiness and fun that Ciaran brought into Holly's life. Overall, it was a fun and heartwarming romance that would make a good beach read!
Would I recommend? Yes!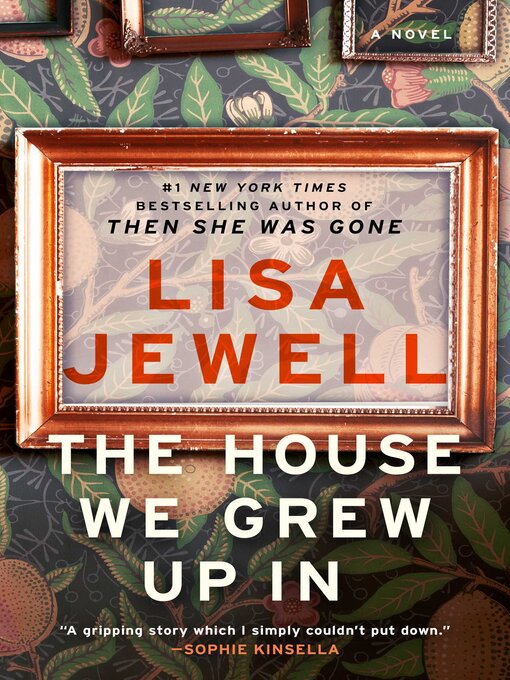 The House We Grew Up In by Lisa Jewell
"Meet the picture-perfect Bird family: pragmatic Meg, dreamy Beth, and towheaded twins Rory and Rhys, one an adventurous troublemaker, the other his slighter, more sensitive counterpart. Their father is a sweet, gangly man, but it's their beautiful, free-spirited mother Lorelei who spins at the center. In those early years, Lorelei tries to freeze time by filling their simple brick house with precious mementos. Easter egg foils are her favorite. Craft supplies, too. She hangs all of the children's art, to her husband's chagrin.
Then one Easter weekend, a tragedy so devastating occurs that, almost imperceptibly, it begins to tear the family apart. Years pass and the children have become adults, while Lorelei has become the county's worst hoarder. She has alienated her husband and children and has been living as a recluse. But then something happens that beckons the Bird family back to the house they grew up in—to finally understand the events of that long-ago Easter weekend and to unearth the many secrets hidden within the nooks and crannies of home."
I ended up liking this book more than I originally thought I would. Lisa Jewell did a great job of portraying this complex family and Lorelei's hoarding problem that contributed to tearing the family apart. We get glimpses into different years of their lives as the story unfolds, and we slowly become aware of all of the other secrets that tore this family apart. I loved how smoothly this book still flowed even though it was jumping back and forth throughout decades of their lives. This is the second book I have read by Lisa Jewell, and I will definitely be picking up more in the future.
Would I recommend? Yes!
What good books have you read recently? I would love to hear your recommendations in the comments!
xo, Scarlett