During December, so many books that I had requested from my library this fall came in, so it was a good month as far as reading goes! Today I wanted to share what I actually thought of each book, and which ones were maybe hyped a little too much.
The Dollhouse- Fiona Davis
"When she arrives at the famed Barbizon Hotel in 1952, secretarial school enrollment in hand, Darby McLaughlin is everything her modeling agency hall mates aren't: plain, self-conscious, homesick, and utterly convinced she doesn't belong—a notion the models do nothing to disabuse. Yet when Darby befriends Esme, a Barbizon maid, she's introduced to an entirely new side of New York City: seedy downtown jazz clubs where the music is as addictive as the heroin that's used there, the startling sounds of bebop, and even the possibility of romance.
Over half a century later, the Barbizon's gone condo and most of its long-ago guests are forgotten. But rumors of Darby's involvement in a deadly skirmish with a hotel maid back in 1952 haunt the halls of the building as surely as the melancholy music that floats from the elderly woman's rent-controlled apartment. It's a combination too intoxicating for journalist Rose Lewin, Darby's upstairs neighbor, to resist—not to mention the perfect distraction from her own imploding personal life. Yet as Rose's obsession deepens, the ethics of her investigation become increasingly murky, and neither woman will remain unchanged when the shocking truth is finally revealed."
As I've said before, I enjoy books that alternate between perspectives, or in this case between present day and the 1950s. The stories of these two women are very well interwoven, and this book had the perfect amount of suspense and mystery. It was a nice break from the many thrillers I have read recently, but I enjoyed that there was still a mystery in this book. The historical fiction aspect of this book was also very well written, and I loved the ending of this book and how well the two separate stories melded together.
Would I recommend? Yes!
You Are A Badass- Jen Sincero
"In this refreshingly entertaining how-to guide, bestselling author and world-traveling success coach, Jen Sincero, serves up 27 bitesized chapters full of hilariously inspiring stories, sage advice, easy exercises, and the occasional swear word, helping you to: Identify and change the self-sabotaging beliefs and behaviors that stop you from getting what you want, Create a life you totally love. And create it NOW, Make some damn money already. The kind you've never made before."
Honestly, this was a good book that I have recommended to a few friends. I loved her attitude of if you want something you need to start working for it now and make your life awesome. But I also didn't agree with a few things she said, and truly there was nothing in it I hadn't heard before. This book was a good pep talk though, and if you are feeling "blah" about life or feeling like you can't do something that you want to, this book will kick your butt into the right mindset.
Would I recommend? Yes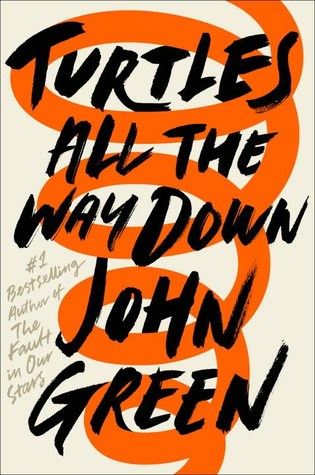 Turtles All The Way Down- John Green
"Sixteen-year-old Aza never intended to pursue the mystery of fugitive billionaire Russell Pickett, but there's a hundred-thousand-dollar reward at stake and her Best and Most Fearless Friend, Daisy, is eager to investigate. So together, they navigate the short distance and broad divides that separate them from Russell Pickett's son, Davis."
Aza is trying. She is trying to be a good daughter, a good friend, a good student, and maybe even a good detective, while also living within the ever-tightening spiral of her own thoughts.
Honestly, this might have been my least favorite John Green book, which pains me to say because I really was excited to read it. The writing was definitely good at times, but I also felt like this book wasn't really about much. It was mainly just philosophical teens not really doing a whole lot. By the end I did like the main character Aza, but I felt like the plot of the missing billionaire actually took away from the story even though it was supposed to be the main storyline. I also really didn't like her best friend Daisy, but that could be a whole other rant.
Would I recommend? Maybe (after you've read other John Green books first)
My True Love Gave To Me- Stephanie Perkins
"If you love holiday stories, holiday movies, made-for-TV-holiday specials, holiday episodes of your favorite sitcoms and, especially, if you love holiday anthologies, you're going to fall in love with My True Love Gave To Me: Twelve Holiday Stories by twelve bestselling young adult writers, edited by international bestselling author Stephanie Perkins. Whether you enjoy celebrating Christmas or Hanukkah, Winter Solstice or New Year's there's something here for everyone. So curl up by the fireplace and get cozy. You have twelve reasons this season to stay indoors and fall in love."
This book was a really easy read to get me in the Christmas spirit. I loved that they were short stories so I could read one a day and not get sucked into a long book when I should have been studying for finals. But at times I was really sad to finish one because I had liked the story and characters so much. On the other hand, there were one or two that I just could not get into and ended up skipping. My favorite two stories in this book were "Welcome to Christmas, CA" by Kiersten White and "Midnights" by Rainbow Rowell.
Would I recommend? Yes, but not all

The Couple Next Door- Shari Lapena
"Anne and Marco Conti seem to have it all–a loving relationship, a wonderful home, and their beautiful baby, Cora. But one night when they are at a dinner party next door, a terrible crime is committed. Suspicion immediately focuses on the parents. But the truth is a much more complicated story.
Inside the curtained house, an unsettling account of what actually happened unfolds. Detective Rasbach knows that the panicked couple is hiding something. Both Anne and Marco soon discover that the other is keeping secrets, secrets they've kept for years."
I requested this book over the summer, and I finished it quickly once I got my hands on it over Christmas break! There were plenty of twists and turns in this book, and you never knew who you could trust and who could've been in on the kidnapping. I did like the first half more than I liked the ending. It all came together nicely, but almost a little too conveniently nice if you get what I mean? It just didn't seem very realistic, though I still was shocked at parts.
Would I recommend? Yes!
Dangerous Girls- Abigail Haas
"It's Spring Break of senior year. Anna, her boyfriend Tate, her best friend Elise, and a few other close friends are off on a debaucherous trip to Aruba that promises to be the time of their lives. But when Elise is found brutally murdered, Anna finds herself trapped in a country not her own, fighting against vile and contemptuous accusations.
As Anna sets out to find her friend's killer, she discovers hard truths about her friendships, the slippery nature of truth, and the ache of young love.
As she awaits the judge's decree, it becomes clear that everyone around her thinks she is not just guilty, but dangerous. When the truth comes out, it is more shocking than one could ever imagine…"
This book has been on my to-read list for years, but for some reason I kept skipping over it. I am SO glad that I gave it a try this month, because it is definitely one of my favorite books I read this year. This book had me guessing until the very end, and I was shocked by the last few pages. I liked that this book went back and forth between before the murder and after, which made it even more intriguing and made me relate to the main character, Anna, more. The ending was great, but the story itself was very satisfying and the book was written very well! I really loved how complex the characters were, especially Elise. If you read or watched Pretty Little Liars, Elise reminded me of Alison, which might be part of the reason why her character intrigued me so much.

Would I recommend? YES!


What good books have you read this month? Share in the comments below!
xo, Scarlett