With summer almost here, I decided to compile a few of my favorite dresses at the moment. After I found all the ones I wanted to include, I realized most of them are black or a blue color! I guess those have been a favorite recently!
Striped dresses are so adorable, especially for summer! This one is from Mary and Mak boutique, and I love it because the stripes aren't all the same and the top is almost like a chevron pattern.

I also love the colors and the style of this Modcloth dress! I can already imagine this with a cute watch and statement necklace…

Fash Foward Boutique: $40.99
I have been OBSESSED with bow clothes recently, so this dress is no exception!

Cut out dresses have been very popular lately, so of course I had to include one! I really like this one from Forever 21, because the cut outs aren't too extreme. I have seen some which show more skin than dress!

This next dress is from Francesca's. I absolutely love the colors and pattern of this dress! It also would be really easy to dress up or down!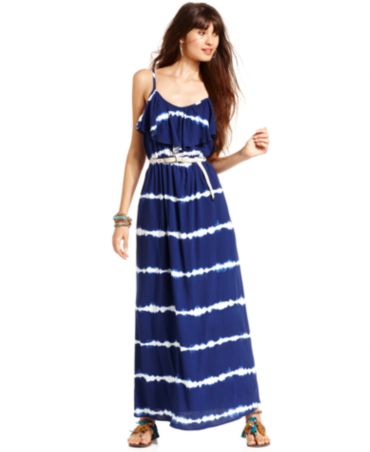 Lastly, I chose a maxi dress. It seems like everyone is talking about maxi dresses these days! This specific one is from Macy's and is only $37.99. Some of the maxi dresses I have seen have been closer to $100, so finding one for under $50 is pretty good! The only problem with maxi dresses for me is I am short. Now don't get me wrong, I think shorter people can rock maxi dresses just as well, if not better, than average or tall women! The problem is I can never find any that hit me right without getting them hemmed, which is a hassle. I have heard Target has a few good ones that work for shorter people, but my Target is always out of stock! So please do tell any tips you have in the comments!