Recently, I have seen a ton of people wearing thick, geometric print cardigans that look so warm and cozy!
Just throw on one of these over a pair of leggings or jeggings, and it looks like you put a lot of effort into your outfit! But in reality, you just took about 2 minutes.
One way I would pair a bat winged cardigan like this is with a messy bun or ponytail, combat boots, and a dark colored lip color for fall! Tell me how you wear yours in the comments.
The cardigan pictured above is $49 and I found it through Pinterest! I really like how it doesn't have any color, so you would wear a shirt underneath with a pop of color or shoes that are bright. Even use your nail color or lip color to make a statement with this winter essential!
And of course Pacsun has a few different cute ones in stock! This one is $54, and I love how it has a pop of turquoise which will really stand out in the dullness of winter!
This pink and black cardigan is from Forever 21, and is only $32.80. While that might seem like a lot for one cardigan, it really is a good price for one of these! Normally they are made really well and are so thick and cozy for the winter months, that it is okay to spend a little more than you normally would!If you would prefer, it also comes in cream and black!
Now that I have showed you a few different options that you can checkout if you are interested in purchasing one, here are a few different pictures I found on Pinterest that inspire me when it comes to wearing geometric patterned cardigans!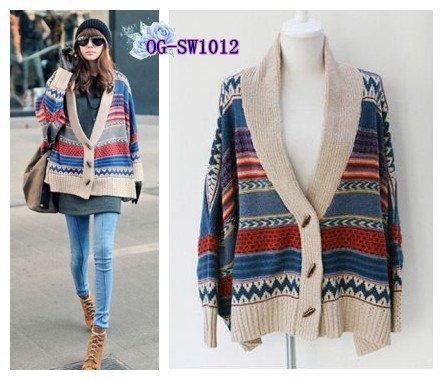 chictopia.com
xo, Scarlett