December was a fun month for reading since I was home for half of it and able to get some physical books from the library! When I am in school, I always just get Kindle books to read on my Kindle or Libby app. So it is always a fun change to read an actual book, especially when it is one that has a long wait list for the Kindle version! I ended up finishing 5 books this month, so keep reading to find out what I read in December 2019 and if I enjoyed them or not!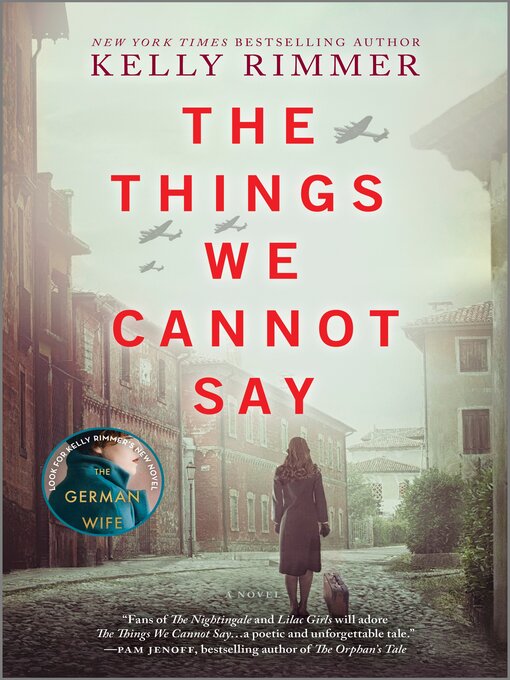 The Things We Cannot Say by Kelly Rimmer
"In 1942, Europe remains in the relentless grip of war. Just beyond the tents of the Russian refugee camp she calls home, a young woman speaks her wedding vows. It's a decision that will alter her destiny…and it's a lie that will remain buried until the next century.
Since she was nine years old, Alina Dziak knew she would marry her best friend, Tomasz. Now fifteen and engaged, Alina is unconcerned by reports of Nazi soldiers at the Polish border, believing her neighbors that they pose no real threat, and dreams instead of the day Tomasz returns from college in Warsaw so they can be married. But little by little, injustice by brutal injustice, the Nazi occupation takes hold, and Alina's tiny rural village, its families, are divided by fear and hate.
Then, as the fabric of their lives is slowly picked apart, Tomasz disappears. Where Alina used to measure time between visits from her beloved, now she measures the spaces between hope and despair, waiting for word from Tomasz and avoiding the attentions of the soldiers who patrol her parents' farm. But for now, even deafening silence is preferable to grief."
This was actually one of my favorite historical fiction books from 2019! As it says on the front, if you liked The Nightingale or Lilac girls you will probably really enjoy this one as well. It went back in time between Alina and and present day Alice. While is it pretty easy to guess a few of the plot twists, some parts left me shocked because I hadn't seen it coming! I loved both narratives and really enjoyed it at the end when you figured out the secret. If you have been following my Recently Reading posts, you will see that I have read quite a few WWII historical fiction books this year, and while many were very good, in the end some start to run together in my mind. However, this one gave a different wartime perspective than many other ones I have read, and I think that is one of the things I enjoyed most about it and that makes it stick out more.
I would recommend? Yes! 5/5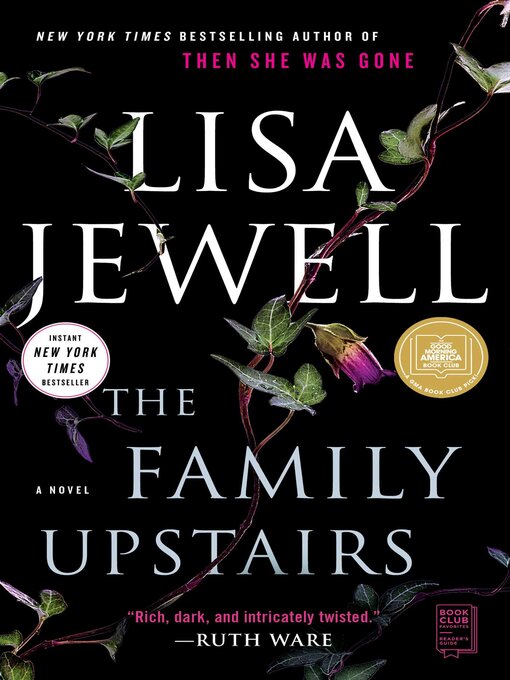 The Family Upstairs by Lisa Jewell
"Soon after her twenty-fifth birthday, Libby Jones returns home from work to find the letter she's been waiting for her entire life. She rips it open with one driving thought: I am finally going to know who I am.
She soon learns not only the identity of her birth parents, but also that she is the sole inheritor of their abandoned mansion on the banks of the Thames in London's fashionable Chelsea neighborhood, worth millions. Everything in Libby's life is about to change. But what she can't possibly know is that others have been waiting for this day as well—and she is on a collision course to meet them.
Twenty-five years ago, police were called to 16 Cheyne Walk with reports of a baby crying. When they arrived, they found a healthy ten-month-old happily cooing in her crib in the bedroom. Downstairs in the kitchen lay three dead bodies, all dressed in black, next to a hastily scrawled note. And the four other children reported to live at Cheyne Walk were gone."
I am a big Lisa Jewell fan, so I was excited to pick up her latest book. However, I will say it was not quite as good as I had hoped. I did really enjoy parts of it and was drawn in from the beginning. It was the ending that is my biggest complaint. Parts just seemed a bit unbelievable, and it almost felt like this book was trying to do too much. It also was confusing at times because the story is told by 3 different characters. While I still made it through this book and would probably recommend it, I would recommend starting with I Found You by Lisa Jewell if you haven't read any of her books!
Would I recommend? Probably, 3.5/5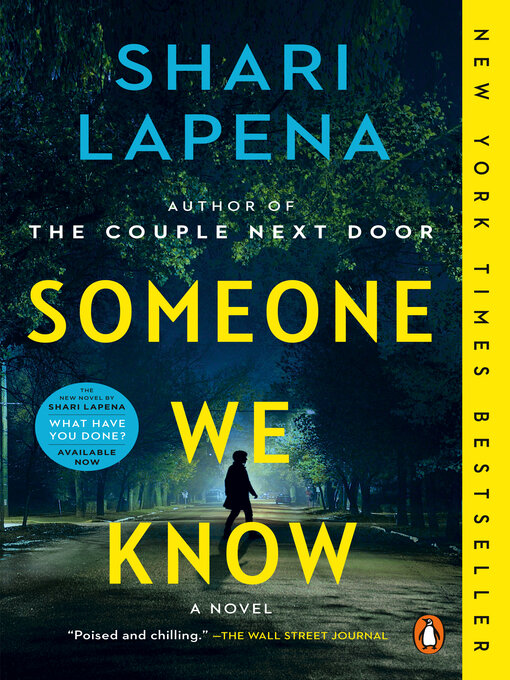 Someone We Know by Shari Lapena
"This is a very difficult letter to write. I hope you will not hate us too much. . . My son broke into your home recently while you were out."
In a quiet, leafy suburb in upstate New York, a teenager has been sneaking into houses—and into the owners' computers as well—learning their secrets, and maybe sharing some of them, too.
Who is he, and what might he have uncovered? After two anonymous letters are received, whispers start to circulate, and suspicion mounts. And when a woman down the street is found murdered, the tension reaches the breaking point. Who killed her? Who knows more than they're telling? And how far will all these very nice people go to protect their own secrets?
In this neighborhood, it's not just the husbands and wives who play games. Here, everyone in the family has something to hide . . ."
I always like Shari Lapena's writing because it doesn't ever drag on. This book is on the shorter side, but it was the perfect length for the story told and you will be hooked from the beginning! I also really enjoyed the suspicious characters in this book because you had no idea who you could really trust as you were reading. An overall great "whodunit" mystery, and just another example of why I enjoy Lapena's books!
Would I recommend? Yes! 4/5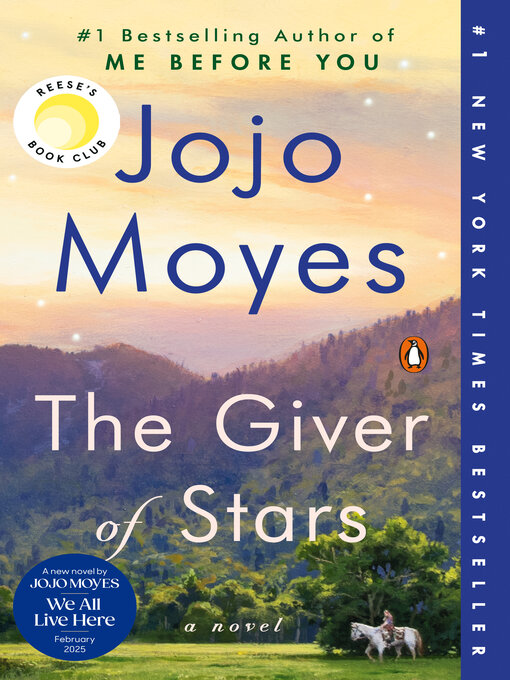 The Giver of Stars by Jojo Moyes
"Alice Wright marries handsome American Bennett Van Cleve hoping to escape her stifling life in England. But small-town Kentucky quickly proves equally claustrophobic, especially living alongside her overbearing father-in-law. So when a call goes out for a team of women to deliver books as part of Eleanor Roosevelt's new traveling library, Alice signs on enthusiastically.
The leader, and soon Alice's greatest ally, is Margery, a smart-talking, self-sufficient woman who's never asked a man's permission for anything. They will be joined by three other singular women who become known as the Packhorse Librarians of Kentucky.
What happens to them—and to the men they love—becomes an unforgettable drama of loyalty, justice, humanity and passion. These heroic women refuse to be cowed by men or by convention. And though they face all kinds of dangers in a landscape that is at times breathtakingly beautiful, at others brutal, they're committed to their job: bringing books to people who have never had any, arming them with facts that will change their lives.
Based on a true story rooted in America's past, The Giver of Stars is unparalleled in its scope and epic in its storytelling. Funny, heartbreaking, enthralling, it is destined to become a modern classic—a richly rewarding novel of women's friendship, of true love, and of what happens when we reach beyond our grasp for the great beyond."
This isn't a book I would usually pick up, but with so many people talking about it recently I had to! And I am glad I did because I enjoyed it a lot more than I had initially thought I would. I enjoyed how well developed the characters in this story were, and I loved how this book added to the idea that books are important in everyone's life. The setting of this book isn't one I had read about in a book before, so it was interesting to see things in the Appalachian mountains during the 30s.
Would I recommend? Yes! 4/5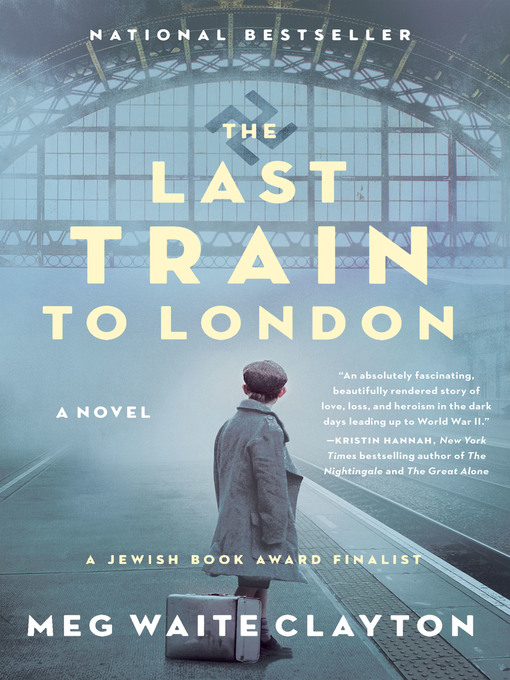 The Last Train To London by Meg Wait Clayton
"In 1936, the Nazi are little more than loud, brutish bores to fifteen-year old Stephan Neuman, the son of a wealthy and influential Jewish family and budding playwright whose playground extends from Vienna's streets to its intricate underground tunnels. Stephan's best friend and companion is the brilliant Žofie-Helene, a Christian girl whose mother edits a progressive, anti-Nazi newspaper. But the two adolescents' carefree innocence is shattered when the Nazis' take control.
There is hope in the darkness, though. Truus Wijsmuller, a member of the Dutch resistance, risks her life smuggling Jewish children out of Nazi Germany to the nations that will take them. It is a mission that becomes even more dangerous after the Anschluss—Hitler's annexation of Austria—as, across Europe, countries close their borders to the growing number of refugees desperate to escape.
Tante Truus, as she is known, is determined to save as many children as she can. After Britain passes a measure to take in at-risk child refugees from the German Reich, she dares to approach Adolf Eichmann, the man who would later help devise the "Final Solution to the Jewish Question," in a race against time to bring children like Stephan, his young brother Walter, and Žofie-Helene on a perilous journey to an uncertain future abroad."
The synopsis of this book intrigued me, and it ended up being different than I expected. Even though I have read quite a few historical fiction books set during WWII, it amazes me how there are so many different stories still to be told. The fact that Truus Wijsmuller was a real person who actually helped save hundreds of children made this book even better to me. This book was had quite a few really sad parts, more than some other WWII books. However, in this case it seemed very appropriate since it was all things that either did happen or similar things were happening at this time. I will say that it takes a bit to get into this story, but don't give up because you will be very invested by the end!
Would I recommend? Yes 4/5
And that's a wrap on my 2019 reading! I read a total of 88 books, so make sure to checkout this post where I share my top favorites from the year!
Have you read any of the books I mentioned in this post? Tell me in the comments below! And as always, friend me on Goodreads if you use it to stay up to date on what I am reading throughout the month!
xo, Scarlett