It is time for another Recently Reading post to share what I read in July 2019! July was a busy one, but I also managed to squeeze in quite a bit of reading time to finish 9 different books! Today I am sharing which one I loved and which ones fell flat for me.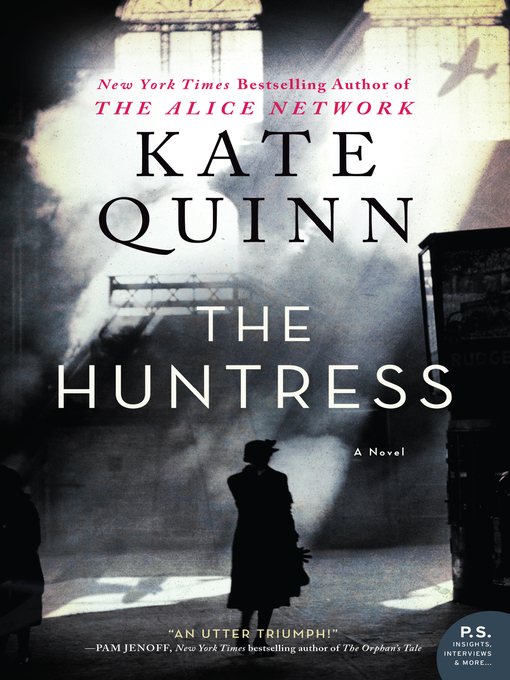 The Huntress by Kate Quinn
"Bold and fearless, Nina Markova always dreamed of flying. When the Nazis attack the Soviet Union, she risks everything to join the legendary Night Witches, an all-female night bomber regiment wreaking havoc on the invading Germans. When she is stranded behind enemy lines, Nina becomes the prey of a lethal Nazi murderess known as the Huntress, and only Nina's bravery and cunning will keep her alive.
Transformed by the horrors he witnessed from Omaha Beach to the Nuremberg Trials, British war correspondent Ian Graham has become a Nazi hunter. Yet one target eludes him: a vicious predator known as the Huntress. To find her, the fierce, disciplined investigator joins forces with the only witness to escape the Huntress alive: the brazen, cocksure Nina. But a shared secret could derail their mission unless Ian and Nina force themselves to confront it.
Growing up in post-war Boston, seventeen-year-old Jordan McBride is determined to become a photographer. When her long-widowed father unexpectedly comes homes with a new fiancée, Jordan is thrilled. But there is something disconcerting about the soft-spoken German widow. Certain that danger is lurking, Jordan begins to delve into her new stepmother's past—only to discover that there are mysteries buried deep in her family . . . secrets that may threaten all Jordan holds dear."
I was really excited to kick the month off with this one since I had read and loved The Alice Network, but this one was not nearly as good as I had hoped. I found the book to be slow and unnecessarily long, and I wasn't really invested in the story or the characters. I did like Nina, but Jordan's parts just didn't seem to fit in well to me.
Would I recommend? No 2.5/5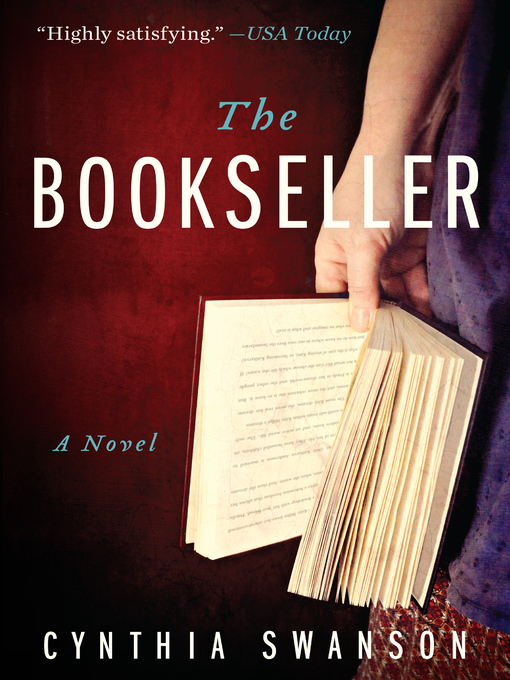 The Bookseller by Cynthia Swanson
"Nothing is as permanent as it appears . . .
Denver, 1962: Kitty Miller has come to terms with her unconventional single life. She loves the bookshop she runs with her best friend, Frieda, and enjoys complete control over her day-to-day existence. She can come and go as she pleases, answering to no one. There was a man once, a doctor named Kevin, but it didn't quite work out the way Kitty had hoped.
Then the dreams begin.
Denver, 1963: Katharyn Andersson is married to Lars, the love of her life. They have beautiful children, an elegant home, and good friends. It's everything Kitty Miller once believed she wanted—but it only exists when she sleeps.
Convinced that these dreams are simply due to her overactive imagination, Kitty enjoys her nighttime forays into this alternate world. But with each visit, the more irresistibly real Katharyn's life becomes. Can she choose which life she wants? If so, what is the cost of staying Kitty, or becoming Katharyn?
As the lines between her worlds begin to blur, Kitty must figure out what is real and what is imagined. And how do we know where that boundary lies in our own lives?"
This book was recommended to me by one of my best friends, so of course I had to try it! I ended up really loving the characters and I was torn about which reality I wanted to be real! I don't want to say too much to give anything away, but if the summary interests you I would recommend it!
Would I recommend? YES! 5/5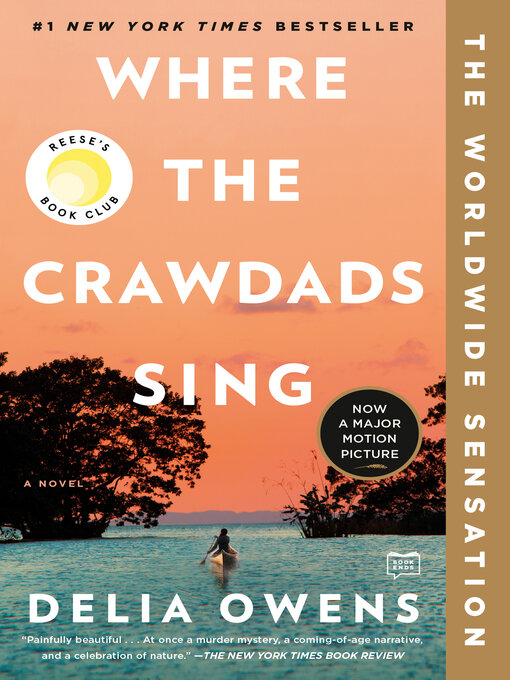 Where The Crawdads Sing by Delia Owens
"For years, rumors of the "Marsh Girl" have haunted Barkley Cove, a quiet town on the North Carolina coast. So in late 1969, when handsome Chase Andrews is found dead, the locals immediately suspect Kya Clark, the so-called Marsh Girl. But Kya is not what they say. Sensitive and intelligent, she has survived for years alone in the marsh that she calls home, finding friends in the gulls and lessons in the sand. Then the time comes when she yearns to be touched and loved. When two young men from town become intrigued by her wild beauty, Kya opens herself to a new life—until the unthinkable happens."
While I did really enjoy this book, it did not quite live up to the hype that I feel surrounds it. I will say that this book included a likable main character, a murder, drama, coming to age, and romance, so it had a bit of everything you could want! The writing of this book was also amazing and I would recommend it for that reason alone.
Would I recommend? Yes! 4.5/5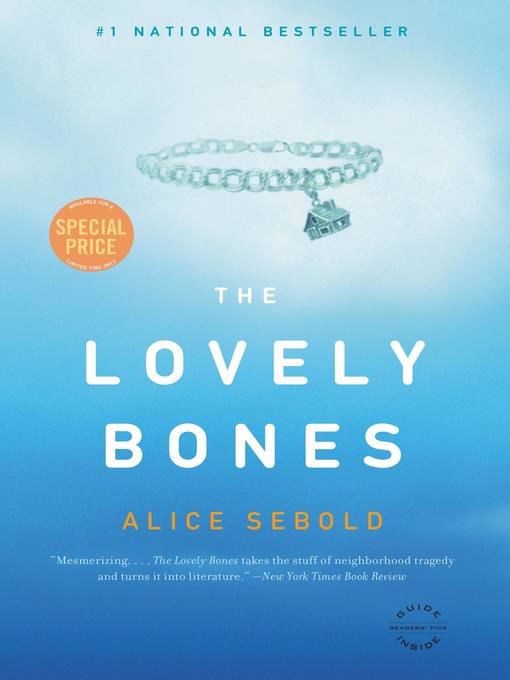 The Lovely Bones by Alice Sebold
"My name was Salmon, like the fish; first name, Susie. I was fourteen when I was murdered on December 6, 1973."
"So begins the story of Susie Salmon, who is adjusting to her new home in heaven, a place that is not at all what she expected, even as she is watching life on earth continue without her — her friends trading rumors about her disappearance, her killer trying to cover his tracks, her grief-stricken family unraveling. Out of unspeakable tragedy and loss, THE LOVELY BONES succeeds, miraculously, in building a tale filled with hope, humor, suspense, even joy."
If you're looking for a thriller, this probably isn't it. This story gives an inside look at how the family and friends of someone who is murdered fall apart, but then we also get to see many of them rise back up again. Some are constantly looking for her killer while others are too blinded by grief to do much of anything. It is a bit of a slower book, but I thought it was worth the time.
Would I recommend? Yes! 3.5/5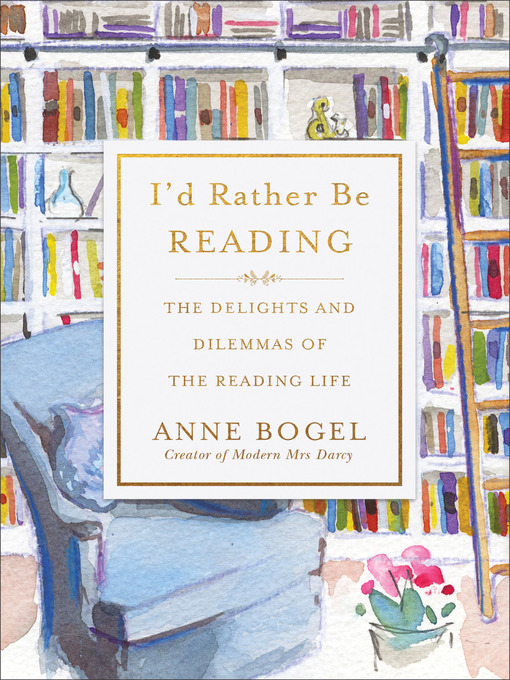 I'd Rather Be Reading by Anne Bogel
"Popular blogger and host of the What Should I Read Next? podcast offers a charming, relatable, and highly readable essay collection for book lovers everywhere, examining the magical and maddening aspects of the reading life."
I was browsing Kindle books from my library when I found this one. The title and blurb intrigued me, so I picked it up and was delighted to find I could relate to many of her scenarios. She included so many things that people who constantly read can relate to, and I loved her chapters about living next door to a library! This is also a pretty quick read that I finished in one evening, which I loved.
Would I recommend? Yes! 4/5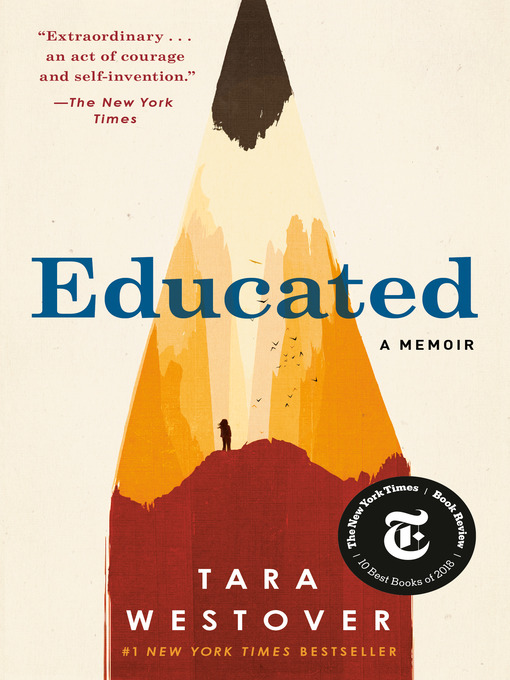 "Born to survivalists in the mountains of Idaho, Tara Westover was seventeen the first time she set foot in a classroom. Her family was so isolated from mainstream society that there was no one to ensure the children received an education, and no one to intervene when one of Tara's older brothers became violent. When another brother got himself into college, Tara decided to try a new kind of life. Her quest for knowledge transformed her, taking her over oceans and across continents, to Harvard and to Cambridge University. Only then would she wonder if she'd traveled too far, if there was still a way home."
After waiting since March to get this book from the library, I am happy to say that it lived up to the hype. The writing was well done and I kept having to remind myself that this was a true story since parts were farfetched at times. Potentially a little too farfetched at times, but I will give her the benefit of the doubt. It is hard to believe that people actually live this way and that a child could grow up without an education, but Tara's strength through it all was astounding to read about.
Would I recommend? YES! 5/5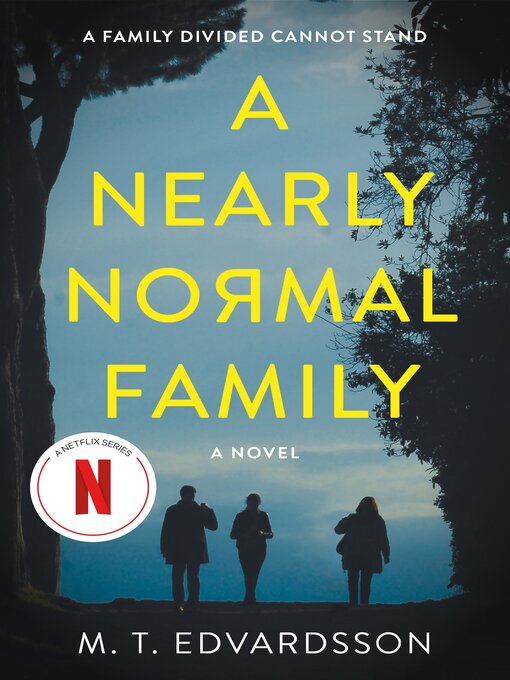 A Nearly Normal Family by M.T. Edvardsson
"Eighteen-year-old Stella Sandell stands accused of the brutal murder of a man almost fifteen years her senior. She is an ordinary teenager from an upstanding local family. What reason could she have to know a shady businessman, let alone to kill him?
Stella's father, a pastor, and mother, a criminal defense attorney, find their moral compasses tested as they defend their daughter, while struggling to understand why she is a suspect. Told in an unusual three-part structure, A Nearly Normal Family asks the questions: How well do you know your own children? How far would you go to protect them?"
I'm not sure if it was because I hadn't read a good thriller in a while or if this one really was great, but I really loved this book! I liked the murder mystery, the family drama, and the three parts so we got to see it from each member of the family's perspective. The shifting perspectives helped keep my attention throughout as well!
Would I recommend? YES! 5/5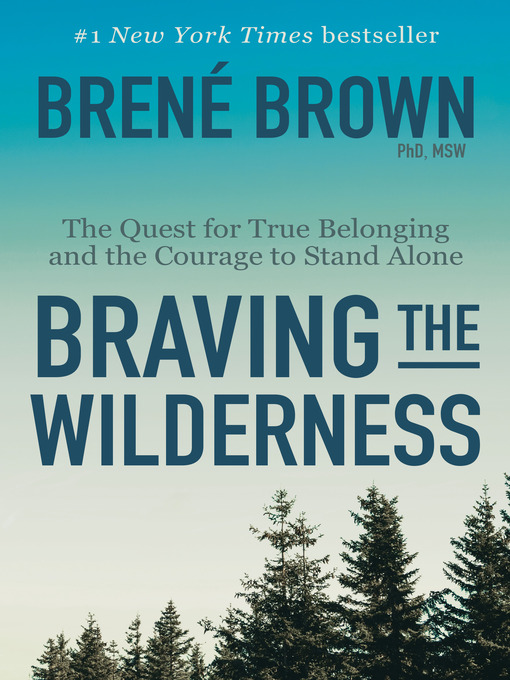 Braving The Wilderness by Brene Brown
"True belonging doesn't require us to change who we are. It requires us to be who we are." Social scientist Brené Brown, PhD, LMSW, has sparked a global conversation about the experiences that bring meaning to our lives—experiences of courage, vulnerability, love, belonging, shame, and empathy. In Braving the Wilderness, Brown redefines what it means to truly belong in an age of increased polarization. With her trademark mix of research, storytelling, and honesty, Brown will again change the cultural conversation while mapping a clear path to true belonging.
Brown argues that we're experiencing a spiritual crisis of disconnection, and introduces four practices of true belonging that challenge everything we believe about ourselves and each other. She writes, "True belonging requires us to believe in and belong to ourselves so fully that we can find sacredness both in being a part of something and in standing alone when necessary. But in a culture that's rife with perfectionism and pleasing, and with the erosion of civility, it's easy to stay quiet, hide in our ideological bunkers, or fit in rather than show up as our true selves and brave the wilderness of uncertainty and criticism. But true belonging is not something we negotiate or accomplish with others; it's a daily practice that demands integrity and authenticity. It's a personal commitment that we carry in our hearts." Brown offers us the clarity and courage we need to find our way back to ourselves and to each other. And that path cuts right through the wilderness. Brown writes, "The wilderness is an untamed, unpredictable place of solitude and searching. It is a place as dangerous as it is breathtaking, a place as sought after as it is feared. But it turns out to be the place of true belonging, and it's the bravest and most sacred place you will ever stand."
I like Brene Brown's Ted Talks, so I thought I would like her books, especially after this one was in Reese Witherspoon's book club. But this fell very flat for me and I was so glad it was short so I could just finish it and move on. There were a few decent points in there, but overall it just felt like there wasn't much cohesion and she was just quoting other people. It also ended up being political at times, which I felt was unnecessary and she could have still gotten points across with it.
Would I recommend? Probably not 2.5/5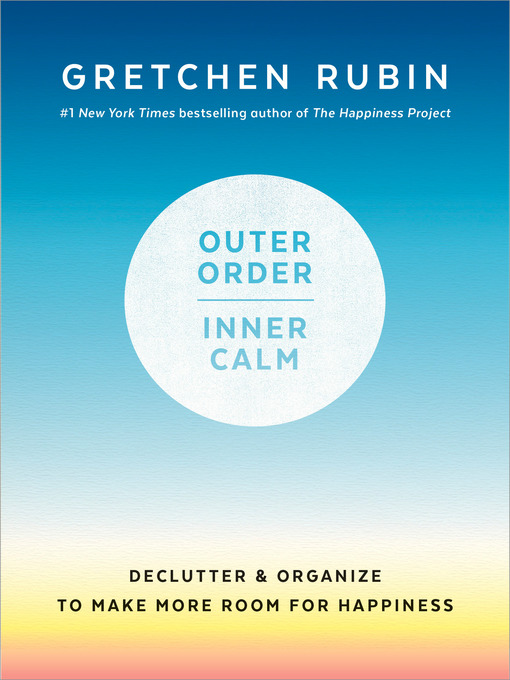 Outer Order Inner Calm by Gretchen Rubin
"Gretchen Rubin knows firsthand that creating order can make our lives happier, healthier, more productive, and more creative. But for most of us, a rigid, one-size-fits-all solution doesn't work. When we tailor our approach to suit our own particular challenges and habits, we can find inner calm.
With a sense of fun, and a clear idea of what's realistic for most people, Rubin suggests dozens of manageable tips and tricks for creating a more serene, orderly environment, including:
Never label anything "miscellaneous."
Ask yourself, "Do I need more than one?"
• Don't aim for minimalism.
Remember: If you can't retrieve it, you won't use it.
Stay current with a child's interests.
Beware the urge to "procrasticlear."
By getting rid of things we don't use, don't need, or don't love, we free our minds (and our shelves) for what we truly value."
I read and liked The Happiness Project years ago, so when I saw she had a few other books out I decided to pick one up. It was another quick read, but I like her writing style and her tips are practical. Though beware, it made me want to go through everything I owned lol.
Would I recommend? Yes! 4/5
That's all for what I read in July! Checkout my previous book reviews here!
xo, Scarlett