The end of the month means another recap of the books I read in June 2019! Even with summer classes and all the fun activities summer brings, I was able to squeeze in lots of reading time and finished 9 books in this month!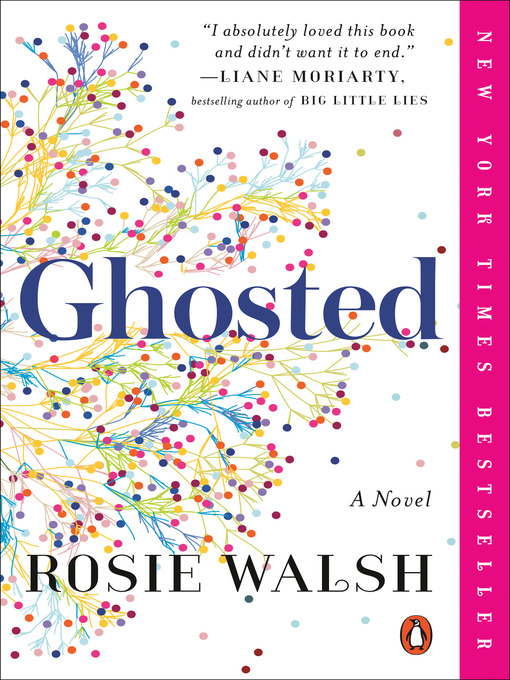 Ghosted by Rosie Walsh
"When Sarah meets Eddie, they connect instantly and fall in love. To Sarah, it seems as though her life has finally begun. And it's mutual: It's as though Eddie has been waiting for her, too. Sarah has never been so certain of anything. So when Eddie leaves for a long-booked vacation and promises to call from the airport, she has no cause to doubt him. But he doesn't call.
Sarah's friends tell her to forget about him, but she can't. She knows something's happened—there must be an explanation.
Minutes, days, weeks go by as Sarah becomes increasingly worried. But then she discovers she's right. There is a reason for Eddie's disappearance, and it's the one thing they didn't share with each other: the truth."
This book was pretty good, and overall I enjoyed the story. But I felt like it was missing a few things and it took me a while to finish it because I just wasn't that invested. For a book that was supposed to be about Sarah and Eddie, we really didn't get more than a glimpse into their week together. There was also a lot of characters and a few twists that seemed to too coincidental. If you want a cute romance book for a summer beach read, I would still recommend it though!
Would I recommend? Yes 3/5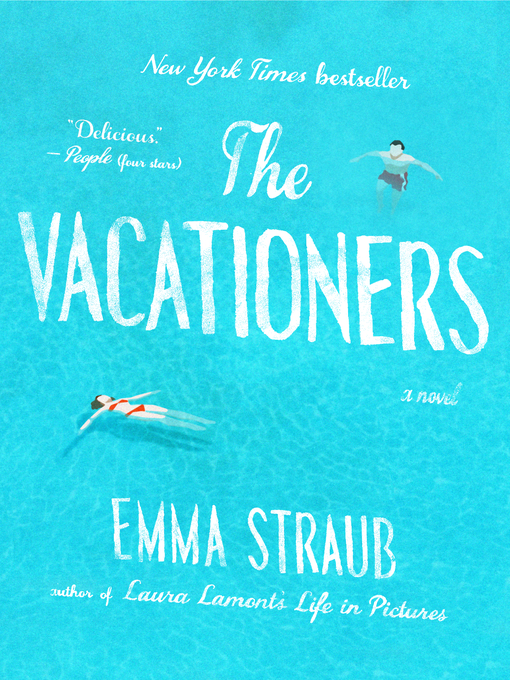 The Vacationers by Emma Straub
"An irresistible, deftly observed novel from the New York Times-bestselling author of Modern Lovers, about the secrets, joys, and jealousies that rise to the surface over the course of an American family's two-week stay in Mallorca.
For the Posts, a two-week trip to the Balearic island of Mallorca with their extended family and friends is a celebration: Franny and Jim are observing their thirty-fifth wedding anniversary, and their daughter, Sylvia, has graduated from high school. The sunlit island, its mountains and beaches, its tapas and tennis courts, also promise an escape from the tensions simmering at home in Manhattan. But all does not go according to plan: over the course of the vacation, secrets come to light, old and new humiliations are experienced, childhood rivalries resurface, and ancient wounds are exacerbated.
This is a story of the sides of ourselves that we choose to show and those we try to conceal, of the ways we tear each other down and build each other up again, and the bonds that ultimately hold us together. With wry humor and tremendous heart, Emma Straub delivers a richly satisfying story of a family in the midst of a maelstrom of change, emerging irrevocably altered yet whole."
I had this book on my to-read list for years, and I finally got around to it this month since it seemed like a good summer read. However, I was disappointed. The plot overall was boring and nothing new, and I did not like any of the characters. I did finish it, but I finished it thinking "that's it?" I kept hoping something would happen and the story would become more interested… but it never did.
Would I recommend? No 3/5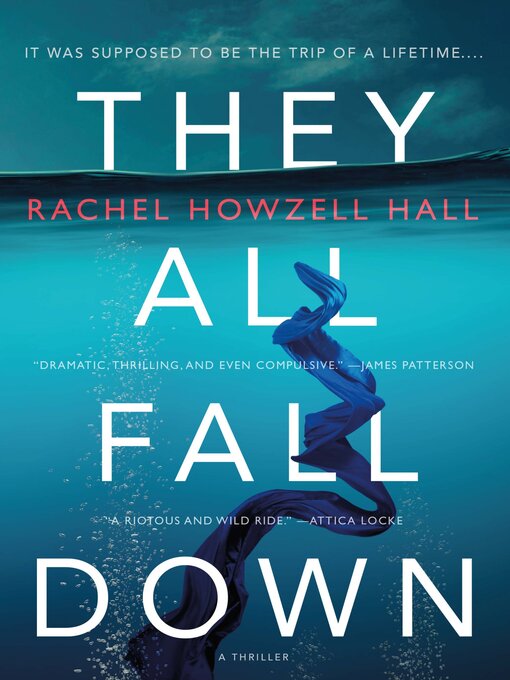 They All Fall Down by Rachel Howzell Hall
"It was supposed to be the trip of a lifetime.
Delighted by a surprise invitation, Miriam Macy sails off to a luxurious private island off the coast of Mexico with six other strangers. Surrounded by miles of open water in the gloriously green Sea of Cortez, Miriam is soon shocked to discover that she and the rest of her companions have been brought to the remote island under false pretenses—and all seven strangers harbor a secret.
Danger lurks in the lush forest and in the halls and bedrooms of the lonely mansion. Sporadic cell-phone coverage and miles of ocean keeps the group trapped in paradise. And strange accidents stir suspicions, as one by one . . .
They all fall down"
As a fan of thrillers, this sounded right up my alley. However, I was also really disappointed with this book. And honestly when I was looking at my list of books I read this month to write this post, I couldn't remember a single thing about this book just two weeks after reading it. I didn't like the writing, I didn't like the characters, and this whole plot is SO overdone. If you want to read a book with this premise but much better writing and characters, read Agatha Christie's And Then There Were None.
Would I recommend? No 2/5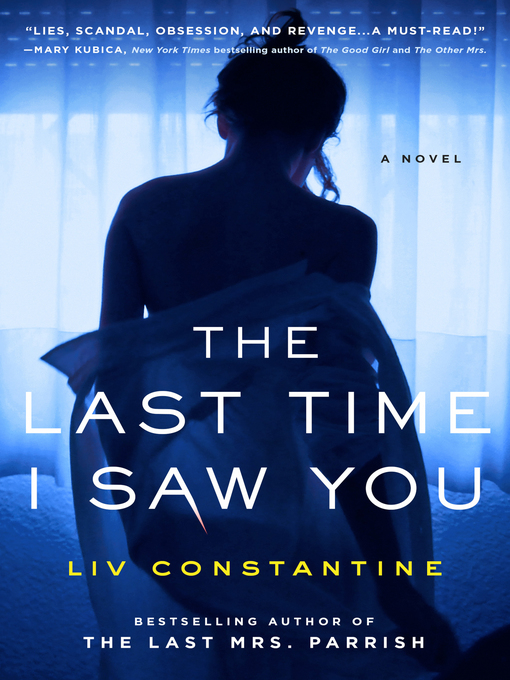 The Last Time I Saw You by Liv Constantine
"Dr. Kate English has it all. Not only is she the heiress to a large fortune; she has a gorgeous husband and daughter, a high-flying career, and a beautiful home anyone would envy.
But all that changes the night Kate's mother, Lily, is found dead, brutally murdered in her own home. Heartbroken and distraught, Kate reaches out to her estranged best friend, Blaire Barrington, who rushes to her side for the funeral, where the years of distance between them are forgotten in a moment.
That evening, Kate's grief turns to horror when she receives an anonymous text: You think you're sad now, just wait. By the time I'm finished with you, you'll wish you had been buried today. More than ever, Kate needs her old friend's help.
Once Blaire decides to take the investigation into her own hands, it becomes clear that all is not as it seems in Baltimore high society. As infidelity, lies, and betrayals come to light, and tensions rise to a boiling point, she begins to alienate Kate's friends and relatives with her relentless, accusatory questions, as she tries to find Lily's killer. The murderer could be anyone—friend, neighbor, loved one. But whoever it is, it's clear that Kate is next on their list. . ."
I'll start by saying Liv Constantine's previous book, The Last Mrs. Parrish, was definitely my favorite when comparing the two. But I did still like this one! There were quite a few twists I did not see coming and I like how the writing made you suspect almost every character. The pacing of this book was also good and kept me reading so I could have a front row seat watching Kate's downward spiral. It is also a pretty quick read, which I appreciated because otherwise it would have become too boring and repetitive.
Would I recommend? Yes 4/5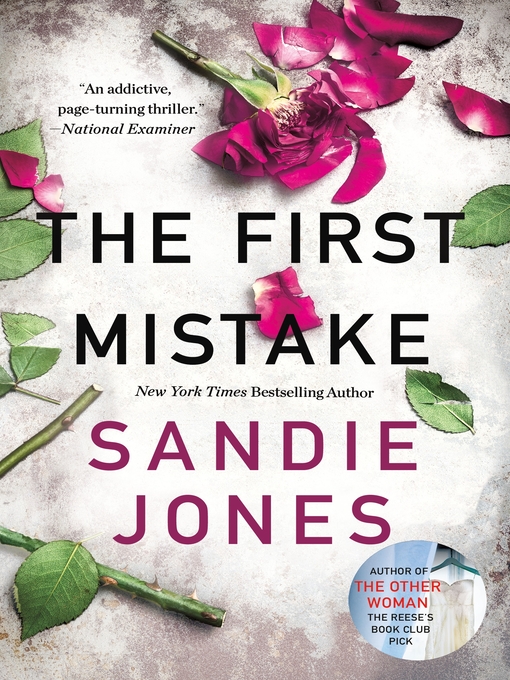 The First Mistake by Sandie Jones
"THE WIFE: For Alice, life has never been better. With her second husband, she has a successful business, two children, and a beautiful house.
HER HUSBAND: Alice knows that life could have been different if her first husband had lived, but Nathan's arrival into her life gave her back the happiness she craved.
HER BEST FRIEND: Through the ups and downs of life, from celebratory nights out to comforting each other through loss, Alice knows that with her best friend Beth by her side, they can survive anything together. So when Nathan starts acting strangely, Alice turns to Beth for help. But soon, Alice begins to wonder whether her trust has been misplaced . . .
Her first mistake could be her last."
I was so excited to pick this book up since I really liked Sandie Jones' other book, The Other Woman. I was pleasantly surprised that I loved this one just as much! The story was written well and the twists just kept coming, but in a good way. I made so many guesses throughout and all of them were wrong, and the ending was so much better than anything I guessed! I also love the viewpoint from Alice for the first part, then you hear from Beth too.
Would I recommend? YES! 5/5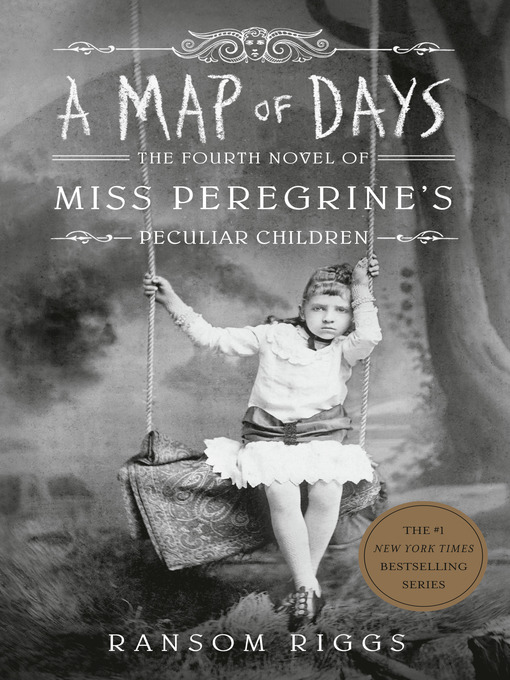 A Map of Days by Ransom Riggs
"Having defeated the monstrous threat that nearly destroyed the peculiar world, Jacob Portman is back where his story began, in Florida. Except now Miss Peregrine, Emma, and their peculiar friends are with him, and doing their best to blend in. But carefree days of beach visits and normalling lessons are soon interrupted by a discovery—a subterranean bunker that belonged to Jacob's grandfather, Abe.
Clues to Abe's double-life as a peculiar operative start to emerge, secrets long hidden in plain sight. And Jacob begins to learn about the dangerous legacy he has inherited—truths that were part of him long before he walked into Miss Peregrine's time loop.
Now, the stakes are higher than ever as Jacob and his friends are thrust into the untamed landscape of American peculiardom—a world with few ymbrynes, or rules—that none of them understand. New wonders, and dangers, await in this brilliant next chapter for Miss Peregrine's peculiar children. Their story is again illustrated by haunting vintage photographs, now with the striking addition of full-color images interspersed throughout for this all-new, multi-era American adventure."
If you have been reading my Recently Reading posts for a while, you will know that this type of book isn't necessarily what I usually pick. But I have been reading it since the first one came out and something draws me in each time. I love the characters and the creepy old photos added in are something that has intrigued me from the beginning. This book was the perfect sequel to the original trilogy, but you definitely want to start with book 1 if you are thinking of getting into the series!
Would I recommend? Yes! 4/5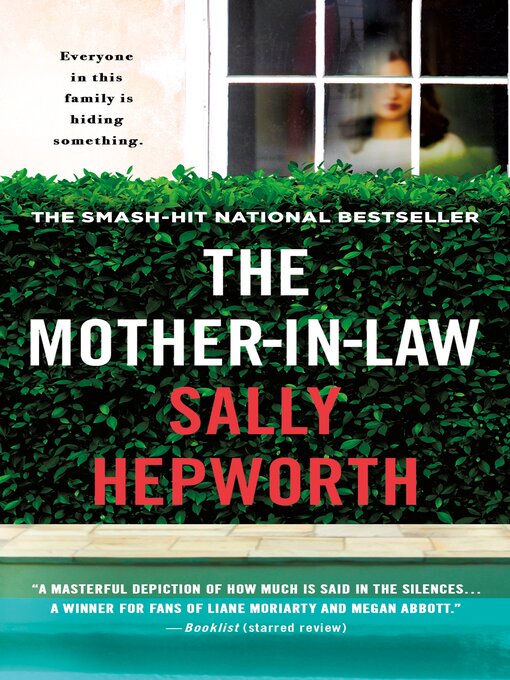 "From the moment Lucy met her husband's mother, she knew she wasn't the wife Diana had envisioned for her perfect son. Exquisitely polite, friendly, and always generous, Diana nonetheless kept Lucy at arm's length despite her desperate attempts to win her over. And as a pillar in the community, an advocate for female refugees, and a woman happily married for decades, no one had a bad word to say about Diana…except Lucy.
That was five years ago.
Now, Diana is dead, a suicide note found near her body claiming that she longer wanted to live because of the cancer wreaking havoc inside her body.
But the autopsy finds no cancer.
It does find traces of poison, and evidence of suffocation.
Who could possibly want Diana dead? Why was her will changed at the eleventh hour to disinherit both of her children, and their spouses? And what does it mean that Lucy isn't exactly sad she's gone?"
This book was different than I had thought when I read the synopsis and I don't necessarily know if I would classify it as a thriller. There is the mystery of who killed Diana, but you also get an entertaining plot and engaging characters. I loved how the author went back and forth between Diana and Lucy's perspectives on the same situation so you could see what the other person thought. I loved the strong ending of this story as well and it felt like everything concluded nicely even though Diana was still gone.
Would I recommend? Yes! 4/5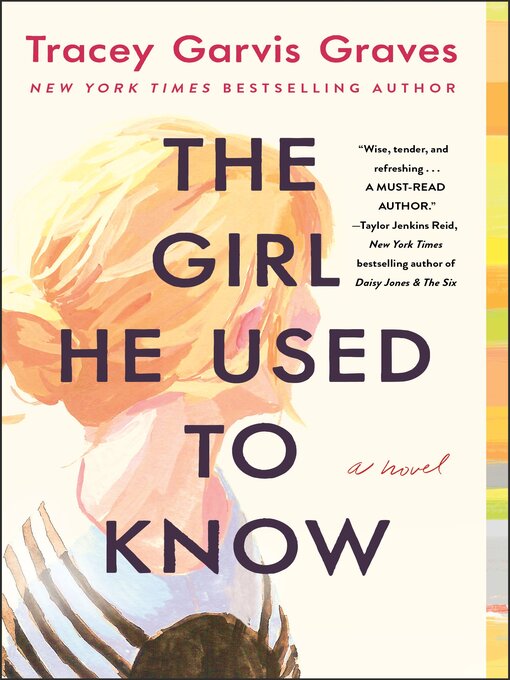 The Girl He Used To Know by Tracey Garvis Graves
"Annika (rhymes with Monica) Rose, is an English major at the University of Illinois. Anxious in social situations where she finds most people's behavior confusing, she'd rather be surrounded by the order and discipline of books or the quiet solitude of playing chess.
Jonathan Hoffman joined the chess club and lost his first game—and his heart—to the shy and awkward, yet brilliant and beautiful Annika. He admires her ability to be true to herself, quirks and all, and accepts the challenges involved in pursuing a relationship with her. Jonathan and Annika bring out the best in each other, finding the confidence and courage within themselves to plan a future together. What follows is a tumultuous yet tender love affair that withstands everything except the unforeseen tragedy that forces them apart, shattering their connection and leaving them to navigate their lives alone.
Now, a decade later, fate reunites Annika and Jonathan in Chicago. She's living the life she wanted as a librarian. He's a Wall Street whiz, recovering from a divorce and seeking a fresh start. The attraction and strong feelings they once shared are instantly rekindled, but until they confront the fears and anxieties that drove them apart, their second chance will end before it truly begins."
I'm not going to lie… I had requested this book from my library months ago (after seeing Emily recommend it!) and by the time I got it I completely forgot what it was about when I cracked it open. I may or may not have thought it was a thriller based on the title and my usual choice of books… so I was (pleasantly) surprised when I got a chapter or two in and realized it wasn't. It was kind of weird for me because it was set at the University of Illinois, which is really close to where I grew up, so they kept mentioning places I knew. I also was not aware that Annika was on the spectrum while beginning this book, but quickly identified it (like the SLP grad student I am lol) and loved how sweet the story was. Without giving anything away, towards the end I wanted to THROW MY KINDLE AGAINST A WALL and I could not believe how it was about to end after getting so invested in the book. BUT the author redeemed it in the end and I am happy to say I finished it without being angry. If you want a quick romance about a first love and second chances, this would be a great pick!
Would I recommend? Yes! 4/5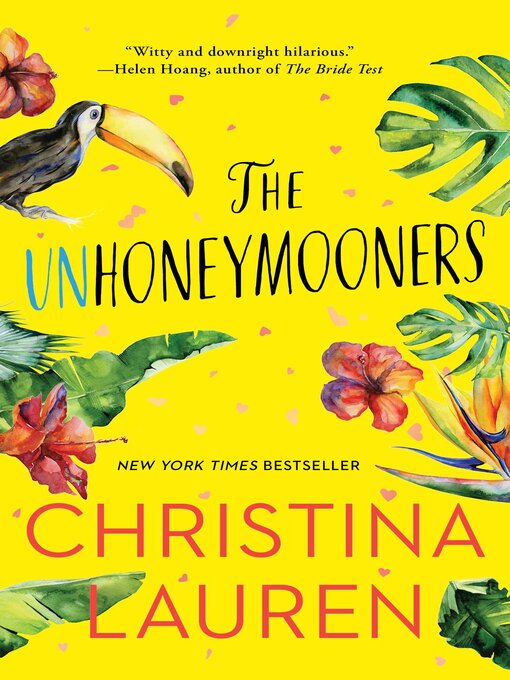 The Unhoneymooners by Christina Lauren
"Olive Torres is used to being the unlucky twin: from inexplicable mishaps to a recent layoff, her life seems to be almost comically jinxed. By contrast, her sister Ami is an eternal champion . . . she even managed to finance her entire wedding by winning a slew of contests. Unfortunately for Olive, the only thing worse than constant bad luck is having to spend the wedding day with the best man (and her nemesis), Ethan Thomas.
Olive braces herself for wedding hell, determined to put on a brave face, but when the entire wedding party gets food poisoning, the only people who aren't affected are Olive and Ethan. Suddenly there's a free honeymoon up for grabs, and Olive will be damned if Ethan gets to enjoy paradise solo.
Agreeing to a temporary truce, the pair head for Maui. After all, ten days of bliss is worth having to assume the role of loving newlyweds, right? But the weird thing is . . . Olive doesn't mind playing pretend. In fact, the more she pretends to be the luckiest woman alive, the more it feels like she might be."
Also not going to lie… I saw someone mention this book and the cover really sucked me in. This would make the PERFECT beach read as much of it is set in Hawaii. It borderlines on cheesy at times, but it also made me laugh quite a few times without, which isn't always the case with books. The banter back and forth between Ethan and Olive was witty and downright hilarious at times. I also loved the family dynamic of Olive and her relatives!
Would I recommend? Yes! 4/5
That's a wrap on June! The month started out a little rocky with some books I didn't love, but luckily it included quite a few great reads as well! Tell in the comments what your favorite book you have read this summer is!
xo, Scarlett