This past month, I ended up reading a ton of books. Between traveling and taking advantage of nap time while I nanny, I was able to make quite a dent in my goal of reading 20 books over the summer!
original image from Design Love Fest
This is the first book that I read by Jojo Moyes, but I actually really liked it! My roommate recommended it to me, and I was not disappointed. It took me a few weeks to get through, but that was just because it was a longer book and I was in the midst of moving home for summer. I love how it included modern day and the characters from 1916 as well. For some reason I love books that switch back and forth between the two, as long as the story still flows well.
"Paris, 1916. Sophie Lefèvre must keep her family safe while her adored husband, Édouard, fights at the front. When their town falls to the Germans in the midst of World War I, Sophie is forced to serve them every evening at her hotel. From the moment the new Kommandant sets eyes on Sophie's portrait—painted by her artist husband—a dangerous obsession is born, one that will lead Sophie to make a dark and terrible decision. Almost a century later, Sophie's portrait hangs in the home of Liv Halston, a wedding gift from her young husband before his sudden death. After a chance encounter reveals the portrait's true worth, a battle begins over its troubled history and Liv's world is turned upside all over again."
This is the first book I have read by Emma Straub, and honestly I didn't love it. I felt like the story didn't really go anywhere, and when I finished it I was left thinking "so what was the point of this book?" But it wasn't that bad, because I did end up finishing it. It just would not be my first recommendation.
"Friends and former college bandmates Elizabeth and Andrew and Zoe have watched one another marry, buy real estate, and start businesses and families, all while trying to hold on to the identities of their youth. But nothing ages them like having to suddenly pass the torch (of sexuality, independence, and the ineffable alchemy of cool) to their own offspring.
Back in the band's heyday, Elizabeth put on a snarl over her Midwestern smile, Andrew let his unwashed hair grow past his chin, and Zoe was the lesbian all the straight women wanted to sleep with. Now nearing fifty, they all live within shouting distance in the same neighborhood deep in gentrified Brooklyn, and the trappings of the adult world seem to have arrived with ease. But the summer that their children reach maturity (and start sleeping together), the fabric of the adults' lives suddenly begins to unravel, and the secrets and revelations that are finally let loose—about themselves, and about the famous fourth band member who soared and fell without them—can never be reclaimed."
This is the second Agatha Christie mystery I have read, and they are really starting to grow on me. As a kid, I loved reading Nancy Drew, and since this was written around the same time as Nancy Drew books, I almost feel like these are the adult version. This also definitely reminded me of The Girl On The Train, since a murder was seen from a train in this book too!
"Agatha Christie, the acknowledged mistress of suspense—creator of indomitable sleuth Miss Marple, meticulous Belgian detective Hercule Poirot, and so many other unforgettable characters—brings her entire oeuvre of ingenious whodunits, locked room mysteries, and perplexing puzzles to Harper Paperbacks. In 4:50 From Paddington, a woman in one train witnesses a murder occurring in another passing one…and only Miss Marple believes her story."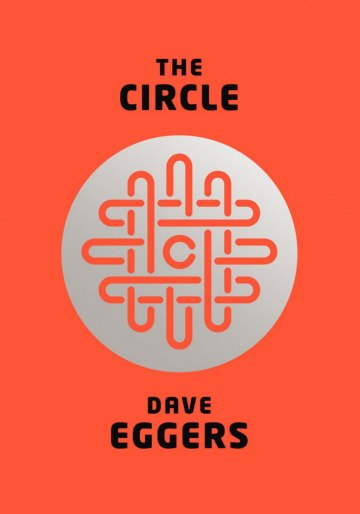 I saw that Carly was reading this book, and it sounded really interesting! I picked it up, and read it the entire way back from Atlanta. It was really interesting to me because it seemed realistic. People are already so addicted to technology and social media, that the things this book had in it seemed like that could happen in 20 or 30 years. It also reminded me of a newer version of the book 1984.
"When Mae Holland is hired to work for the Circle, the world's most powerful internet company, she feels she's been given the opportunity of a lifetime. The Circle, run out of a sprawling California campus, links users' personal emails, social media, banking, and purchasing with their universal operating system, resulting in one online identity and a new age of civility and transparency. As Mae tours the open-plan office spaces, the towering glass dining facilities, the cozy dorms for those who spend nights at work, she is thrilled with the company's modernity and activity. There are parties that last through the night, there are famous musicians playing on the lawn, there are athletic activities and clubs and brunches, and even an aquarium of rare fish retrieved from the Marianas Trench by the CEO. Mae can't believe her luck, her great fortune to work for the most influential company in the world—even as life beyond the campus grows distant, even as a strange encounter with a colleague leaves her shaken, even as her role at the Circle becomes increasingly public. What begins as the captivating story of one woman's ambition and idealism soon becomes a heart-racing novel of suspense, raising questions about memory, history, privacy, democracy, and the limits of human knowledge."
I have been trying to read more non-fiction books too, so when I saw this one from the library I had to try it. It was a sad read since you followed Susan's deterioration, but it also inspired me to attempt to always live with joy.
"In June 2011, Susan Spencer-Wendel learned she had amyotrophic lateral sclerosis (ALS)–Lou Gehrig's disease–an irreversible condition that systematically destroys the nerves that power the muscles. She was forty-four years old, with a devoted husband and three young children, and she had only one year of health remaining.Susan decided to live that year with joy.She quit her job as a journalist and spent time with her family. She built an outdoor meeting space for friends in her backyard. And she took seven trips with the seven most important people in her life. As her health declined, Susan journeyed to the Yukon, Hungary, the Bahamas, and Cyprus. She took her sons to swim with dolphins, and her teenage daughter, Marina, to Kleinfeld's bridal shop in New York City to see her for the first and last time in a wedding dress.She also wrote this book. No longer able to walk or even to lift her arms, she tapped it out letter by letter on her iPhone using only her right thumb, the last finger still working.However, Until I Say Good-Bye is not angry or bitter. It is sad in parts–how could it not be?–but it is filled with Susan's optimism, joie de vivre, and sense of humor. It is a book about life, not death. One that, like Susan, will make everyone smile.From the Burger King parking lot where she cried after her diagnosis to a snowy hot spring near the Arctic Circle, from a hilarious family Christmas disaster to the decrepit monastery in eastern Cyprus where she rediscovered her heritage, Until I Say Good-Bye is not only Susan Spencer-Wendel's unforgettable gift to her loved ones–a heartfelt record of their final experiences together–but an offering to all of us: a reminder that "every day is better when it is lived with joy."
I have now finished all of Liane Moriarty's books (except for Truly Madly Guilty… could not get into that one for some reason!) and I am a bit sad by the thought. I really like her writing style, and I always looked forward to picking up another book by Liane Moriarty! I just love how you know the ending, but you don't know many details or what led up to that point until you read the whole book.
"Lyn, Cat, and Gemma Kettle, beautiful thirty-three-year-old triplets, seem to attract attention everywhere they go. Together, laughter, drama, and mayhem seem to follow them. But apart, each is dealing with her own share of ups and downs. Lyn has organized her life into one big checklist, Cat has just learned a startling secret about her marriage, and Gemma, who bolts every time a relationship hits the six-month mark, holds out hope for lasting love. In this wise, witty, and hilarious novel, we follow the Kettle sisters through their tumultuous thirty-third year as they deal with sibling rivalry and secrets, revelations and relationships, unfaithful husbands and unthinkable decisions, and the fabulous, frustrating life of forever being part of a trio."
If you need a good beach read, this is it! I recommend reading My Life Next Door First (this book will make more sense if you do), but you will still enjoy this book even if you just read it.
"Tim Mason was The Boy Most Likely To find the liquor cabinet blindfolded, need a liver transplant, and drive his car into a house
Alice Garrett was The Girl Most Likely To . . . well, not date her little brother's baggage-burdened best friend, for starters.
For Tim, it wouldn't be smart to fall for Alice. For Alice, nothing could be scarier than falling for Tim. But Tim has never been known for making the smart choice, and Alice is starting to wonder if the "smart" choice is always the right one. When these two crash into each other, they crash hard."
After Kayla recommend this book on her blog, I had to get it from my library! It was a great book to see the world from the perspective of someone who has been labeled different. It can be so hard to imagine what others are going through, but this book allows you to step into Auggie's shoes and see his perspective, as well as some of his friends and families perspectives.
"August Pullman was born with a facial difference that, up until now, has prevented him from going to a mainstream school. Starting 5th grade at Beecher Prep, he wants nothing more than to be treated as an ordinary kid—but his new classmates can't get past Auggie's extraordinary face. WONDER, now a #1 New York Times bestseller and included on the Texas Bluebonnet Award master list, begins from Auggie's point of view, but soon switches to include his classmates, his sister, her boyfriend, and others. These perspectives converge in a portrait of one community's struggle with empathy, compassion, and acceptance."
This is another non-fiction book that I picked up from the library. Judy writes about how she was born after a plane crashed into her families house, which killed one of her sisters and severely burned the other. Again, this book allowed me to step into Judy's shoes and see how her life living with a severely burned sister and a family dealing with grief was.
"Judy Mandel is the replacement child for her sister who was killed in a tragic accident. It would be years before she would understand how the event, that happened before she was born, shaped her life.
A plane crashes into a family's home. A two-year-old girl is critically burned and a mother is forced to make an impossible choice. The death of a child leaves a hole in the family that threatens to tear it apart.
In a great act of hope, the parents give birth to a "replacement child," born to heal wounds and provide a "salve for the burns." The child unwittingly plays her role throughout childhood, riding the deep and hidden currents of the family tragedy.
In this powerful story of love and lies, hope and forgiveness, Judy Mandel discovers the truth that changes her life forever and forces her to confront the complex layers of her relationships with her father, mother, and sister. When she has her own child, her epiphany comes full circle."
If you made it this far, I will say that my favorites from this post were Wonder, The Circle, and The Girl You Left Behind. What has been your favorite book recently? Share in the comments!
xo, Scarlett