Recently I have seen so many cute ways to document your travels across Pinterest and other sites, so today I wanted to compile my favorites into a post. If you love traveling, or if you are just beginning to plan adventures, having a visual in your house can help motivate and inspire you.
This personalized wood travel map would be adorable to hang on your walls, and it will help you keep track of where you have visited! See the full DIY at Lovely Greens!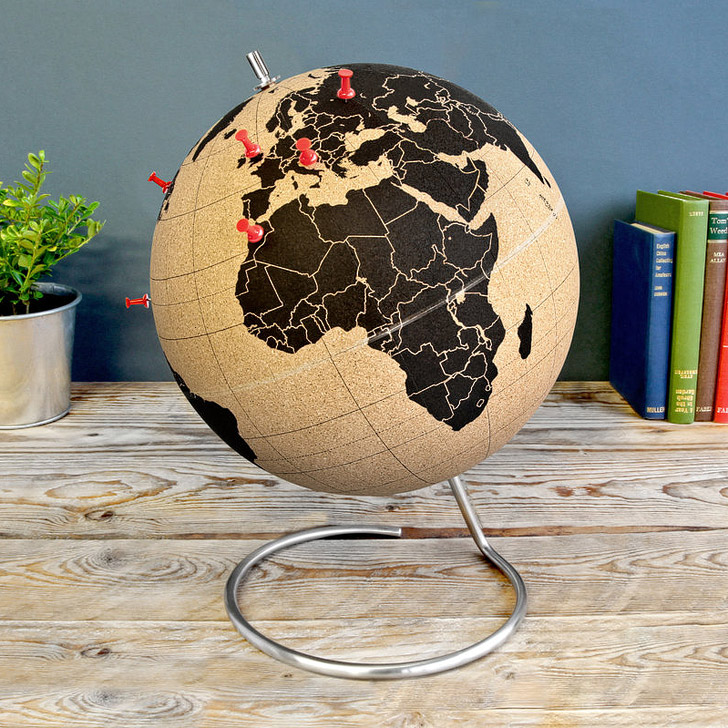 This cork globe is slightly pricey, but if you don't have a lot of wall space this could be a great option!
Picking up a post card from every place you visit is such a fun idea too. How cute are these?!
Creating a push pin map is a fun way to track where you have been as well. You can use basically any map and push pins for this, and don't need to buy anything too specific. It is great because you can choose what colors you like! I love how this one is white and simple since the push pins will add in lots of color!
Lastly, you can purchase a scratch off map to hang up! I received one from Uncommon Goods, and I already love it! Unfortunately some of the places I have visited (Washington DC, Puerto Rico, etc.) are very small on the map. But it is still very satisfying to scratch off the places I have traveled and it makes me want to travel to new states and countries ASAP so I can scratch off more. Also, if you love maps and globes, checkout how I made that globe here!
Do you have a way that you visually keep track of places you have visited? Do you physically purchase something from each place, such as a postcard, or do you prefer using a map? Share in the comments below!
xo, Scarlett