Autumn's Arrival brings many exciting things. One of these is the Pumpkin Spice Latte or PSL. Personally I really enjoy pumpkin flavored drinks and baked goods in the fall, so the PSL is no exception! But since I am a student, my budget doesn't love them nearly as much as I do. So, I decided to do a little research and find a few different DIY recipes to share with you all in one place!
The first one I found was in Sweet Lemon Magazine:
Pumpkin Syrup

2 1/2 cups of water

1 tablespoon of ground nutmeg

3 cinnamon sticks or 1 1/2 tablespoons ground cinnamon

1/2 inch piece fresh ginger or 1/2 teaspoon ground ginger

1 cup of sugar

3 tablespoons canned pumpkin

Coffee per serving

4 ounces of espresso

4 ounces of milk (warmed and frothed)

2 to 3 tablespoons pumpkin syrup

whipped cream if desired
Instructions:
To make the syrup combine spices and water in a medium sized sauce
pan. Bring water to a boil, and then turn down the water with spices to
simmer. Allow the spiced water to simmer for 20 minutes. Strain out
spices by pouring the water through a coffee filter. You want the
seasoned water to be free of the spices. Place water back into the pan
and add sugar and pumpkin mix well. Simmer this for another 10 minutes.
This will yield about 1 pint of pumpkin spice syrup. Store in an air
tight container in the refrigerator.
To make the latte prepare 4 ounces of espresso or strong coffee. In a
coffee cup place 2 to 3 tablespoons of pumpkin syrup, then add coffee.
Gently pour the frothed milk over the coffee, and gentle stir. If
desired top with whipped cream and a dash of ground nutmeg.
The second recipe I found was from Beautiful Flight:
Ingredients
1 cup milk

1 tablespoon canned pumpkin

2 tablespoon vanilla extract

1/4 teaspoon ground cinnamon


1/2 cup very strong coffee or 1/4 cup espresso
Instructions
In
saucepan or microwave, heat the milk and pumpkin until steaming. Stir
in the vanilla and cinnamon. Put mixture in a blender and blend for
15-20 seconds until think and foamy. Pour into tall glass or mug and
then add coffee or espresso. Top with sprinkling of pumpkin pie spice or
ground nutmeg.
Then lastly I found a recipe on Inside BruCrew Life that was PSL Cupcakes!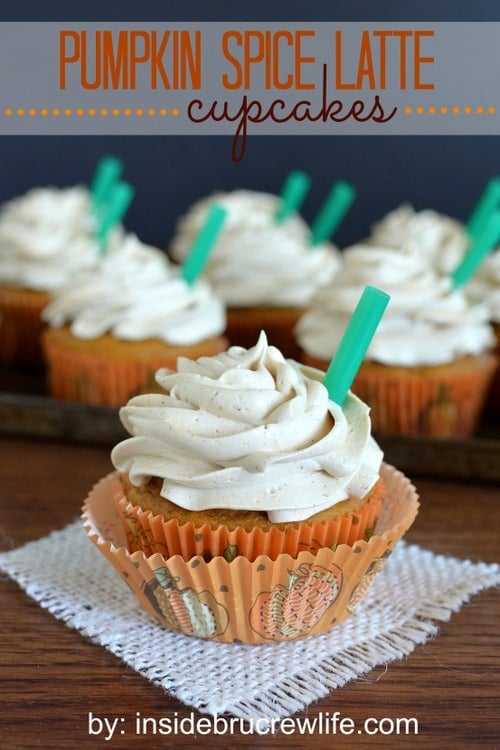 Pumpkin Spice Latte Cupcakes
Prep Time: 20 minutes
Cook Time: 18 minutes
Yield: 24 cupcakes
Ingredients
For the Cupcakes

1 spice cake mix (15.25 oz.)

1 can pumpkin puree (15 oz.)

3 eggs

1/3 cup oil

1/3 cup brewed coffee, cooled
For the Frosting

2 teaspoons hot water

2 teaspoons instant coffee granules

6 ounces baking white chocolate squares, chopped

1/4 cup heavy cream

1 cup butter, softened

1 1/2 cups powdered sugar

1 teaspoon cinnamon
Instructions
Combine
the cake mix, pumpkin, eggs, oil, and coffee in a mixing bowl. Beat on
low for 1 minute, and beat on medium for 2 minutes. Spoon into 24
cupcake liners. Bake at 350* for 18 minutes. Cool completely

Stir
the hot water and instant coffee until dissolved. Set aside. Heat the
white chocolate and heavy cream over low-medium heat until melted and
smooth. Let cool for 5-10 minutes.

Place
the butter and coffee mixture in a bowl and beat for 1-2 minutes.
Slowly pour in the melted chocolate mixture and beat until creamy.
Slowly add the powdered sugar and cinnamon and beat until thick and
fluffy. This will take about 5 minutes. Frost cupcakes. Keep
refrigerated. Makes 24 cupcakes.
Do you like Pumpkin Spice Lattes? Have you ever tried making any of these recipes? Tell me in the comments!