There are quite a few things in the beauty department that I have been hearing about lately, or that I have seen on other blogs. So today, I decided to put them all in one post and show you guys the things I have wanted to buy recently. So far, I haven't purchased any of them, but I am planning on purchasing most of them if I can find them soon! If you would like me to do a review on any of these products after I purchase them, please leave a comment below and tell me!
I am normally not a huge fan of Sinful colors, because most of the colors that I have tried from them are way too sheer. But Leap Flog is apparently opaque after only 1-2 coats. Plus, it is only $2 at Walgreens, so I will pick it up next time I am there! This green is the perfect green for fall, too.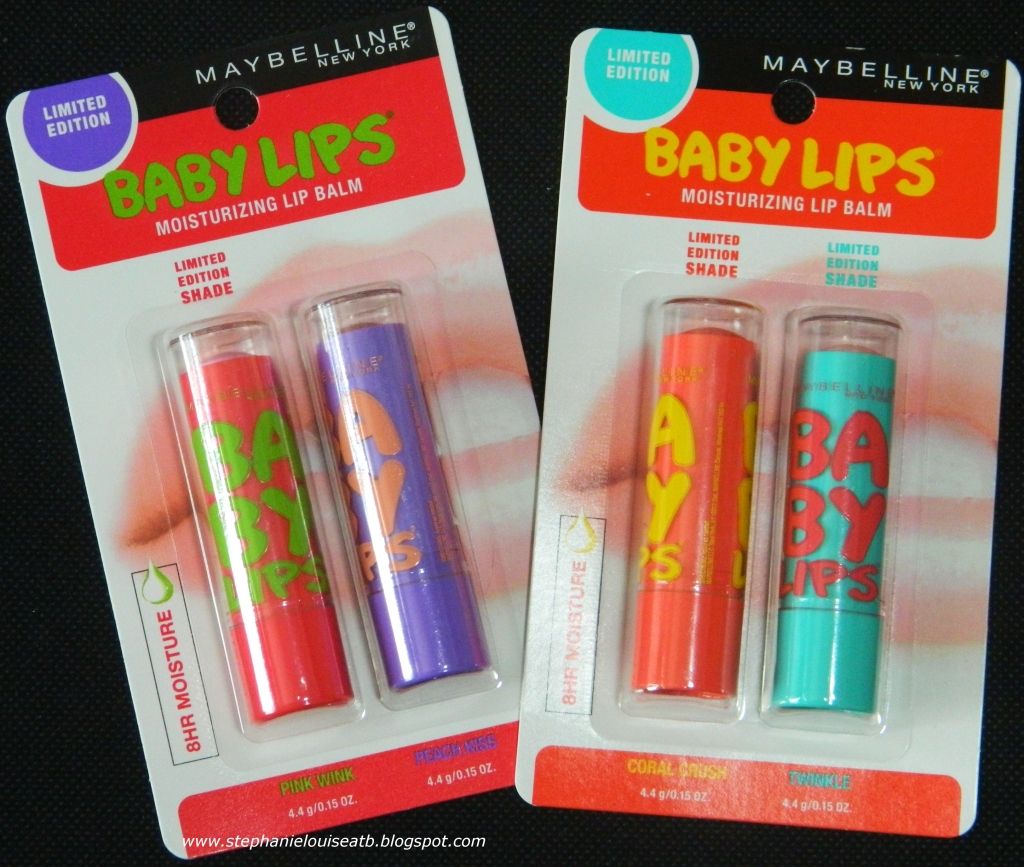 When I saw Macbarbie07 talking about these on youtube, it was like love at first sight! I only have 2 Babylips, but I am in love with both of them! So I searched for more reviews and pictures of the LE ones, and found this picture. Pink Wink, Peach Kiss, Coral Crush, and Twinkle are the names of the 4 lip balms, but Peach Kiss is not LE. I do not own Peach Kiss though, so I will be really happy if I can find these in store! According to different blogs, you can find these at Walgreens.
Next, we have something else that I was ecstatic to hear about! I am an EOS lover for sure, and I have all of the flavors they have ever came out with, except for Medicated Tangerine because I never see it in stores around me. So when I heard that they came out with THREE new ones, and that they were DISNEY themed, I think I had a mini heart attack! The little ears on the packaging is just adorable! According to sources, you can find these at Target in a trio for only $7.99. The flavors are Sweet Vanilla Nonsense, Blueberry Potion, and Watermelon Wonderland.
Another thing I want to pick up next time I am at the mall if the Coconut Body Scrub by The Body Shop. This is the mini size that is only $6, since I just want to try it out. But I love coconut scented products and I need a new body scrub!
I have also been wanting to purchase something from the Secret Wonderland fragrance at Bath and Body Works, but I have learned not to buy stuff there unless it is the semi annual sale (which is only a little over 2 months away!) or heavily discounted. So sadly, I will have to wait longer before I purchase this! But I love the scent of it and I think the design on the packaging is adorable!
Lastly, I would like to try one or all of the anti bacterial hand lotions at BBW. They are a reasonable price even when they are not on sale ($4 or 2 for $5) so I am planning on picking them up soon before flu season hits. Unfortunately, every single scent is sold out online right now, so that must mean they are very popular and work well! I am just hoping that this doesn't mean they are discontinuing them or anything since they are not restocking very quickly!
Let me know if you enjoy seeing these wishlists in the comments, because I will gladly do more in the future. Feel free to request wishlists you would like to see down below such as clothes, nails, shoes, accessories, etc. Lastly, let me know if you have any of these products and what you think of them!
xo, Scarlett