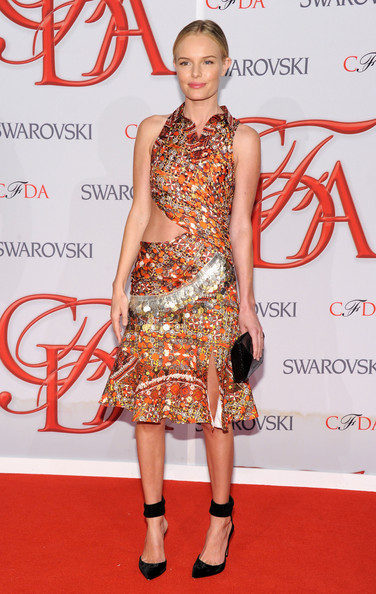 Kate Bosworth was seen at the 2012 CFDA Fashion Awards in this bold Altuzarra dress from the Fall 2012 collection. Honestly, I love this dress. The crazy pattern is so unique and bold, and I love the side cut out. But let's be honest. If I walked out of the house in that people would think I was nuts! So I tried to find similar options that are affordable and more wearable! I want to add another thing before I show you what I picked: This dress is so crazy and out there that I couldn't find any that are extremely similar. But I tried my best to find ones that I would wear that were close enough. Also, personally, I didn't like her shoes or clutch, so I will not be showing look alikes of them too.
Forever 21, $29.80. This dress is perfect for summer and even into the fall season. Personally, I would belt it similar to how it is belted on the model, and then add some simple rose gold accessories.
If you aren't quite comfortable to wear a bold patterned dress, try wearing an orange scarf instead! This website has a couple different options that are similar and cute!
This dress is also a good option. It is $47.99 from Modcloth. I love the pattern on this one, and I like how the neckline is cinched with a tie. I think that and the ruffles add a girly touch to this dress! Be careful not to wear any bold colored bags, shoes, or accessories with this dress, because the bold pattern and a bold accessory would be bold overboard!
And if you are a maxi dress kind of gal, I found the perfect orange dress for you! It is almost $80, but since it is from Modcloth we know that it is great quality! I love the floral embroidery and the boho feeling to this dress. It also has a drawstring at the waist to flatter your shape, and would be perfect on that vacation! And don't forget to add your favorite white sandals now that Memorial Day has past!
Do you like orange in the summer? Tell me in the comments!
xo, Scarlett