January ended up being a great reading month for me! I set my 2020 reading goal to 90 books, so I wanted to start the year out strong since I still was on winter break and then was only taking one class during January. The extra free time meant I was able to get through 14 books (and one DNF), and today I'm going to share my thoughts on each one!
Cozy White Cottage by Liz Marie Galvan
"In this beautiful book of house and garden photography and DIY inspiration, popular blogger Liz Marie Galvan shares a hundred tips and tricks, budget-friendly hints, and project how-tos to make every room in your house feel like a home you love. Each month hundreds of thousands of readers find design inspiration and DIY ideas on Liz's blog, where Liz shares stories of life with her veteran husband, their 1800s Michigan farmhouse, and the home décor boutique she co-owns.
In Cozy White Cottage, Liz offers her best home décor and design tips to help you create a home you'll love coming home to. You'll love Liz's real-life, easy, and affordable ideas to get the most out of your home and discover things like:
The passion and productivity that can pour out of an inspiring, functional workspace or office
The conversation and connection that flow out of a warm, well-arranged living room
The thoughtful hospitality that can welcome guests, be it for a cup of coffee or an overnight stay
The rejuvenation that can happen when we have quiet spaces for reading, prayer, and rest
The calming routines and rituals that we can implement into our spaces and our lives
The laughter, joy, and learning that can occur in adorable, functional playrooms
The life-giving power that beats out of the heart of our homes, the kitchen
Cozy White Cottage offers inspiration for every style, from country farmhouse to urban apartment. Come cozy up with your creativity and Liz's welcoming voice so you can love the feeling of being at home."
Liz Marie Galvan lives near Grand Rapids, and I have been to her shop The Found Cottage before, so I have enjoyed following her on Instagram even though my decorating tastes are very different than hers. I found this book to be really fun to read through, and a lot of her tips still applied even if I am not a fan of chippy white paint or corbels. I am all about making my spaces cozy though, so her tips were helpful!
Would I recommend? Yes! 5/5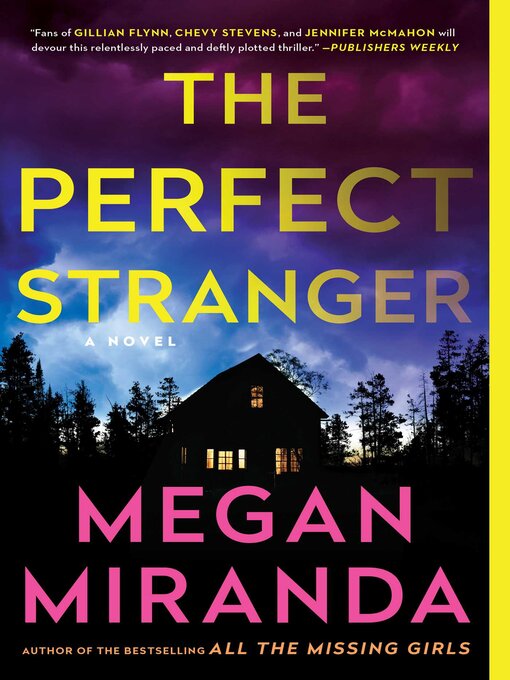 The Perfect Stranger by Megan Miranda
"When Leah Stevens' career implodes, a chance meeting with her old friend Emmy Grey offers her the perfect opportunity to start over. Emmy, just out of a bad relationship, convinces Leah to come live with her in rural Pennsylvania, where there are teaching positions available and no one knows Leah's past. Or Emmy's.­
Then there's a wave of vicious crimes in the community and Emmy Grey disappears, and Leah realizes how very little she knows about her friend and roommate. Unable to find friends, family, a paper trail or a digital footprint, the police question whether Emmy Grey existed at all. And mark Leah as a prime suspect.
Fighting the doubts of the police and her own sanity, Leah must uncover the truth about Emmy Grey—and along the way, confront her old demons, find out who she can really trust, and clear her own name."
Overall, I really liked this thriller. I was engaged from the beginning and there were quite a few twists that I didn't see coming. I did enjoy how as the reader you didn't know who you could trust in this book, and I was constantly questioning the characters throughout the book. One of the main reasons I won't be giving this book 5 stars is because the ending fell just a bit flat for me. Also,I will still say that All The Missing Girls is my favorite Megan Miranda book and would recommend starting there if you haven't read it yet!
Would I recommend? Yes! 4/5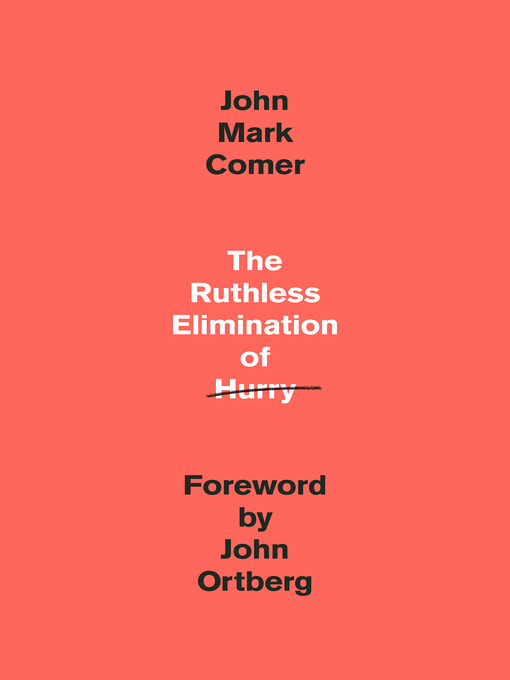 The Elimination of Hurry by John Mark Comer
"Who am I becoming?"

That was the question nagging pastor and author John Mark Comer. Outwardly, he appeared successful. But inwardly, things weren't pretty. So he turned to a trusted mentor for guidance and heard these words:
"Ruthlessly eliminate hurry from your life. Hurry is the great enemy of the spiritual life."

It wasn't the response he expected, but it was—and continues to be—the answer he needs. Too often we treat the symptoms of toxicity in our modern world instead of trying to pinpoint the cause. A growing number of voices are pointing at hurry, or busyness, as a root of much evil.
Within the pages of this book, you'll find a fascinating roadmap to staying emotionally healthy and spiritually alive in the chaos of the modern world."
I think I have recommended this book to almost every friend I have this month. Because it is just so applicable to life today and how everyone is feeling so hurried. This book will convict you but encourage you at the same time, and will give you practical steps for actually slowing down and simplifying while still living a full life. If you are feeling any burn out or just are tired of responding "busy" every time someone asks how you are, I would run walk slowly to get this book. I never buy books anymore because I am typically a one and done when it comes to reading, but this is one I could see myself buying and reading again in 6 months or a year to refresh.
Would I recommend? YES! 5/5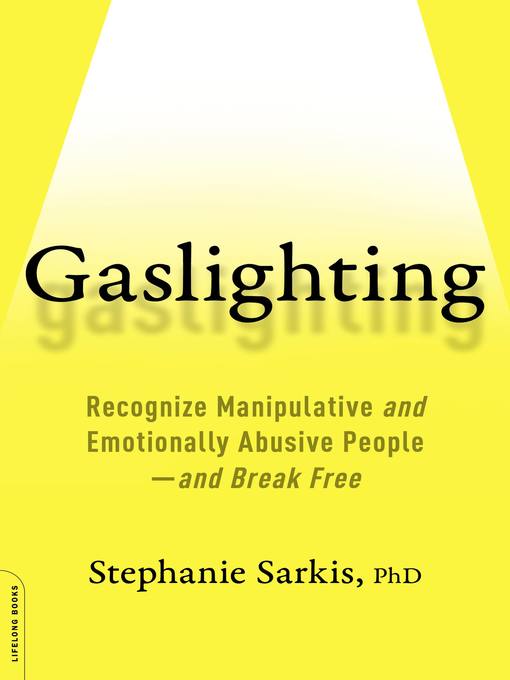 Gaslighting by Stephanie Sarkis
"He's the charmer — the witty, confident, but overly controlling date. She's the woman on your team who always manages to take credit for your good work. He's the neighbor who swears you've been putting your garbage into his trash cans, the politician who can never admit to a mistake. Gaslighters are master controllers and manipulators, often challenging your very sense of reality. Whether it's a spouse, parent, coworker, or friend, gaslighters distort the truth — by lying, withholding, triangulation, and more — making their victims question their own reality and sanity. Dr. Stephanie Sarkis delves into this hidden manipulation technique, covering gaslighting in every life scenario, sharing:
Why gaslighters seem so "normal" at first
Warning signs and examples
Gaslighter "red flags" on a first date
Practical strategies for coping
How to coparent with a gaslighter
How to protect yourself from a gaslighter at work
How to walk away and rebuild your life
With clear-eyed wisdom and empathy, Dr. Sarkis not only helps you determine if you are being victimized by a gaslighter — she gives you the tools to break free and heal."
One of my good friends recommended this book because she found it to be really eyeopening. While I did like some chapters, such as the warning signs, I felt like quite a few chapters weren't applicable to me because I am not in any situations with someone who I feel like is a gaslighter. But I will say it was good to read about and know that it is a resource if I find myself having to deal with a gaslighter in the future.
Would I recommend? Probably 3.5/5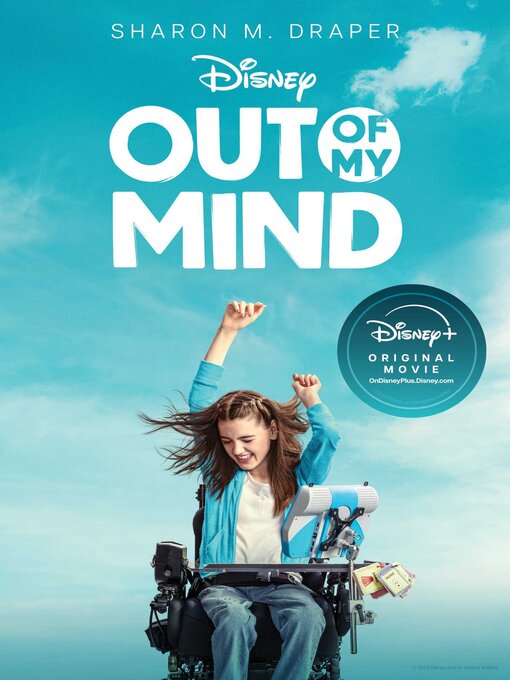 Out of My Mind by Sharon M Draper
"From multiple award-winning author Sharon Draper comes a story that will forever change how we all look at anyone with a disability, perfect for fans of RJ Palacio's Wonder.
Eleven-year-old Melody is not like most people. She can't walk. She can't talk. She can't write. All because she has cerebral palsy. But she also has a photographic memory; she can remember every detail of everything she has ever experienced. She's the smartest kid in her whole school, but NO ONE knows it. Most people—her teachers, her doctors, her classmates—dismiss her as mentally challenged because she can't tell them otherwise. But Melody refuses to be defined by her disability. And she's determined to let everyone know it…somehow."
As the summary above says, if you enjoyed Wonder, I think you would also enjoy this book. I had to read it for my AAC class, but I actually really liked it and would recommend it to anyone. It is a juvenile fiction, so it was a really quick read, but it was still impactful. My only complaint about the book is it doesn't mention a speech language pathologist at all, which is not realistic for someone who is in special education classroom and has CP.
Would I recommend? Yes! 5/5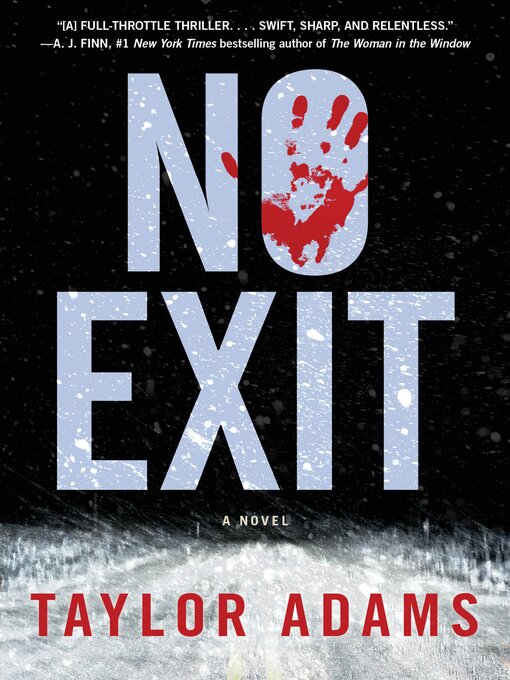 No Exit by Taylor Adams
"A brilliant, edgy thriller about four strangers, a blizzard, a kidnapped child, and a determined young woman desperate to unmask and outwit a vicious psychopath.
A kidnapped little girl locked in a stranger's van. No help for miles. What would you do?
On her way to Utah to see her dying mother, college student Darby Thorne gets caught in a fierce blizzard in the mountains of Colorado. With the roads impassable, she's forced to wait out the storm at a remote highway rest stop. Inside are some vending machines, a coffee maker, and four complete strangers.
Desperate to find a signal to call home, Darby goes back out into the storm . . . and makes a horrifying discovery. In the back of the van parked next to her car, a little girl is locked in an animal crate.
Who is the child? Why has she been taken? And how can Darby save her?
There is no cell phone reception, no telephone, and no way out. One of her fellow travelers is a kidnapper. But which one?
Trapped in an increasingly dangerous situation, with a child's life and her own on the line, Darby must find a way to break the girl out of the van and escape.
But who can she trust?
With exquisitely controlled pacing, Taylor Adams diabolically ratchets up the tension with every page. Full of terrifying twists and hairpin turns, No Exit will have you on the edge of your seat and leave you breathless."
Another solid thriller this month! I read this one in 24 hours because I was just so invested from the beginning and had to know what happened. But as the story went on, I did get a bit tired of the antics between Darby and the kidnapper. Every time something went right, 2 things seemed to go wrong, and it just got a little old after a while that it kept happening and Darby couldn't catch a break. There were still some good twists in the book though, so I would still recommend if you enjoy thrillers. I did enjoy the setting as I hadn't read any thrillers similar and it added more suspense.
Would I recommend? Yes 4/5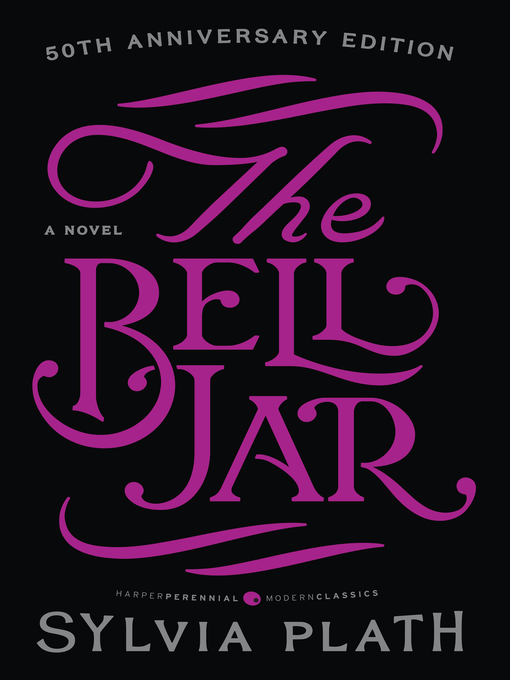 The Bell Jar by Sylvia Plath
"Esther Greenwood is brilliant, beautiful, enormously talented, and successful, but slowly going under—maybe for the last time. In her acclaimed and enduring masterwork, Sylvia Plath brilliantly draws the reader into Esther's breakdown with such intensity that her insanity becomes palpably real, even rational—as accessible an experience as going to the movies. A deep penetration into the darkest and most harrowing corners of the human psyche, The Bell Jar is an extraordinary accomplishment and a haunting American classic."
This had been on my to-read list forever, and since it was a shorter read I decided to finally tackle it this month. I was fully expecting to not enjoy it much, and maybe even decide not to finish it after a few chapters. However, I was pleasantly surprised by this story. And the fact that Esther's breakdown is based on Plath's own story made it even more interesting. It is crazy to think about how they used electric shock to treat mental illnesses just 50 years ago.
Would I recommend? Yes 4/5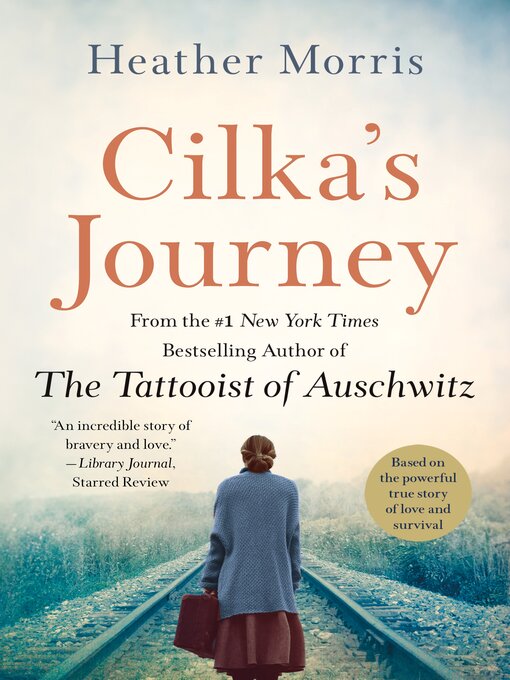 Cilia's Journey by Heather Morris
"Cilka is just sixteen years old when she is taken to Auschwitz-Birkenau Concentration Camp in 1942, where the commandant immediately notices how beautiful she is. Forcibly separated from the other women prisoners, Cilka learns quickly that power, even unwillingly taken, equals survival.
When the war is over and the camp is liberated, freedom is not granted to Cilka: She is charged as a collaborator for sleeping with the enemy and sent to a Siberian prison camp. But did she really have a choice? And where do the lines of morality lie for Cilka, who was send to Auschwitz when she was stil a child?
In Siberia, Cilka faces challenges both new and horribly familiar, including the unwanted attention of the guards. But when she meets a kind female doctor, Cilka is taken under her wing and begins to tend to the ill in the camp, struggling to care for them under brutal conditions.
Confronting death and terror daily, Cilka discovers a strength she never knew she had. And when she begins to tentatively form bonds and relationships in this harsh, new reality, Cilka finds that despite everything that has happened to her, there is room in her heart for love.
From child to woman, from woman to healer, Cilka's journey illuminates the resilience of the human spirit—and the will we have to survive."
After reading and enjoying The Tattooist of Auschwitz, I was excited to pick up Heather Morris' next book that gave us further insight into what happened to Cilka afterwards. The fact that these books are based off of true stories is always hard to stomach, but I always feel like I learn a lot from them. The fact that freedom from Auschwitz meant years of being in prison for Cilka is hard to imagine, and I feel like Morris still a great job of capturing the emotions Cilka was going through to survive. I also liked how she weaved in flashbacks to Cilka's experience in Auschwitz-Birkenau as it felt like Cilka would have these flashbacks triggered.
Would I recommend? Yes! 4.5/5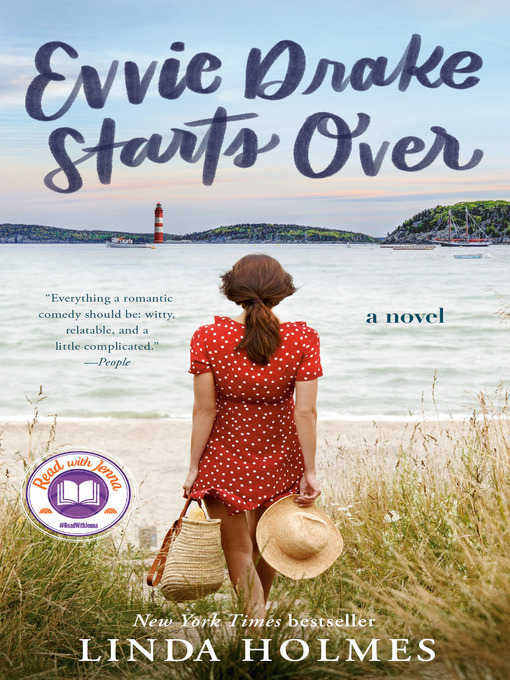 Evvie Drake Start's Over by Linda Holmes
"In a sleepy seaside town in Maine, recently widowed Eveleth "Evvie" Drake rarely leaves her large, painfully empty house nearly a year after her husband's death in a car crash. Everyone in town, even her best friend, Andy, thinks grief keeps her locked inside, and Evvie doesn't correct them.
Meanwhile, in New York City, Dean Tenney, former Major League pitcher and Andy's childhood best friend, is wrestling with what miserable athletes living out their worst nightmares call the "yips": he can't throw straight anymore, and, even worse, he can't figure out why. As the media storm heats up, an invitation from Andy to stay in Maine seems like the perfect chance to hit the reset button on Dean's future.
When he moves into an apartment at the back of Evvie's house, the two make a deal: Dean won't ask about Evvie's late husband, and Evvie won't ask about Dean's baseball career. Rules, though, have a funny way of being broken—and what starts as an unexpected friendship soon turns into something more. To move forward, Evvie and Dean will have to reckon with their pasts—the friendships they've damaged, the secrets they've kept—but in life, as in baseball, there's always a chance—up until the last out.
A joyful, hilarious, and hope-filled debut, Evvie Drake Starts Over will have you cheering for the two most unlikely comebacks of the year—and will leave you wanting more from Linda Holmes."
After reading some nonfiction, thrillers, and historical fiction this month, I wanted to have a lighter read and chose to pick this up since I had heard great reviews. Happy to say it didn't disappoint! I loved Evvie's character from the beginning and enjoyed the heartwarming journey this book went on. I tend to skip of a lot of rom com books as they feel cliche or cheesy to me, but this one went deeper than most, which I loved.
Would I recommend? Yes! 5/5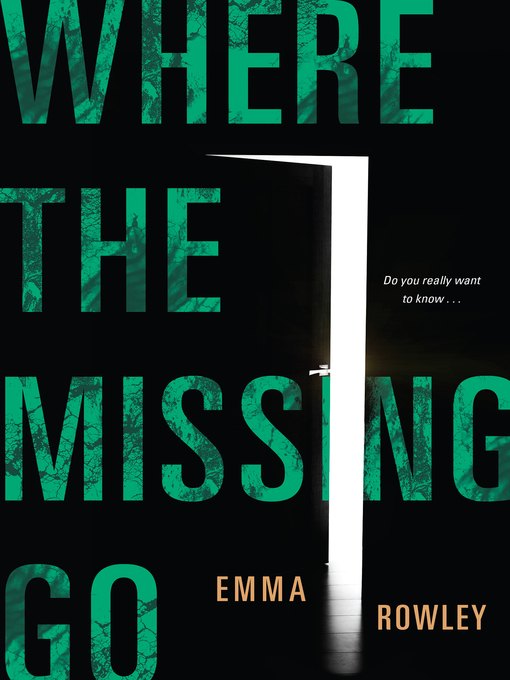 Where The Missing Go by Emma Rowley
"The missing don't always want to be found.
Kate Harlow recognizes this painful truth, even as she keeps searching for her daughter, Sophie, who disappeared two years ago. The police have stopped investigating—after all, Sophie has sent postcards home, insisting that she's fine. To fill the space in her increasingly empty days, Kate volunteers at Message in a Bottle, where runaways can leave messages for loved ones, no questions asked.
Then one evening, a call comes in from a voice Kate instinctively recognizes, even through bursts of static and beyond the sudden dial tone that breaks their connection.
Those closest to Kate worry she's cracking under her grief, imagining that it was Sophie. But Kate knows—that it was her daughter on the phone. And that a stranger has been inside her house. Watching her.
Sophie is out there. And Kate has to find her, even if someone will try anything to stop her"
It's no secret I have read a lot of psychological thrillers by now, and not many can make my jaw drop anymore. But this one did more than once! I haven't seen anyone on bookstagram talking about this book, but it had great reviews on Goodreads so I gave it a chance. Things were slowly revealed and unraveled throughout the book, and the way all the little things came back together by the end amazed me. I love how it started out with only Kate's point of view, but then in part two we also get Sophie's point of view. It included quite a few great twists, and just when I thought I had part of it figured out, I realized I was completely wrong. If I recommend one thriller from this month, it would be this one, hands down.
Would I recommend? Yes! 5/5
Nancy Drew and the Hidden Staircase by Carolyn Keene
"After receiving a call from her friend Helen Corning, Nancy agrees to help solve a baffling mystery. Helen's Aunt Rosemary has been living with her mother at the old family mansion, and they have noticed many strange things. They have heard music, thumps, and creaking noises at night, and seen eerie shadows on the walls. Could the house be haunted?
Just as soon as she hangs up the phone, a strange man visits Nancy's house to warn her and her father that they are in danger because of a case he is working on buying property for a railroad company. This warning leads Nancy and her father Carson to search for the missing Willie Wharton, a landowner, who can prove he signed away his land to the railroad and save the railroad from a lawsuit. Will Nancy be able to find the missing landowner and discover how these mysteries are related?"
I read almost all of the Nancy Drew books in upper elementary school, and I am pretty convinced that is why I love mysteries and thrillers now. So when I saw this one for a dollar at a thrift store this month, I had to pick it up! It was a quick read since it is a juvenile fiction, but I still enjoyed it almost as much as I did in 5th grade!
Would I recommend? Yes! 4.5/5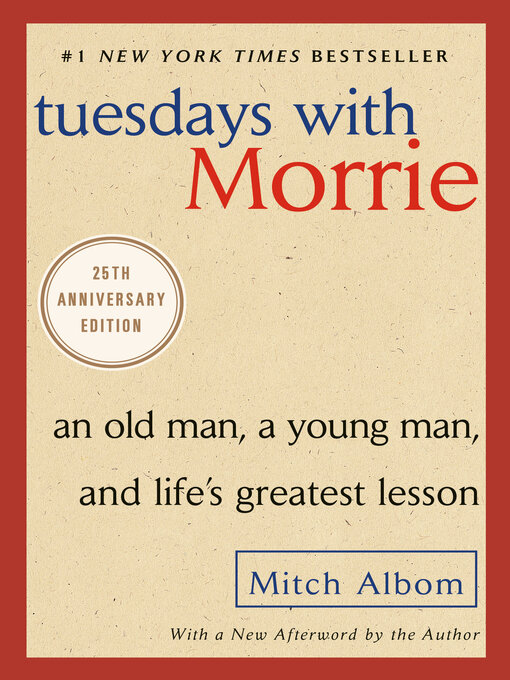 Tuesday's With Morrie by Mitch Albom
"Maybe it was a grandparent, or a teacher, or a colleague. Someone older, patient and wise, who understood you when you were young and searching, helped you see the world as a more profound place, gave you sound advice to help you make your way through it.
For Mitch Albom, that person was Morrie Schwartz, his college professor from nearly twenty years ago.
Maybe, like Mitch, you lost track of this mentor as you made your way, and the insights faded, and the world seemed colder. Wouldn't you like to see that person again, ask the bigger questions that still haunt you, receive wisdom for your busy life today the way you once did when you were younger?
Mitch Albom had that second chance. He reconnected with Morrie in the last months of the older man's life. Knowing he was dying, Morrie visited with Mitch in his study every Tuesday, just as they used to back in college. Their rekindled relationship turned into one final "class:" lessons in how to live.
Tuesdays with Morrie is a magical chronicle of their time together, through which Mitch shares Morrie's lasting gift with the world."
I had this book on my radar for a while since I've learned about ALS in classes, but then this January I finally picked it up since Mitch Albom came to my school to speak. It was a really quick read, and overall I really enjoyed it. It was really interesting to see how Morrie stayed positive even as he quickly lost abilities.
Would I recommend? Yes! 5/5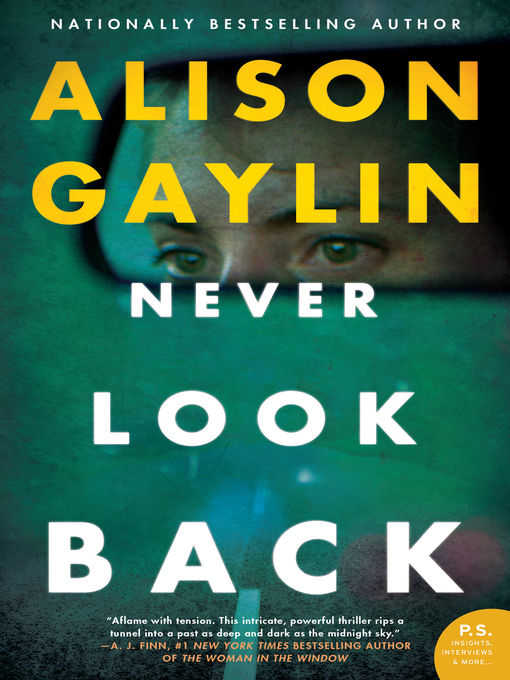 Never Look Back by Alison Graylin
"For thirteen days in 1976, teenage murderers April Cooper and Gabriel LeRoy terrorized Southern California's Inland Empire, killing a dozen victims before perishing themselves in a fire… or did they? More than 40 years later, twentysomething podcast producer Quentin Garrison blames his troubled upbringing on the murders. And after a shocking message from a source, he has reason to believe April Cooper may still be alive. Meanwhile, New York City film columnist Robin Diamond is coping with rising doubts about her husband and terrifying threats from internet trolls. But that's nothing compared to the outrageous phone call she gets from Quentin… and a brutal home invasion that makes her question everything she ever believed in. Is Robin's beloved mother a mass murderer? Is there anyone she can trust?
Told through the eyes of those destroyed by the Inland Empire Killings—including Robin, Quentin, and a fifteen-year-old April Cooper—Never Look Back asks the question:
How well do we really know our parents, our partners—and ourselves?"
As someone who listens to a lot of true crime podcasts, this book intrigued me since it was basically a behind the scenes look at how podcasters gather their information for a podcast series. I was hooked for the beginning and liked that the plot and setting felt different than other thrillers I have read. I enjoyed the perspectives we got from Robin and Quentin, but also the letter's April wrote at 15 were also woven in. This ended up being a darker psychological thriller than I initially anticipated, and the ending was shocking in a way I didn't anticipate. However, I still really enjoyed it, and the author's writing style.
Would I recommend? Yes! 4.5/5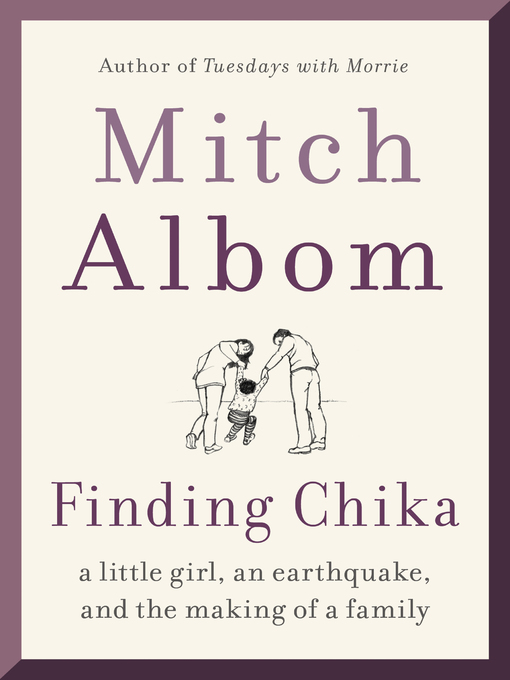 Finding Chika by Mitch Albom
"Chika Jeune was born three days before the devastating earthquake that decimated Haiti in 2010. She spent her infancy in a landscape of extreme poverty, and when her mother died giving birth to a baby brother, Chika was brought to The Have Faith Haiti Orphanage that Albom operates in Port Au Prince.
With no children of their own, the forty-plus children who live, play, and go to school at the orphanage have become family to Mitch and his wife, Janine. Chika's arrival makes a quick impression. Brave and self-assured, even as a three-year-old, she delights the other kids and teachers. But at age five, Chika is suddenly diagnosed with something a doctor there says, "No one in Haiti can help you with."
Mitch and Janine bring Chika to Detroit, hopeful that American medical care can soon return her to her homeland. Instead, Chika becomes a permanent part of their household, and their lives, as they embark on a two-year, around-the-world journey to find a cure. As Chika's boundless optimism and humor teach Mitch the joys of caring for a child, he learns that a relationship built on love, no matter what blows it takes, can never be lost.
Told in hindsight, and through illuminating conversations with Chika herself, this is Albom at his most poignant and vulnerable. Finding Chika is a celebration of a girl, her adoptive guardians, and the incredible bond they formed—a devastatingly beautiful portrait of what it means to be a family, regardless of how it is made."
As I mentioned above, I listened to Mitch Albom speak at my school this month, and this was the book he talked about. Of course after hearing his talk, I wanted to read it. I decided to try the audiobook version of it during a long drive since it was available through my library. This was actually my first time ever listening to an audiobook, and I can now understand the appeal! He narrated his own book, which I liked, and it also included audio clips of Chika, which you would not get just reading the physical book. Overall, a really good book filled with lessons that Chika taught him, but also a really sad book at the same time.
Would I recommend? Yes! 5/5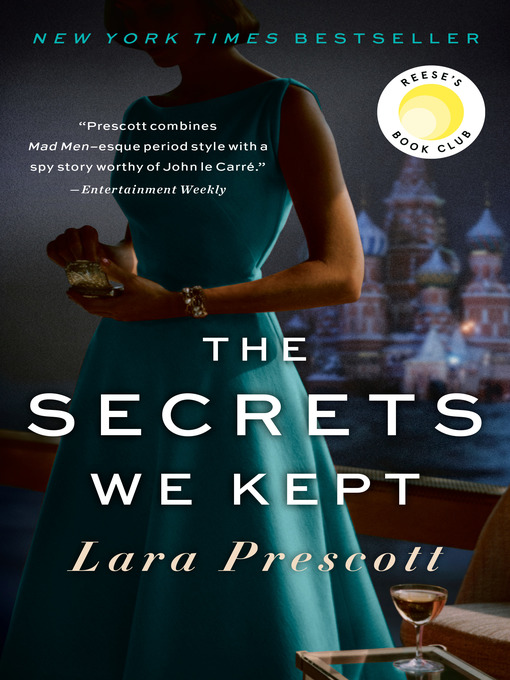 The Secrets We Kept by Lara Prescott
"At the height of the Cold War, two secretaries are pulled out of the typing pool at the CIA and given the assignment of a lifetime. Their mission: to smuggle Doctor Zhivago out of the USSR, where no one dare publish it, and help Pasternak's magnum opus make its way into print around the world. Glamorous and sophisticated Sally Forrester is a seasoned spy who has honed her gift for deceit all over the world—using her magnetism and charm to pry secrets out of powerful men. Irina is a complete novice, and under Sally's tutelage quickly learns how to blend in, make drops, and invisibly ferry classified documents.
The Secrets We Kept combines a legendary literary love story—the decades-long affair between Pasternak and his mistress and muse, Olga Ivinskaya, who was sent to the Gulag and inspired Zhivago's heroine, Lara—with a narrative about two women empowered to lead lives of extraordinary intrigue and risk. From Pasternak's country estate outside Moscow to the brutalities of the Gulag, from Washington, D.C. to Paris and Milan, The Secrets We Kept captures a watershed moment in the history of literature—told with soaring emotional intensity and captivating historical detail. And at the center of this unforgettable debut is the powerful belief that a piece of art can change the world."
My only "did not finish" book this month. I wanted to like this one SO much, as so many people had raved about it and it was in Reese's book club. However, I made it over 1/4 of the way through and still was not invested at all in the story or the characters.
Would I recommend? No, DNF
If you made it to the end of this post, you deserve a prize since this was a really long one! I am happy I got a strong start on my 2020 reading goal, since I know I won't have much time to read during the first part of spring semester.
What is a book you read and loved this month? Or have you read any of the books I shared? Tell me in the comments!
xo, Scarlett