Like I mentioned in Monday's post, I ended up reading quite a bit first semester and during Christmas break. In today's post I will be finishing my recap of the books I read and letting you know which ones I recommend!
"22 minutes separate Julia Vann's before and after.
Before: Julia had a twin brother, a boyfriend, and a best friend.
After: She has a new identity, a new hometown, and memories of those twenty-two minutes that refuse to come into focus. At least, that's what she tells the police.
Now that she's Lucy Black, she's able to begin again. She's even getting used to the empty bedroom where her brother should be. And her fresh start has attracted the attention of one of the hottest guys in school, a boy who will do anything to protect her. But when someone much more dangerous also takes notice, Lucy's forced to confront the dark secrets she thought were safely left behind.
One thing is clear: The damage done can never be erased. It's only just beginning. . . ."
This was a book that I was excited to get my hands on, and it ended up being as good as I hoped! I was able to predict how it ended though, which made it not quite as good as I had hoped. Overall, it was a good book though and I would recommend it if you were a fan of Gone Girl or other similar suspenseful books.
"I always thought we'd be friends to the end."
Grace and Kya always do everything together, and nothing can get in the way of their friendship. They have a pact: Sisters Before Misters. Buds Before Studs.
Only Grace knows what Kya's been through, or how much she needs someone to stick by her. No matter what. Besides, Kya keeps life exciting―pulling Grace into things she'd never dare to do on her own. But inch by inch, daring is starting to turn dangerous. And Grace will have to decide how far she can go to save her friendship with Kya…before she ends up losing everything else."
This was another young adult book that I enjoyed, mainly because I could relate to the main character. About a year ago I had a best friend who ended up "ghosting" me and we haven't talked since. So I felt Grace's struggle about trying to decide if it is worth it trying to be friends with someone. I really liked the way that Gurtler dealt with losing a best friend, too. If you have ever been ghosted (apparently about 80% of millennials have been at some point!) or if it sounds like an interesting topic to you, I definitely recommend checking this book out. With so many books focusing on romantic relationships, it was refreshing to read one that dealt with real friend issues.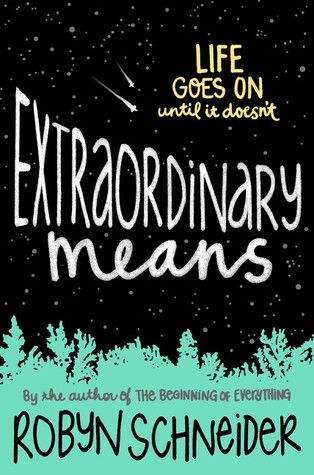 "Up until his diagnosis, Lane lived a fairly predictable life. But when he finds himself at a tuberculosis sanatorium called Latham House, he discovers an insular world with paradoxical rules, med sensors, and an eccentric yet utterly compelling confidante named Sadie—and life as Lane knows it will never be the same.
Robyn Schneider's Extraordinary Means is a heart-wrenching yet ultimately hopeful story about the miracles of first love and second chances."
I picked up this book because I read The Beginning Of Everything by Robyn Schneider a few years ago, and I remember I really liked it. This is a book I would pick up if you are a fan of John Green books, since the description sort of has a similar feel to The Fault In Our Stars. This was also one of my favorites of 2016!
"Ever since V's mom dumped her with her grandparents, she's bounced from guy to guy. That is, until a fateful hockey puck lands her in the lap of Sam Almond, who is different from the start. But V makes an irreversible mistake at her graduation party and risks losing Sam forever, spurring her on a crosscountry road trip to visit her mom in hopes of putting two thousand miles between herself, Sam, and the wreckage of that night. With humor and compassion, Carolyn Mackler takes readers on an unforgettable ride of missed exits, misadventures, and the kind of epiphanies that come only when you're on a route you've never taken before."
This book was pretty good, and also a quick read. But I also felt like it was pretty unrealistic, which made me not like it quite as much. Overall, it was a pretty average teen book, but I won't be raving about it any time soon.
"Cate, Renee, and Abby have come to New York for very different reasons, and in a bustling city of millions, they are linked together through circumstance and chance.
Cate has just been named the features editor of Gloss, a high-end lifestyle magazine. It's a professional coup, but her new job comes with more complications than Cate ever anticipated.
Her roommate Renee will do anything to nab the plum job of beauty editor at Gloss. But snide comments about Renee's weight send her into an emotional tailspin. Soon she is taking black market diet pills—despite the racing heartbeat and trembling hands that signal she's heading for real danger.
Then there's Abby, whom they take in as a third roommate. Once a joyful graduate student working as a nanny part time, she abruptly fled a seemingly happy life in the D.C. suburbs. No one knows what shattered Abby—or why she left everything she once loved behind.
Pekkanen's most compelling, true-to-life novel yet tells the story of three very different women as they navigate the complications of careers and love—and find the lifeline they need in each other."
This was another one I really liked, because you are aware something happened to Abby from the beginning, but you slowly learn the story as you keep reading. I am currently in the middle of another book by this author because I liked this one so much! This is one I would definitely recommend!
"What do you do with your last day on earth?
There are 27 hours and fifteen minutes left until an asteroid strikes North America, and, for Emerson and everyone else who didn't leave, the world will end. But Emerson's world already ended when she ran away from home last year. Since then she has lived on the streets, relying on her wits and her friend Vince to help her find places to sleep and food to eat.
The city's quieter now that most people are gone, and no one seems to know what to do as the end approaches. But then Emerson and Vince meet Carl, who tells them that he has been granting people's wishes. He gave his car away so a woman could take her son to see the ocean for the first time, and he gives Emerson and Vince all the money he has in his wallet.
Suddenly this last day seems full of possibility. Emerson and Vince can grant a lot of wishes in 27 hours — maybe even their own."
This is another quick read that would be good for a beach read. I think the concept behind it is pretty interesting, and most of the book was good. The ending was very abrupt to me, and it left me with quite a few questions because I felt like there were loose ends that were not tied up. Overall, it was still a pretty good book and one I would recommend.
"Is it possible that charity and missions efforts have unintentionally harmed those whom we are trying to help? Through real stories form the developing world, this book will provide you with a better understanding of how to ReThink your current missions efforts in ways that allow for maximum impact on those you are seeking to help. This quick read connects the ideas of PovertyCure to real examples and shows what it practically looks like when we rethink poverty and rethink missions. It also draws from many great resources including When Helping Hurts and Toxic Charity, giving a quick snapshot of perspectives."
This was a required read for me before I went to Jamaica, but it was definitely an interesting book that brought up quite a few good points. If you have been on a missions trip or plan to go on one in the future, I highly recommend reading this!
And now we are finally caught up with all the books I read in 2016! I have been working to read more of the books on my to-read list, and I can't wait to try even more in 2017. Let me know what your favorite book is in the comments below!
xo, Scarlett