Fall is in full swing now where I live, and I am loving every second of it! From the colorful leaves blowing across the street, to wearing boots and sweaters, to drinking my favorite warm drinks. Here are ones that I have tried recently and have really enjoyed, so I thought I would share!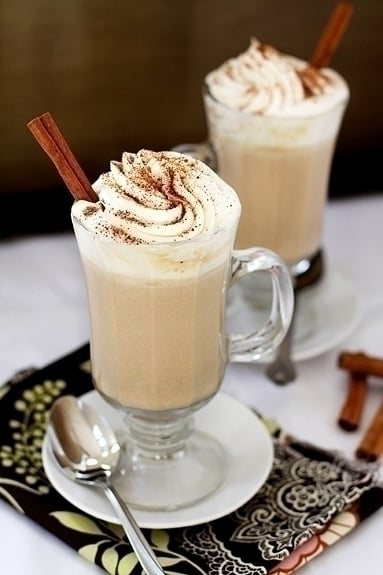 Numero uno is one that is probably my favorite. It is Pumpkin White Hot Chocolate, and is perfect for people like me who don't love coffee. Now when I make it, of course it does not look as pretty as this, so I figured I would just link you to the original place I found it!
Numero dos is for those days where it is not too chilly outside, but you are still craving something sweet to drink! It is supposedly a dupe for the hot chocolate at Serendipity in NYC, but I have never actually tried the real kind. If you have tried it, is it really as good as everyone says it is? Tell me in the comments!
Numero tres es Hot Vanilla! I actually have not tried this one, but it sounds heavenly! Look at how adorable it looks too! I cannot wait to try it sometime soon!
Numero cuatro es one that I also have not tried, but I think this weekend might be the one to make it! Pumpkin Pie White Hot Chocolate is what it is called, so it sounds similar to the first one I told you about. I still want to try it though, because I am sure it is different!
By the way, I just wanted to inform you that my new blog series for November is Fall Into Winter. I am hoping to be posting more frequently again, but life has been so crazy, and I have finals coming up soon as well! Also, please don't mind me using my "Spanglish" to number the recipes in this post… this is what happens after I spend long hours writing a Spanish paper!
Tell me your favorite fall drinks in the comments, and link any recipes you have! Don't forget to tell me if how these drinks turn out if you decide to make any for yourself!
xo, Scarlett