Today I come to you guys with another diy post!
I am sure you have noticed these hair ties popping up everywhere! At Anthropolgie, you might have seen these hair ties for $12! Or perhaps you have seen them on Etsy, where they are still way more expensive than they should be. So what if I told you that you could make them yourself for a just a few dollars, and you only need 2 supplies, which you can find at Michael's? Well guess what? You can! It is so easy, barely takes any time, and it costs next to nothing! Plus, they look WAY cuter on your wrist than normal hair ties!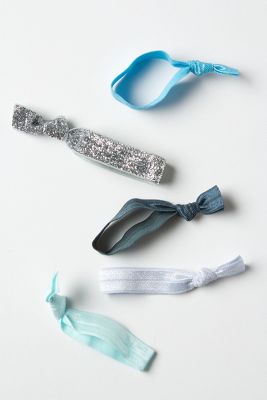 Read directions and see more pictures on how to make them HERE. I figure her directions and pictures are probably better than what I could show you guys. But supposedly these hair ties leave no creases or lines in your hair, plus they no snag! I would definitely recommend making them over buying them. According to different sources, you can make 80 hair ties for $12, instead of buying 5 for $12. You can buy the elastic in glitter too, and I am sure if you wanted you could tie dye them or do something cool to plain white elastics!
If you would like to see how I make my own DIY hair ties, leave a comment below, and I can show you. Also, if you have any other requests leave them in the comments!
~Scarlett